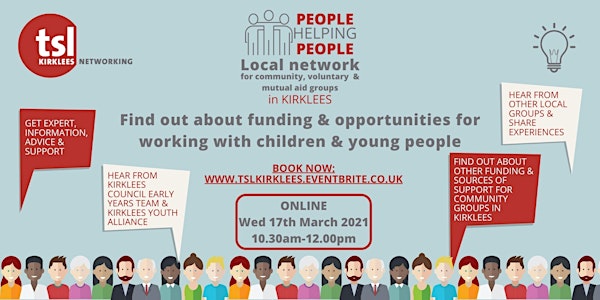 People Helping People: Funding & opportunities for working with children
Local network meeting for community, voluntary & mutual aid groups in Kirklees - expert help, funding , support, share ideas & experiences.
About this event
Find out about funding & opportunities for working with children & young people
At this PHP meeting, you'll hear from the Kirklees Council Early Years Team and new local charity, Kirklees Youth Alliance and find out about the latest funding and opportunities for working with children and young people in Kirklees, including putting on holiday activities and accessing other funding, like Children in Need.
We'll also update you on the latest funding opportunities, and tell you about other support and training that's available, including:
IT support from Kirklees Council
training on scams and how to spot and safeguard victims (from West Yorkshire Trading Standards), plus opportunities to put on a range of consumer and safety workshops for your groups
Co-op Local Community Funding
Grants for walking and cycling
And you'll be able to network and make connections with other local groups, and share advice, updates, promotions and information.
Please note: This event is organised by TSL Kirklees - a local charity that gives free support, advice and training to any charity, community group or social enterprise in Kirklees - and is only open to any workers, trustees or volunteers from third sector organisations based or working in Kirklees. Our events and services are free because, like any other charity, we rely on grants and funding. If you have booked a place and then cannot make it, please cancel your place via Eventbrite or by emailing comms@tslkirklees.org.uk, so that we can offer that place to someone else and so that our funding isn't wasted.