People Living Near A Football Club ~ Share Your Opinion With Me!
Description
I'm a life-long Islington-based resident living near to Arsenal Football Club in Highbury, North London.
On match-days when the weather is either sunny, windy or still, you can hear the roars and moans of the crowd when goals have been scored or there are near-misses.
This provides a great ambience which also means increased revenue for local businesses in the area.
--
However, there have been many times where cons outweigh the pros due to the influx volume of fans and rivals per game, the crowded streets and blocked access to my local amenities.
I find it to be a very frustrating experience... :( And I'm developing a solution to make the experience better. I would love your input - to find out what it is like for you living near your football club.
Click here to schedule a 1-to-1 video call with me

If you live near to a sports stadium or even the local buses, tubes, trains that are based nearby, how do you manage with the influx of fans and match-day visitors that occur?...are these disruptions a blessing or a pain?

Thursday 14th September 2017:
Where were you on that day when 20,000 FC Cologne fans descended upon Highbury in London for the Europa League match against Arsenal?
See the video below to get an idea of what it was like to have that volume of strangers on your doorstep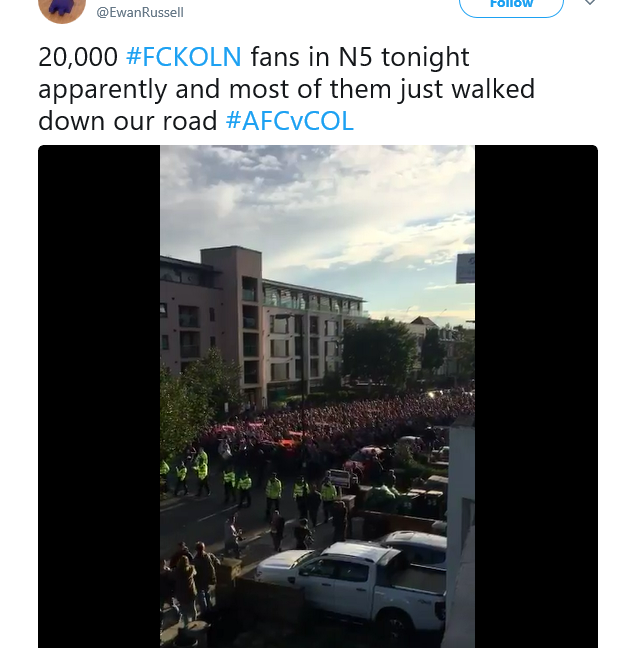 Source: @EwanRussell video
Let your views be heard so that a positive Community of like-minded people can develop where sharing your thoughts in a safe, trusting environment becomes the norm.

How Do I do This?
=============
In 3 easy steps to get you started straight away:
1. Register your interest by clicking the above Register button and completing your details.
2. You will be sent a notification to schedule your confidential 1-to-1 session.
3. Pick the best day and time that suits you and receive a confirmation.
~ That's it...All Done!
Find your voice and share your valuable experiences so that you can help others in the same position within your community.
---
FAQs:
=====
1. What should I bring to the call?
Your voice - just share your personal experiences.
Once you have registered to show your interest, further joining instructions will be sent.
2. What are my transport/parking options for getting to and from the event?
They are not applicable as this is an online session.
You do not need to leave the comfort of your home or office to participate.