Sales Have Ended
Ticket sales have ended
We are currently at capacity for the event - but more tickets may become available. PLEASE JOIN THE WAITING LIST by clicking into the tickets button as any new tickets will be released to those on the list.
Event Information
Refund policy
Contact the organiser to request a refund.
Eventbrite's fee is nonrefundable.
Sales Have Ended
Ticket sales have ended
We are currently at capacity for the event - but more tickets may become available. PLEASE JOIN THE WAITING LIST by clicking into the tickets button as any new tickets will be released to those on the list.
The 4th Creative People and Places Conference will take place online from 7 - 9 December, exploring the themes of People Place Power.
About this event
The People Place Power conference is a meeting place for everyone interested in shifting approaches in inclusive arts and cultural engagement.
Through a series of lively provocations, rich conversations, practical workshops and creative elements we will explore and challenge thinking; encourage critical reflection; and share learning on the themes of power, collaboration, co-creation, ownership, relevance and place.
People Place Power participants and contributors will include leading figures from within and beyond the arts and cultural sector, artists, as well as Creative People and Places participants and leaders.
Who is it for?
● Cultural and community organisations interested in broadening engagement and involving communities in their work
● Artists and producers interested in socially engaged and inclusive practice
● People working for and with Creative People and Places and related projects
● People working in the public sector including local authorities and health service providers
● Funders, policy-makers and academics interested in arts engagement
● Others interested in inclusive engagement practice and place-based approaches who work within community contexts
What will delegates get out of attending?
● Connect with speakers and leading figures in the sector and get up-to-date with current conversations on place-based community arts practice
● Experience Creative People and Places from the inside through practical, artist-led workshops
● Build relationships with like-minded people and develop new networks
● Expose yourself to new ideas, new ways of working, and potential partners for future collaboration
● Explore a range of topics through talks, workshops and discussions
● Position yourself as an expert - there will be many opportunities for you to share your perspective
● Take away new ideas back to your organisation and continue conversations beyond the conference
● Learn in an inspiring space, have fun, make art
The programme - what to expect
We are creating an inspiring, engaging event with distinct themes each day and different types of activity:
Day 1 - Policy and Practice
Day 2 - Stories and Learning
Day 3 - Looking ahead
Activity will include:
Conversation - insight discussion sessions with key speakers, panels
Connection - opportunities to connect with other delegates
Create and reflect - with a range of artists and art forms
Visit the conference website for more details including speakers list and programme overview. We will release the detailed programme in early October. www.creativepeopleplaces.org.uk/conference/
#PeoplePlacePower
Ticket prices
The conference is part-subsidised by Arts Council England but we do need to charge for tickets to balance the budget. The majority of our costs are for the programme, all artists and freelancers are paid a fee for presenting and we are grateful to the organisations who are providing their time in-kind.
We know how much the pandemic has affected the cultural sector, particularly freelancers and have a range of ticket prices available to try to make the event as accessible as possible. As part of the ticket options we have included a 'pay what you can afford' option for artists and freelancers - with suggested donations.
Each ticket gives 1 person full access to all conference activity throughout the conference and for a week after the event.
• Employees of public sector, academic institutions and for profit enterprises - £100
• Employees of creative and cultural not for profit organisations - £80
• Artists / Freelancers/ Individuals full price - £36
• 'Pay what you can afford' option for Individuals. Suggested donations: £25 - contributes to the programme costs; £10 - covers the event platform and contributes to access costs to support everyone in attending; £6 - covers the cost of the event platform.
(Eventbrite processing costs are included in the price.)
If you are from an organisation that may struggle to support your attendance please get in touch and we can look at options.
Access and wellbeing
We want People Power Place to be as accessible as possible for all. Full details of our access and wellbeing plans will be included on our website from early September. We can confirm that all key sessions will have live captioning and captioning will be available in breakout sessions too. If you have any access needs, please share details in the booking form when booking your ticket to help us support your participation in the conference.
Delegate support will be available to help you with any access, wellbeing, networking or platform issues.
If you have queries ahead of booking please contact the conference producer Alice McGrath at conference@creativepeopleplaces.org
The practical bits – what to expect
The conference will run from approximately 11am to 5pm (UK time) each day.
There will be regular breaks to help combat online fatigue.
Some sessions will run concurrently; you will be able to choose in advance which ones to attend
Networking opportunities will be scheduled throughout to give you the chance to catch up with and get to know other delegates.
Event Platform
The conference will be hosted on a live streaming online platform. After you register, you will receive an email approximately 1 week before the event with links to take you to the conference platform. All ticket prices include full access to all sessions throughout the conference and for recordings of the main sessions a week after the event.
Arts Council England
Creative People and Places and the CPP Peer Learning Network is funded by Arts Council England, using funds from the National Lottery. This conference is held in partnership with Arts Council England.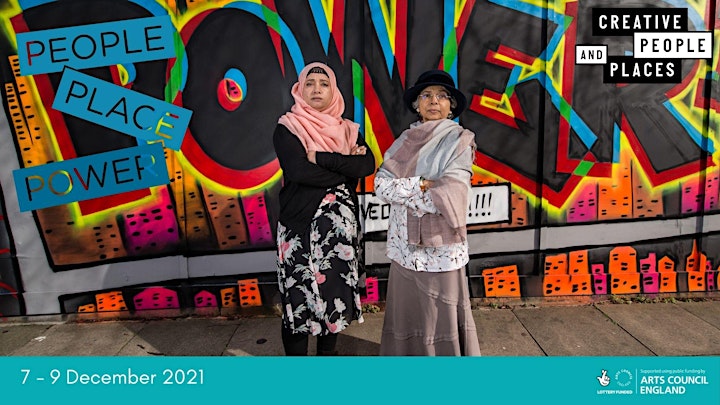 Image: Echoes of the Diaspora by Imrana Mahmood. Photo by Aleksandra Warchol
Location
Refund policy
Contact the organiser to request a refund.
Eventbrite's fee is nonrefundable.