Peoples Vote 'Let Us Be Heard' March 19 Oct 2019 Dwyfor Meirionnydd Coach
Event Information
Refund Policy
Refunds up to 30 days before event
Eventbrite's fee is nonrefundable.
About this Event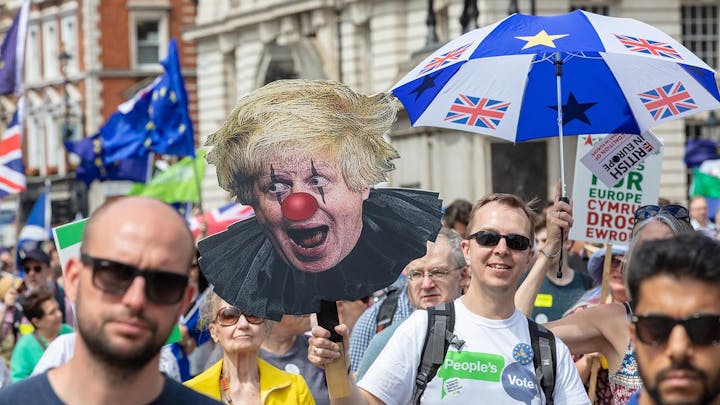 The Brexit crisis has come down to a simple question, 'Do we still live in a democracy'. Do we allow PM Boris Johnson and his 'Do or Die' government to force No Deal - or another vicious form of Brexit - on the United Kingdom without all of us having our voice heard? Join us on the Peoples Vote 'Let Us Be Heard' March on Saturday 19th October 2019 in London.
We cannot stand by while Johnson and his government of extremists destroy farming, fishing and manufacturing in Wales and the rest of the UK putting our economy and public services in great peril. We must stop this Halloween providing the worst 'trick' on Wales since the Second World War.
The People's Vote campaign seeks to ensure that the government's Brexit deal is put before the country in a public vote so that we can decide if a decision that will affect our lives for generations makes the country better or worse off.
Good deal or bad deal, it's definitely a big deal - and that's why it should be put to a People's Vote.
The fact is that we are stronger in Europe, even though that truth seemed unspeakable until recently. We live in a globalised world and on everything from the climate emergency to transnational corporate tax dodging we have a better chance of addressing the issues we face if we stand together. Recent opinion polls show a clear majority want to put Brexit behind us and reunite with Europe.
Since the 2016 referendum, the real issues facing Britain have been completely neglected and the Westminster government has given little thought to Wales. Public services have deteriorated further with austerity and we still don't have nearly enough affordable housing. Westminster has spent three years arguing about what Brexit looks like instead of tackling Britain's real issues including climate change.
The only way to break the deadlock in Parliament, legitimise the outcome and allow us all to talk about something else, is to give the people the final say.
LET US BE HEARD
Join Gwynedd Dros Ewrop and North Wales for Europe in London on what is set to be the biggest peacetime protest in UK history.
BOOKING YOUR TICKETS
Book your tickets for the Dwyfor Meirionnydd executive coach (with toilet) from Pwllheli via Porthmadog and Llangollen.
** Please note anyone under 18 must be accompanied by parent or guardian.
DONATIONSIf you can't come but would like to make a donation to Gwynedd Dros Ewrop, you can make a donation using this form. We'll prioritise using it to allow someone who can't afford to travel a free or concessionary seat. Any donations beyond these needs will be used to support the campaign.
ITINERARY
05:30 Pwllheli: Caelloi Motors depot, Unit 17 Glan-y-Don Industrial Estate, Pwllheli, Gwynedd, LL53 5YT
05.55 Porthmadog: Board at Nursery Wood layby on A487 (opposite gorsedd stones) . Park cars on nearby Church Street road into Tremadog.
06:15 Trawsfynydd: Wait to board coach on A470 opposite road to old power station. Park cars in old power station visitors car park, LL41 4DT (turn off A470 on to road to old power station, and the old car park for visitors is immediately on right [not shown on Google Maps] don't use Caffi Prysor car park on the left).
06.40 Bala, Ffrydan Road A4212. Wait on roadside opposite Ysgol y Berwyn. Cars may be parked on Ffordd Ffrydan.
07.00 Corwen (quick pickup), London Road (by old police station)LL21 0DP Cars may be parked nearby various locations including old pavilion car park
07.15 Llangollen (quick pickup), Berwyn Street (opp Stan's filling station) LL20 8NF
07.30 Chirk, Black Park (McDonalds at north end of A5 Chirk bypass) LL14 5AZ. Understand cars can be parked here all day, but please check signage yourself.
Coach will then run non-stop to London Underground station at Stanmore for Jubilee Line to Green Park for start of March at in Park Lane. (£3.10 Off Peak single but use Oyster to avoid queue https://tfl.gov.uk/fares/how-to-pay-and-where-to-buy-tickets-and-oyster/buying-tickets-and-oyster)
** Once you've booked, please email gwynedd@walesforeurope.org to let us know which pick-up point you will be using.
We'll send out more detailed plans a few days before the event. Please bear in mind that many hundreds of thousands of people at the march are expected, so plans may change on the day!
Please note: we will only be able to refund your ticket if someone else can take your place.
Please contact us at Gwynedd@walesforeurope.org to discuss any of the above. More information about our activities on our Facebook page https://www.facebook.com/GwyneddEwrop/
Other local groups across North Wales are also organising coaches via the A55 and from Wrexham if you are looking for alternative pick-up points. https://www.facebook.com/NorthWalesForEurope/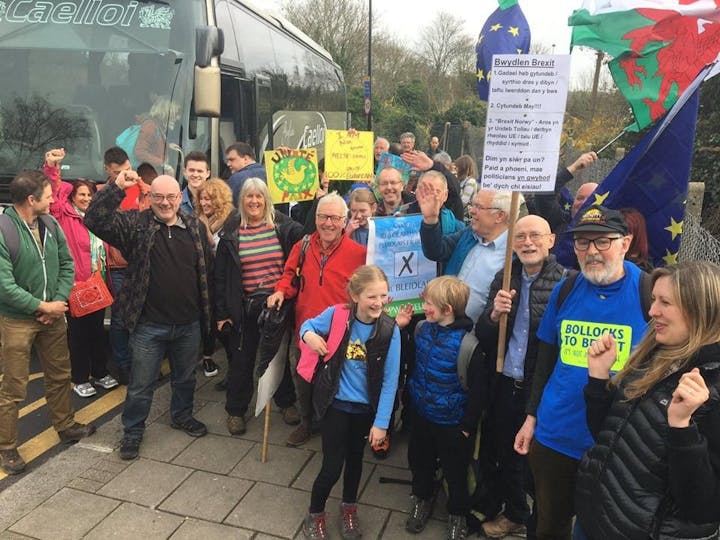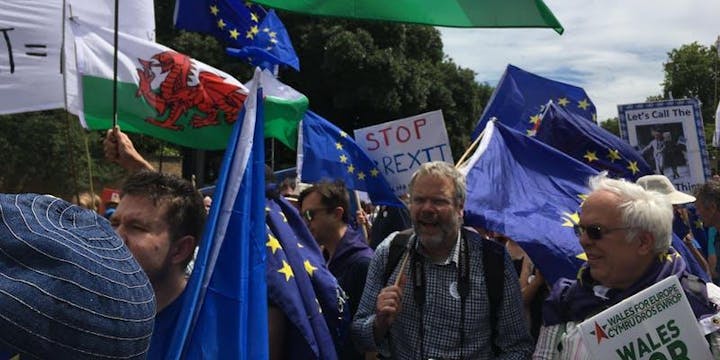 Date and Time
Location
Coach to London from Pwllheli via Porthmadog, Trawsfynydd, Bala, Corwen, Llangollen and Chirk to London Stanmore Station for Jubilee Line to central London to join March from Park Lane to Parliament Square
March start north of Hilton Hotel
Park Lane
London
W1K 7TH
United Kingdom
Refund Policy
Refunds up to 30 days before event
Eventbrite's fee is nonrefundable.