Location
University of Amsterdam
University of Amsterdam
1012 WX Amsterdam
Netherlands
The inaugural Perceptual Metacognition Meeting will take place as a satellite event of the ASSC (https://theassc.org) on Saturday 16th July.
About this event
Perceptual metacognition is the study of the subjective evaluation and control of perceptual processes. The past decade has witnessed a rapid rise in interest in perceptual metacognition amongst philosophers, neuroscientists, psychologists and computer scientists. Perceptual metacognition also has close links with the study of perceptual awareness, and has been a mainstay of presentations and symposia at ASSC over the past few years. We think the time is right for a regular meeting dedicated to this field.
This one-day workshop (with a late start, mindful of the ASSC after party the night before!) will showcase the latest research on perceptual confidence and metacognition, in the form of both keynotes and short presentations from invited early-career researchers. Registration is free but places are limited, so please register early to attend. We hope to stream the talks live for those unable to attend in person.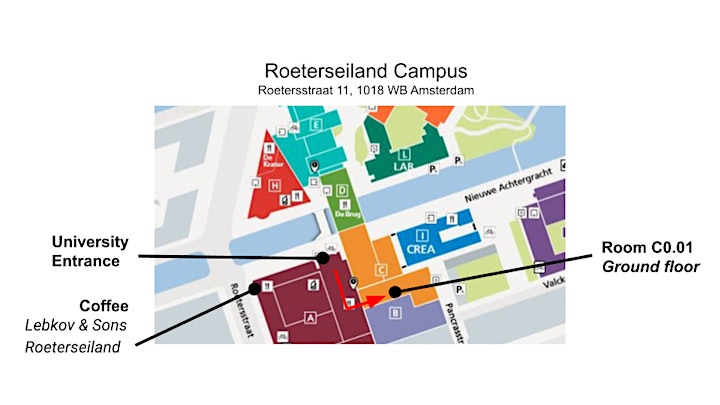 Location: Room C0.01, Building C of the Roeterseiland complex (Nieuwe achtergracht 166)
Provisional programme:
1030-1050am COFFEE (at Lebkov & Sons Cafe, see map)
1050-11am Opening remarks
11-1145am Opening keynote - Pascal Mamassian
Re-evaluating our perceptual decisions for their accuracy, self-consistency, and aesthetic value
1145-1245pm Computational models of perceptual metacognition (short talks and discussion)
1) Medha Shekhar How do humans give confidence? A comprehensive comparison of process models of metacognition
2) Robbe Goris Quantifying perceptual introspection
3) Tarryn Balsdon The limits of human nested cognition
1245-2pm LUNCH
2-3pm Functional basis of perceptual metacognition (short talks and discussion)
1) Ruben van Bergen Decoding uncertainty from cortical activity
2) Nicolás Sánchez-Fuenzalida Reproduction, but not confidence, can dissociate conscious perception from non-perceptual bias
3) Ruth van Holst Motivational signals disrupt metacognitive signals in the human ventromedial prefrontal cortex
3-330pm COFFEE
330-430pm Biases in confidence (short talks and discussion)
1) Shannon Locke Confidence leak and its affect on appearance
2) Annika Boldt Suboptimal reliance on incongruent evidence for the computation of confidence
3) Pradyumna Sepulveda Goal-dependent evidence bias in human confidence
430-515pm Closing keynote - Janneke Jehee
Computational and neural mechanisms of perceptual metacognition
515pm DRINKS