An in depth look at how to perfect your online presence and some best practice in networking online.
About this event
Isabel is the founder of I LIKE NETWORKING. A senior project manager, public speaker & podcast host with over 15 years of experience in arts, culture & entertainment, passionate about bringing diverse talent into the creative industry - from artists to arts managers.
She has worked on a variety of non-profits, culture organizations and consumer-led companies, conceptualizing and producing branded experiences that engage core consumers, as well as communications campaigns, having serviced clients such as Levi's , Converse, Lipton, Red Bull and Lollapalooza, amongst others.
She created and sold an award-winning cultural agency, based in Brazil, producing over 50 events a year including international tours, and managing a roster of artists and a theatre company.
Join Isabel in this session as she takes you through the praticall tips of navigating the creative industry by perfecting your profile to gain new clients and opportunities online.
She will take you through - Perfecting your Linkedin and know how to connect with potential clients and new networks.
Improving your social media engagement + layout across Instagram and Twitter.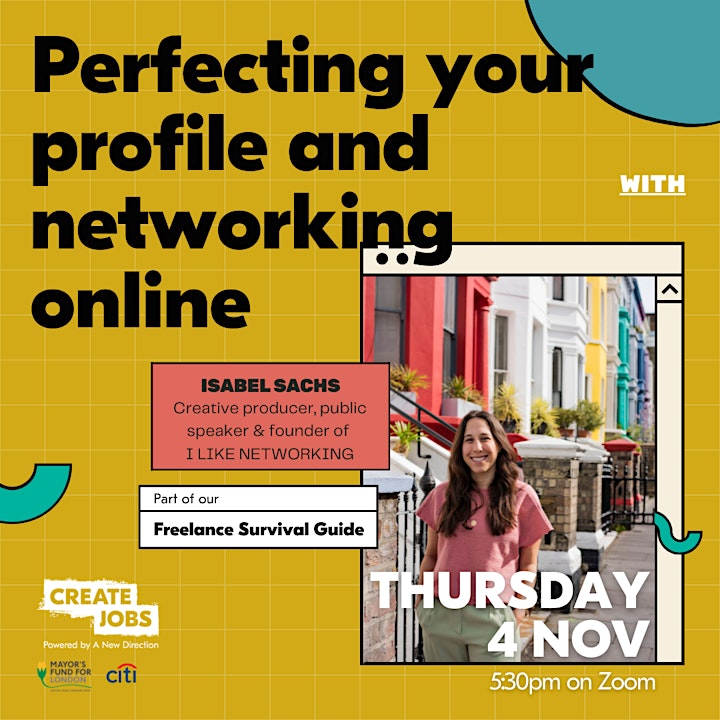 Organiser of Perfecting your profile and networking online