Description
Join our winning team and start your personal journey towards success
You're invited to join us on Saturday 5th May and meet Steve Backley and Roger Black LIVE and in person at an event designed to help you to discover how to succeed in property investment. These sporting powerhouses know what it takes to achieve outstanding and historic success; it's about the psychology of a winning mindset which is crucial in any project or undertaking.

Steve and Roger are certain that there is absolute synergy between successful investing and success in sport and they are keen to share that knowledge with you. Peak performance after all, is only ever achievable with the right training, power team and resouces.

So what can you expect to learn from Steve, Roger and our professional property team at this live event?
Deal & lead generation

Marketing & negotiation techniques

The buying process

Sourcing & packaging property deals

Finding the finance

Avoiding the pitfalls

Creating your personal strategic business plan

Mastering the mindset to achieve
Coming to the following locations:
Saturday 5th May at 10.00am - 6.00pm - The Millenium Gloucester Hotel, 4-18 Harrington Gardens, London SW7 4LH
As if this wasn't enough, Steve and Roger have an impressive line-up of 'Get Started' speakers including Professional & Personal Development expert, Dr Rohan Weerasinghe, health and fitness guru, Roger Frampton and self-made millionaire Mark Dalton to name a few!
This invitation is totally free. All you need to do is register your place fast.

You'll hear firsthand from people who have stood where you may be now but who have learnt that with the right approach and investment techniques that successful investing is within reach no matter where you start, regardless of experience.

Everyone has a gift but sometimes we don't see it or wait until we believe it is too late to showcase it. Don't be the person who looks back and says, "I wish I had."

So what might your property investing look like? Join us on Saturday 5th May to find out.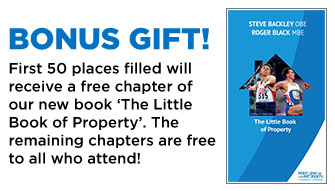 FAQs

Can I bring a guest?
Absolutely. In fact, we hope you bring a guest. Building a personal fortune is more effective when you have a friend or colleague to share the experience.

Will I have to buy anything?
You are not required to purchase anything. We do offer additional educational products and services at our Workshops, but you are never under any obligation to buy.
What should I bring to the event?
Please bring a notepad and pen to take notes.
Where can I contact the organiser with any questions?
By calling the confirmations team on 020 8996 6700 or replying to the ticket confirmation email.
Do I have to bring my printed ticket to the event?
It is preferable to bring your printed ticket to speed the entry process, however the registration team will have details of your booking should you not have your ticket when you attend.