Performance in the Pub 8

Thursday, April 11, 2013 from 7:30 PM to 10:30 PM (BST)
Event Details
performanceinthepub.co.uk // @performancepub // facebook page 
We are delighted to announce the 8TH Performance in the Pub, happening at the Crumblin' Cookie, Thursday the 11th of April, at 8pm (doors at 7.30pm).
The pay-what-you-can night out for people who don't really 'do' theatre (and those who do!).
Spring is (will be) in the air, and Performance in the Pub is gambolling (that's a thing that lambs do) on with two fresh new acts from Down South. Patrick Ashe returns from London to his home country with his ode to Ashby de la Zouch; An Oasis in 5 Parts (including a zine, a lot of post rock, and a liberal springing of video game references), and the incredibly well renowned Deborah Pearson brings a work in progress of an untrue story; None of This Happened. Unreal people, places that no longer exist, and, of course, STICKERS. 
We are delighted to announce the EIGHTH Performance in the Pub, happening at the Crumblin' Cookie, Thursday the 11th of April, at 8pm (doors at 7.30pm). Break-even donation at full capacity is £5.
So, on the 11th of April we'll have with us the brilliant:
 Deboarh Pearson with her work-in-progress None of This Happened
and
An Oasis in 5 Parts, from Leicestershire local Pat Ashe
Thursday April 11th downstairs at the Crumblin' Cookie in Leicester (LE1 5YP). Doors at 7.30, show starts at 8pm, and should be done by 10pm. Break-even donation at full capacity is £5.
So! What's it all about, then?
None of This Happened A work-in-progress by Deborah PearsonDeveloped in part at the National Theatre Studio.
"Andrew, Elena and Joseph are standing in front of you, sitting before you.  I've tried to keep them back, but they're already here.  Spectres of our expectations."
A fictional story that wonders why we like fictional stories.  This is a show about people who don't exist. 
"beautiful, accomplished, bittersweet and philosophical" - The List (on Pearson's 'Like You Were Before')
Check out the video for a recent performance of Debbie's
And then there's Pat's piece - 
An Oasis in 5 Parts - Patrick Ashe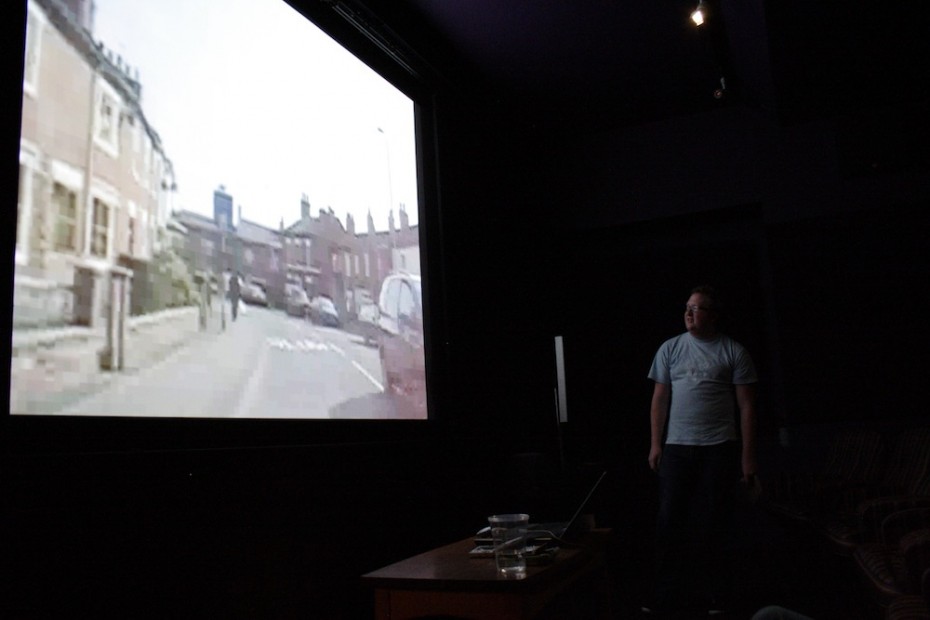 "I am live artist, performance-maker and games designer. An Oasis in 5 Parts is a series of works about hometowns, memories and journeys. About my hometown - it's a show about Ashby De La Zouch - about leaving places and having to go back. A story about a town that I no longer have any love for and a town that I wish still existed. A mixture of fragments that builds into a whole piece hopefully bigger than itself. It's about finding something to love in a town you hate. It is a show in 5 parts across different media: performance, audio, zines and video games. 
It is mostly a show about post-rock and snow."
"Pat Ashe's unique performance style mixes video games and technology with stories overheard and remembered" - Hatch Nottingham
Things past, and things never-happened. Things remembered and things made up. Two shows from two gentle, lovely, and self-depreceatingly funny artists. Not to be missed.
Thursday the 11th of April at the Crumblin Cookie - doors at 7.30pm. Break-even donation at full capacity is £5, any more is very welcome, and it all goes to paying for food, accommodation, travel, print and props. Artists, venue, and the organiser all give their time and space for free. Because they're lovely. 
Things people have said about previous events:
"back from a brilliant night watching @performancepub [...] you're a twat if you miss it" - @churlishmeg

"lovely fun" - @spunshon

"I'm not a theatre goer *at all* and it'd normally be something I find intimidating, but @performancepub proved...that there's more to theatre than stuffy pantomime and shakespeare and it can be all kinds of entertaining & provocative =)" - @frivolousshrig

"heart meltingly beautiful stor[ies]" - @discoverbrevity

"try the latest Performance in the Pub at the Crumblin' Cookie on Thursday night" Lyn Gardner *The Guardian* 



WHY IN A PUB?
Because we're so bored of all these divisions between art forms. And big shiny buildings that act like cathedrals to art/theatre/etc. They have their place, but the problem is it's not a place that's a part of most people's lives. The pub, on the other hand, is. That's why a pub. Single-form buildings only work heavily subsidised by either government (arts council) or large-scale commercialism (cinemas, large music venues), or alcohol (small venues). The latter is way more fun, so let's fill nooks and crannies of these buildings with theatre, performance, dance, exhibitions, craft, music and more. Make our cities exciting, varied places to be. This is our contribution.
HOW MUCH DOES THIS COST? (WHY DONATIONS)
How much does it cost us, or how much does it cost you? Well, basically we are working for free, we pay for the travel, food and accommodation of the performers, who are giving their time for free. All the promotion, printing, deposit for the venue, website building, and everything is upfronted by PitP, and hopefully paid back by the money people donate for tickets. That leads us to:
How much does it cost you? Well actually that's another important thing, that you can 'trial' this stuff, that if you really don't want to spend a 5ver or whatever on it, that you can just walk in, and sit down, and see what you think, and maybe pay afterwards if you liked it. Or pay next time. That's why it's 'donation based' ticketing. If you're looking for a guide price, though, it costs us roughly £250-£300 to put on each show. If we sell out the venue at £5 each ticket then we break even. More is more to roll forward into more print/acts/etc. So if you want to help more happen £5 or over is ACE, you're effectively only paying £2.50 per nationally or internationally known performance at that price ;) also; buy drinks. This keeps the venue happy
When & Where

Crumblin' Cookie
68 high st
le1 5yp Leicester
United Kingdom


Thursday, April 11, 2013 from 7:30 PM to 10:30 PM (BST)
Add to my calendar