Performance Management Workshop - How to Build Winning Teams
Description
John Robinson, Employment Partner at Schofield Sweeney Solicitors is holding a workshop in Leeds, with guest speakers Fiona Prattley from FMP Development Consultancy and Stuart Johnson from Engage & Grow.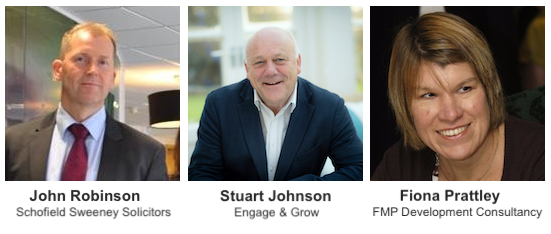 ---

Meet the Host: John Robinson...
John is a partner in Schofield Sweeney's employment team with 20 years' experience of advising primarily businesses but also senior employees in all aspects of employment law. His clients come to him when they need straightforward, pragmatic and legally correct advice. He will challenge your strategy but will always make sure that his advice achieves your objectives as quickly and as cost effectively as possible.
As an experienced Tribunal advocate, John has successfully acted for businesses defending claims of unfair dismissal, all types of discrimination, whistleblowing, breach of contract and complex TUPE issues. John regularly provides training for clients and presents pragmatic and informative seminars on a range of employment law and HR related issues.
What John will cover:
Understanding the legal principles which underpin effective performance management

Ensuring that any dismissal for poor performance is fair and with minimal risk

The key requirements and a framework for employers to deal with poor performers


---

Meet Guest Speaker, Stuart Johnson...
Stuart is an experienced business growth and development coach as well as specialising in employee engagement.
Stuart believes the biggest challenge facing businesses today is improving employee engagement, which in turn, increases revenue and profit, and also reduces time needed to manage and recruit staff. The most recent data provided by Gallup indicates that just 8% of employees in the UK are engaged at work, down from 17% in 2012.
At the end of the workshop Stuart will be available to answer any questions you may have and if necessary you will be able to book a complimentary meeting with Stuart to find out more about the solutions available to your individual organisations.
What Stuart will cover:
How to improve employee engagement, which will increase your bottom line

The various and typical challenges surrounding engagement and how to address these

Solutions and resources to implement effective change


---

Meet Guest Speaker: Fiona Prattley
Fiona is a Human Resources, Training and Development Consultant, providing Personnel and Training support to businesses. Fiona works with organisations to develop personnel policies and procedures and offers advice and support with people issues. Fiona also designs and delivers exciting and stimulating training courses in leadership, management skills and customer service. Her passion for continuous personal development is reflected in the breadth of skills and expertise gained over the years, enabling her to design and deliver a comprehensive array of high-quality training and development solutions to organisations.
What Fiona will cover:
Maximising performance and getting the best out of people

How to ensure that staff are motivated to perform

Management and leadership tips and techniques



---


Book your place now while places are still available and get your team working with you to grow your company in 2019.