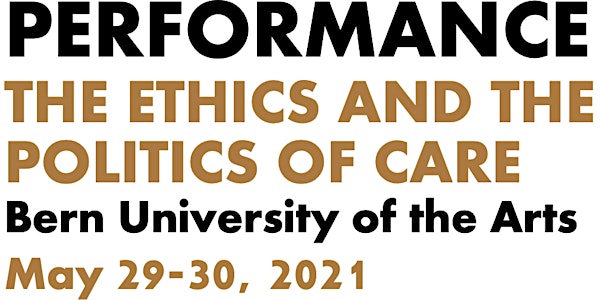 Performance: The Ethics and the Politics of Care — # 1. Mapping the Field
A two-day colloquium gathering leading voices in the field of performance theory and care
About this event
This event aims at advancing the knowledge on this topic within the discipline of conservation on the one hand, while, on the other, locating the discourse of conservation within a broader field of the humanities disciplines concerned with the theories and practices of performance— performance studies, anthropology, art history, curatorial studies, heritage studies and museology.
We propose to contest the common-sense understanding of performance as a non-conservable form and ask questions concerning how, and to what extent, performance art and performance-based works can be conserved.
Keynotes: Prof Rebecca Schneider (Brown University) , Prof Pip Laurenson (Tate/Maastricht University), Prof Gabriella Giannachi (University of Exter), Prof Barbara Büscher (University of Music and Theatre Leipzig).
Speakers: Hélia Marçal, Kate Lewis, Lizzie Gorfaine, Ana Janevski, Martha Joseph, Erin Brannigan, Brian Castriota, Farris Wahbeh, Louise Lawson, Rachel Mader, Siri Peyer, Sooyoung Leam, Karolina Wilczyńska, Iona Goldie-Scot, Claire Walsh and Ana Ribeiro.
The colloquium will feature two performance interludes by artists Frieder Butzmann (May 29) and Gisela Hochuli (May 30). We invite you to contribute to Gisela Hochuli's performance by May 22 (please see below for instructions).
This colloquium is a part of the ongoing research project Performance: Conservation, Materiality, Knowledge funded by the Swiss National Science Foundation at Bern University of the Arts. The project focuses on the questions of conservation of performance-based works, their temporal specifics, the involvement of the human and non-human body, the world of their extended trace history, memory, and archive. Explored are notions of care, the ideals of traditional conservation and their relations to tacit or explicit knowledge, skill and technique. Taking as a starting point the necessity for conservators to access and deepen this area of study, and unlike queries that situate these questions within other disciples, in this project, we approach performance as a necessarily conservable form.
//
Day One, Saturday, May 29
1:00pm-1:30pm Introduction: SNSF Project Team
1:30pm-2:15pm Keynote
Pip Laurenson: Charisma, Desire and Understanding in the Conservation of Performance Art
Panel 1: Making performance last
2:15pm-2:45pm Erin Brannigan and Louise Lawson: Precarious Movements: Contemporary Dance as Contemporary Art
2:45pm-3:15pm Rachel Mader and Siri Peyer: Interfrictions (a rubbing together) – The 'Ephemeral' Meets the 'Static'
3:15pm-3:30pm Performance interlude No.1 - Frieder Butzmann & theallstarszoomensemble, [ zooms'n'spells'n'lights – recharged], 2021
3:30pm-4:15pm BREAK
Panel 2: Capturing liveness between theory and practice
4:15pm-4:45pm Hélia Marçal: Vitality and the Conservation of Performance
4:45pm- 5:15pm Farris Wahbeh: A continuum of Instances: Archival Strategies for Performance-Based Artworks
5:15pm-5:45pm Lizzie Gorfaine, Ana Janevski, Martha Joseph, and Kate Lewis: Intellectual Gifts: Case Studies in Collecting Performance
5:45 pm-6:00pm SHORT BREAK
6:00pm-6:45pm Keynote
Gabriella Giannachi: Conserving the Un-conservable: Documenting Environmental Performance for the 21st Century
6:45 pm-7:30pm Discussion
Day Two, Sunday, May 30
1:00pm-1:45pm Keynote
Barbara Büscher: From the Work to the Performance and its Traces/Documents: Performance Art at the Intersection of Art History and Theatre/Performance Studies
Panel 3: Practicing and festivalizing care
1:45pm-2:15pm Sooyoung Leam: Festivalising Performance: Communication-Art Group (Un)archived
2:15pm-2:45pm Karolina Wilczyńska: Maintenance is Never Done: Care and Preservation in Mierle Laderman Ukeles's Performances
2:45pm-3:00pm Performance interlude Nr. 2 - Gisela Hochuli (CH), In Strange Hands, 2021. Performance instructions. Please note call for participation below.
3:00pm-3:45pm BREAK
Panel 4: Experimental acquisitions and the politics of stewardship
3:45pm-4:15pm Iona Goldie-Scot: An Experimental Acquisition: Conflicting Conventions and Infrastructural Barriers (Ralph Lemon at the Walker)
4:15pm-4:45pm Brian Castriota and Claire Walsh: Collecting In the Shadow of the State: Acquiring Performance at the Irish Museum of Modern Art and Institutions of Care in the Irish Context
4:45pm-5:15pm Ana Ribeiro and Louise Lawson: Caring for Performance Art in the Museum: From Acquisition to Activation
5:15pm-5:30pm SHORT BREAK
5:30pm-6:15 pm Keynote
Rebecca Schneider: Not, Yet: When Our Art is in our Hands. With Antiphonal Interludes by Hanna Hölling
6:15pm-7:30pm Discussion & closing remarks
---
Each 30-minutes keynote will be followed by a 15 minutes discussion and each 20-minutes presentation will be followed by a 10-minutes discussion. Additional discussion slots are scheduled at the end of both days.
Abstracts and speakers' short biographies are available
here.
All times in CET.
This event will be held via Zoom. A link will be circulated to registrants shortly before the event.
Call for Instructions
For the colloquium, Swiss performance artist Gisela Hochuli is developing a Zoom performance on the basis of instructions sent by audiences. If you wish to participate, create and send in your own performance instruction to the artist. The instruction needs to be recorded as an audio recording (e.g. voice memo) on your smartphone or tablet and feature your first and last name and the year of creation. Please ensure a good quality of the recording. Send the recorded instruction accompanied by its textual form to Gisela Hochuli: nexus@giselahochuli.com. Deadline: May 22, 2021.