Performance Through Well-being - CIPD South West Collaboration Session
Sales Have Ended
Registrations are closed
Thank you for registering for this on-line event. This will be delivered via Zoom. You will receive an email with the Zoom link - please retain this email. The link will be emailed to all booked delegates 48 and 18 hours before the event and is also included in your Booking Confirmation email. Reminders will also be sent out 48 and 18 hours before the session, which will include the passcode. Please check spam and junk folders. For security reasons, it is requested that participants join the live session 10 minutes prior to the scheduled start time and with the same name as registered on Eventbrite as not doing so may cause a delay or non-admittance to the event. We look forward to seeing you. CIPD South West Collaboration
Sales Have Ended
Registrations are closed
Thank you for registering for this on-line event. This will be delivered via Zoom. You will receive an email with the Zoom link - please retain this email. The link will be emailed to all booked delegates 48 and 18 hours before the event and is also included in your Booking Confirmation email. Reminders will also be sent out 48 and 18 hours before the session, which will include the passcode. Please check spam and junk folders. For security reasons, it is requested that participants join the live session 10 minutes prior to the scheduled start time and with the same name as registered on Eventbrite as not doing so may cause a delay or non-admittance to the event. We look forward to seeing you. CIPD South West Collaboration
Equipping you to turn wellbeing from a distraction into a driver of performance!!
About this event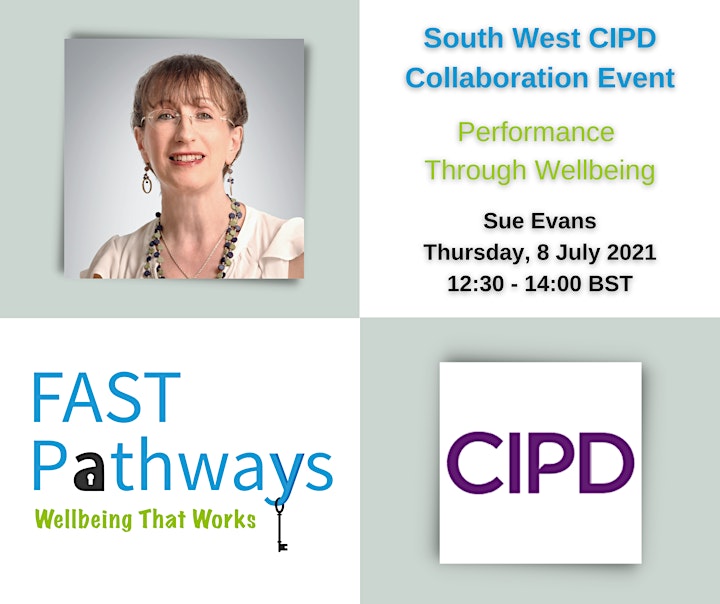 Due to the current Covid-19 situation, we will deliver this event as a webinar. Thank you for your support and understanding at this time.
Performance Through Well-being - CIPD South West Collaboration Session
Event details:
This is the second in a series of 2 hosted as a joint event by the South West Region Branches.
An effective wellbeing strategy's about so much more than avoiding mental ill health – it's about keeping your people on top form, more of the time. Because done right, Wellbeing's one of the most effective routes to better productivity, quality, customer service and profits. And yet so many leadership teams still see Wellbeing as a distraction, rather than a driver of performance.
In this session, we'll turn that around, exploring a straightforward, step-by-step approach to make Wellbeing easier to deliver, giving you some building blocks for your effective Wellbeing strategy.
We'll explore…
• How wellbeing can disrupt or improve day-to-day business
• The true financial impacts and potential returns
• How to keep your strategy simple and effective
… so that you can get wellbeing working!
After the presentation
How often have you attended a great presentation, but by the time you came to implement what you'd learned, you'd forgotten what it was? This session is accompanied by comprehensive after-session resources to help CIPD Members put what we explore into practice, to improve both their own, and their organisations' Wellbeing.
About our Speaker - Sue Evans
Sue has delivered Operational Excellence and culture change events for several international organisations. Highlights include leading a programme which more than doubled site productivity and delivered £1.9M waste reduction in under 5 months. Embarking on her mission to save the NHS £1million in avoidable prescriptions, Sue's taught thousands of people the skills for better mental wellbeing, which have underpinned numerous breakthroughs, including prevented absences and resignations.
Sue is a Master Practitioner and Trainer of NLP (neuro-linguistic programming), and an Approved Havening® Practitioner, trained in each by the original creators. She has a Diploma in CBT (cognitive behavioural therapy), a combined Diploma in Hypnotherapy, Coaching and NLP; and Institute of Leadership and Management certification as a Mentor and Coach. Sue funded the FAST Pathways® Academy to share powerful skills for improving performance through better Mental Wellbeing.
Additional Information:
Please note this event may be recorded for future viewing. By registering for and attending this event, you are voluntarily acknowledging and accepting this may be a recorded event.
This is an online event via Zoom. The link will be emailed to all booked delegates 48 and 18 hours before the event and is also included in your Booking Confirmation email. Reminders will also be sent out 48 and 18 hours before the session, which will include the passcode Please check spam and junk folders. Here are some guidelines to help you get the most out of this webinar.
For security reasons, it is requested that participants join the live session 10 minutes prior to the scheduled start time and with the same name as registered on Eventbrite as not doing so may cause a delay or non-admittance to the event.
Coronavirus:
The CIPD is providing Coronavirus advice to Employers both online and in the media. You can find up to date information on the CIPD's website "here".
Organiser of Performance Through Well-being - CIPD South West Collaboration Session