Description
'Person Centred Culture – Removing the blinkers'
Sharing the learning from the Marie Curie Edinburgh Hospice
Tuesday, 24th April 2018
12.30 – 4.30pm at the Norton Street Conference Centre
The Marie Curie Edinburgh Hospice would like to invite you to a free event to explore how strengthening a person centred culture can deliver positive change in care and support for staff, patients, families and carers.
Why should you attend?
'Person-centredness' is a topical theme for health and social care organisations, as they explore how patients, staff, families and carers can sit at the heart of care and decision-making.

The Scottish Government is looking to ensure a person centred approach is taken in the design of care and support across health and social care settings. The principles and approach of person-centredness is central to the new Health and Social Care Standards which will inform the inspection framework.

The Marie Curie Edinburgh hospice can demonstrate some of the tools which have helped create real organisational change, and improved performance and quality of care as it has moved towards a person centred culture.

This is a practical, interactive conference based on active learning and sharing of knowledge and best practice.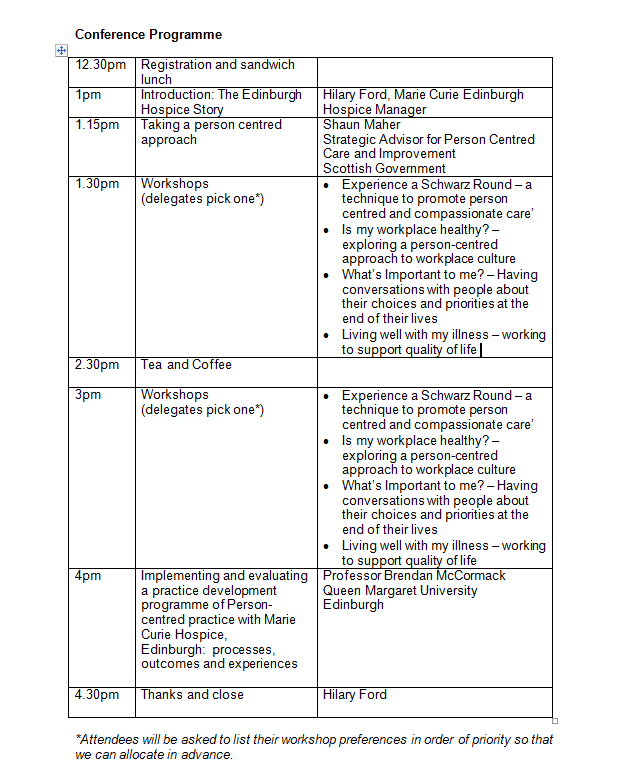 For further information please contact Deborah Cherry at: deborah.cherry@mariecurie.org.uk