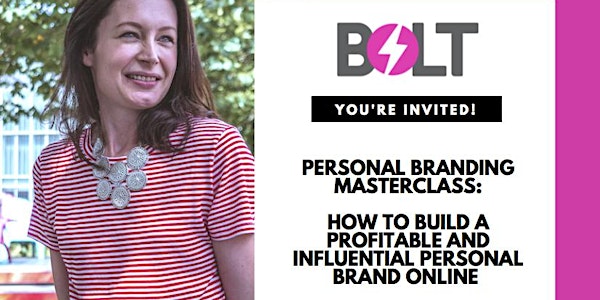 Personal Branding Masterclass: How To Build A Profitable & Influential Pers...
Location
Bolt Digital
The MediaWorks
191 Wood Lane
London
W12 7FP
United Kingdom
Refund policy
Refunds up to 7 days before event
Description
The Personal Branding Masterclass is a day workshop created by author of 'Stand Out Online' and CEO of Bolt Digital, Natasha Courtenay-Smith.
It is the opportunity to really get to the heart of the practicalities of creating a powerful and influential personal brand that will create boundless professional opportunities.
During the training day you will
⚡Discover how to become a recognised thought leader in your industry
⚡Understand how to go direct to consumer by building your digital personal brand.
⚡Map out your unique messages and content strategy for your personal brand
⚡Complete your own blueprint for your personal brand
⚡Discover Your Unique Positioning and Create Your Personal Brand Blueprint
Whether you're an entrepreneur, executive, expert or an employee, how you present yourself online has a huge impact on your professional reputation. We are lucky to live in a world where everyone now has the power to publish and create micro-fame by putting out content - word by word, post by post, video by video.
Agenda
⚡Impact Filter - Analysis of the value of your personal brand
⚡Audit Existing Audiences and networks and brand assets
⚡Vision, Mission, Values, Content Pillars and Core Messaging Communication Pyramid
⚡Your key achievements and unique abilities
⚡Your personal brand specific goals and timeline
⚡The Competition and your USP
⚡Your content strategy
⚡Launching your brand
⚡Building your Team
The day is interactive and all attendees are set to leave with
✅Completed personal brand blueprint workbook
✅The knowledge and technical know how of building a personal brand.
✅The practical tools and assets needed to get started.
✅A complimentary copy of Stand Out Online.
*** There will be post-event drinks and networking ***
Please email any questions to luke@boltdigital.media