Description
Found & Flourish presents How to beat overwhelm, feel spacious and get more done with women's leadership coach and founder of Catalyst Collective, Katy Murray.

Burnout, overwhelm and stress will ruin your business if you allow it. Wellbeing is absolutely essential for your creativity and productivity.
At Found and Flourish we want to offer a safe space for women in business to learn the tools and techniques to overcome burnout and overwhelm so they can truly flourish in business and in life.
Is this workshop for me?
You want to learn how to work smarter, not harder.
You have so much going on (including opportunities, options and projects on-the-go in your business), that some days you don't know where to start. You have lists, spreadsheets, project plans, and lists of all your lists, in case you lose your list!
Most days you love your business but it's hard to switch off and sometimes you feel overwhelmed. You'd love more space for the things that really matter to you.
We're in an overwhelm epidemic, and female entrepreneurs are no exception! The pace of business and technology isn't going to change – but you can.
What will I learn?
In this session you'll learn the secrets of how to create more space and get more done, every day, without working harder.
You'll leave with tips and tools that you can apply straight away into how you lead your business, to create a life free from overwhelm.
If you want to thrive in your business and not just survive, then this is for you!
You'll also learn how to:
Map and track your energy to 5X your productivity

Activate the 3 essential mindset shifts which will revolutionise how you plan your days

Use your regular routines + rhythms to turbocharge your daily energy

Stay focused + energised for as long as you want to
You'll leave with:
You'll leave with tips, tools and productivity hacks that you can apply straight away into how you lead your business, to create a life free from overwhelm. We'll share a bonus overwhelm first aid kit, and a guide to creating a morning routine that sets you up for your best day!
This session is your antidote to overwhelm!
The agenda:
10:30 - 11:30 Session 1

11:30 - 11:45 Break

11:45 - 12:45 Session 2

12:45 - 13:00 Q&A

13:30 - 14:00 Networking (chats & hugs)
Looking forward to seeing you there!
You can join our online community by signing up to our newsletter here.
Because running a business is tough business. We're right here with you.
Found & Flourish
x
Please note: We have a number of pay-as-you-can tickets for people on low incomes, to find out more please get in touch via Hello@foundflourish.co.uk.


About your trainer
Katy Murray
Katy is a conference speaker and convenor, trainer, coach, facilitator and Director of Catalyst Collective www.catalyst-collective.com She works with female leaders and founders/entrepreneurs to step up to lead our businesses without burning out. She lives in the Lake District with her partner + 2 kids. She loves all things turquoise, café working and yoga in the hills.

About your Host
Lara Sheldrake
Lara is the Founder & Director of Found & Flourish, a female led organisation empowering women in business through community, services and events. With a background in advertising and social media strategy, Lara has over ten years experience working with early stage startups to household brands.
Lara hopes by putting on events such as this one she can support other women in business to launch, grow and scale impactful businesses.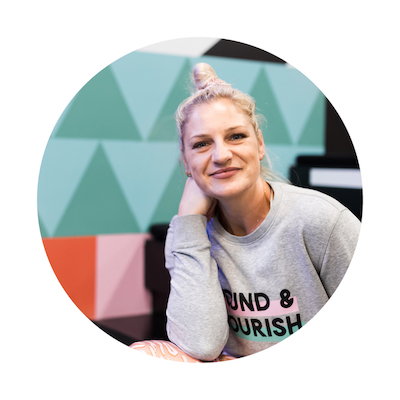 FAQs
Is your event for women only?
We welcome anyone who identifies as a woman or a non-binary woman. We're on a mission to close the opportunity gap for female founders, so if Found & Flourish is a fit for how you identify then we'd love to have you join us.
What's the refund policy?
You can receive a full refund up to 7 days before the event.