Personalised Medicine: How Precision Medicine is Changing Cancer Therapy
Description
Personalised Medicine: How Precision Medicine is Changing Cancer Therapy

Precision Medicine is radically changing the way cancer therapy is planned for and delivered to millions of people around the globe. It is at the forefront of science and its results so far have been nothing short of astounding.
This event brings together some of the most renowned, experienced and inspirational scientists in the field. Their research and expertise has mapped the customisation of healthcare in cancer, allowing thousands of patients to benefit from medical decisions, treatments, practices and products that relate to their individual makeup. Unprecedented levels of wellness have, thus, been achieved, making personalised medicine the obvious choice of 21st century cancer care.
DR. ROSY DANIEL BSc MBBCh

Mapping Your Way Through Holistic Cancer Care
Nowadays, with internet information overload and so many self-help experts within cancer therapy and self-help, it is easy to get overwhelmed and confused when trying to create an effective personalised programme. Dr Rosy Daniel will help us to see clearly the kinds of help that are available through all phases of the cancer journey arranging these into 10 clear levels of approach. She will then show us how and when to apply these approaches for best effect either before, alongside or after orthodox medicine. She will help you think about your own needs and values in healthcare so that you can make the choices that are right for you with the correct support in place for your body, mind and soul and also for those that are caring for you.
BIOGRAPHY
Dr Rosy Daniel was Doctor and then Medical Director at the Bristol Cancer Help Centre (now Penny Brohn UK) between 1985 and 2000 helping to pioneer the holistic approach to cancer care. During that time and since she has worked as an author, teacher, broadcaster, researcher and consultant spreading the word constantly about the best ways that people can help themselves in the face of cancer. In 2003 she launched the Cancer Lifeline Kit and associated health coaching and mentorship service to provide the crucial support needed to maintain motivation whatever challenges arise. Rosy now practices in Bath offering integrative healthcare advice to ensure that her clients get the best of all worlds, orthodox, complementary , alternative and self-help.


PROF. DR. MED. KATHARINA PACHMANN
What is the Future in Precision Diagnostics? From Screening to Stem Cells and Back
Continual research and development is vital in order to advance cancer treatment. The Maintrac team is endlessly working to achieve this goal. The next steps will be to identify the most important cells among the CETCs (circulating epithelial tumour cells) that have the ability to grow: the so-called tumour stem cells. A test is now available to identify these stem cells. The next stage is to fully investigate and develop the clinical application of this research.

It is, as we are all aware, extremely important that we detect cancer early when it is in the curative phase of the disease. Many cutting-edge advancements are being brought to the table: this can only be a positive move forward for the patients.

Here we present the latest results of our research aimed at improving cancer therapy
BIOGRAPHY
Prof. Dr. med. Katharina Pachmann is Senior Researcher at Transfusion Center Bayreuth, Germany since 2012. She is the Head of Marketing Oncology CTCs at SIMFO GmbH .She recevied her Phd from Institute for Hematology der GSF, München; Medical Clinic, Klinikum rechts der Isar, München; Medical Clinic, Klinikum Innenstadt der Ludwig-Maximilians Universität, München respectively. She also served as the Head of the Department of Experimental Hematology and Oncology, Friedrich Schiller-Universität Jena. She is visiting scientist at LKH Universitätsklinikum Graz Gemeinsame Einrichtung für Klinische Immunologie, Jean-Dausset Laboratorium. She has also served as a Visiting Scientist in MD Anderson Cancer Center Houston Texas Section of Molecular Hematology and Therapy from 1996-1998.
DR. RAJENDRA SHARMA
Integrated Cancer Care and the Role of Mitochondria

Conventional medicine has its successes with regards to treatment towards those with cancer. The focus is on surgery and the cytotoxic effects of radiotherapy and chemotherapy. Functional medicine, as the name suggests, aims at correcting dysfunction in the systems in the body that defend us and prevent chronic disease. Using lifestyle choices, nutrition and dietetics, exercise programs and psycho-spiritual avenues the body can surmount many diseases. The use of high-dose supplements, herbal and Homeopathic therapies, Eastern medical approaches and other natural-based treatments all have evidence of benefit. A developing area of interest is the re-emergence of mitochondria and its role in chronic disease. Oncologists worldwide are embracing an integrated approach to cancer care, considering the protection of healthy cells against conventional side effects and the use of natural therapies in mitochondrial, immunity and detoxification function.
BIOGRAPHY
DR RAJENDRA SHARMA, is a leading Integrated Medical Doctor who utilizes conventional, Functional and Complementary medicine in his Practice. His special interest is working with chronic disease and its underlying causes, particularly CFS/ME, cancer and other difficult conditions that respond poorly to conventional medicine. He focuses on optimizing health through nutritional and non-drug medicine.
Dr Sharma has been both Secretary and Treasurer of the British Society for Ecological Medicine where he contributed to the BSEM's Education Modules. His experience has led him to include ecological health screening in his repertoire which encompasses investigations and treatment for metal toxicity, food allergy, pollution detoxication, etc.
Dr Sharma is a generalist and is considered by many to be their family doctor as he works with all medical conditions. He is the author of The Family Encyclopedia of Health (Element 1998, Thorsons 2002) and the Award Winning healthy ageing book, "Live Longer Live Younger" (Watkins 2014).
He has provided content and support to many media outlets including the BBC, ITV, and Channel 4, and he is frequently invited to comment on topical issues and provide comment to blogs, journals and popular magazines. Over his experienced career as Medical Director at the Hale Clinic and The Diagnostic Clinic he has forged new care initiatives.
DR. ARMIN SCHWARZBACH
Infectious Pathogens and Cancer: The Emerging Evidence
BIOGRAPHY
Dr. Armin Schwarzbach, MD, PhD is a Medical Doctor and a specialist for laboratory medicine and infectious diseases from ArminLabs, Augsburg, Germany. He has been working in the field of diagnostic tests for infectious pathogens for more than 20 years. He began by studying biochemistry at Hoechst AG, Frankfurt/Germany and pharmacy at the University of Mainz/Germany in 1984. After that he studied medicine for 6 years at the University of Mainz/Germany and finished his MD in 1991.
Dr. Schwarzbach developed the worldwide first Radioimmunoassay (RIA) for human Gastric Inhibitory Polypeptide (hGIP) from 1986 – 1991, reaching his PhD in 1992. He worked as a medical assistant in internal medicine, oncology, cardiology, gastroenterology and infectiology afterwards for several years. By 1993 he had started specializing in laboratory medicine in infectiology, microbiology, immunology, hematology, clinical chemistry, endocrinology and gynecological endocrinology.
Please check back for regular updates.
CPD Accreditation awarded by the Naturopathic Nutrition Association (NNA) = 3hrs

---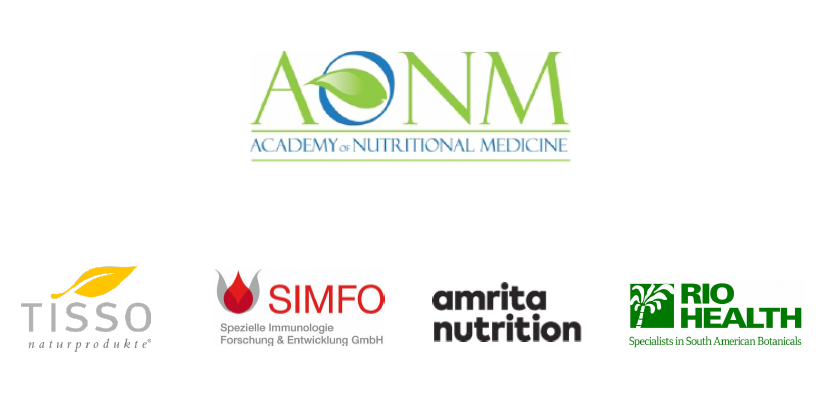 Dr. Rosy Daniel BSc MBBCh







Dr. Rajendra Sharma MB BCh BAO LRCP&S(Ire) MFHom







Prof. Dr. med. Katharina Pachmann







Dr. Armin Schwarzbach MD PhD