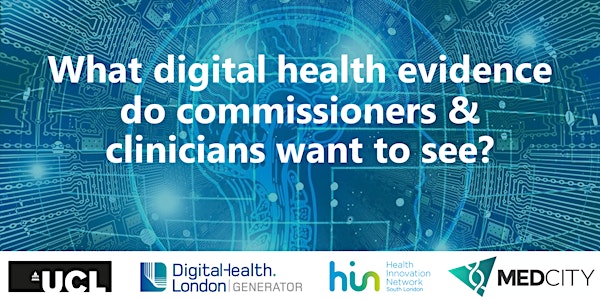 Perspectives from the system: what digital health evidence do commissioners
What digital health evidence do commissioners & clinicians want to see?
About this event
In this #EvaluateDigiHealth webinar, commissioners and clinicians from within the NHS and social care system discuss their experience and understanding of evidence generated by digital health companies.
Evidence can mean different things to different sectors, and alignment is key in ensuring SMEs focus on generating relevant evidence and commissioner are empowered and comfortable enough to challenge evidence.
This webinar aims to encourage this conversation and produce a thought leadership piece with views from both industry and the system.
Chairs:
Katya Masconi-Yule, Programme Manager, DigitalHealth.London Accelerator
Brett Hatfield, NHS Navigator, DigitalHealth.London Accelerator
Contributors:
Rishi Das-Gupta, CEO, Health Innovation Network
Viccie Nelson, Senior Transformation Manager, SWL health and care partnership
Robert Sweeney, COO at Greenwich Health
Ben Wanless, Consultant MSK Physiotherapist, St George's University Hospital NHS Foundation Trust