Description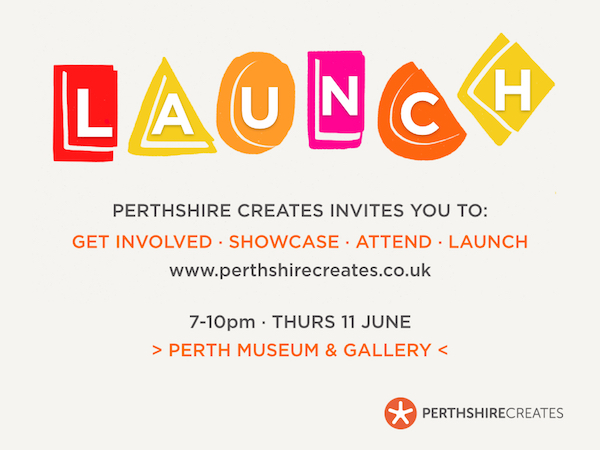 We would love you to join us on the evening of Thursday 11 June 2015, to celebrate the launch of Perthshire Creates, the new platform placing a spotlight on the area's creative talent.
We are taking over Perth Museum & Art Gallery for one night only to:
Hear from six artists/designers about the future of their practice and location. What will Perth and Kinross look like in 2020 and what creative activities will be happening?
Give you the floor to showcase what you do - bringing along your products, profiling your activities on digital screens, performing across the venue - just let us know what you would like to do!
Map the creative events across the calendar year to create a digital directory and also look at what's missing and what could be developed.
Ask you to consider what's next for you and your practice - with a live illustrator documenting your visions for the future.
Film you (only with your permission!) to hear more about your practice, to be shared online after the event.
Enjoy some music,

a celebratory complimentary drink and nibbles!
We really hope that you will be able to join us, to find out more about Perthshire Creates and also get involved - if you would like to take the opportunity to showcase your work in any shape or form, then please register for the attend, as the questions in the booking form should enable you to let us know what you would like to bring/do on the night. If you have any questions, please do contact us on: contact@perthshirecreates.co.uk
We look forward to hearing from you and seeing you on the 11th June, please do help spread the word, thanks!
Perthshire Creates - shining a spotlight on contemporary creative activities across the Perth and Kinross area. www.perthshirecreates.co.uk | Facebook: www.facebook.com/PerthshireCreates | Twitter: @PKCreates | #PKCreates
Organiser of PERTHSHIRE CREATES: LAUNCH EVENT
Perthshire Creates is a network to shine a spotlight on contemporary creative activities happening across the Perth and Kinross area.
This online platform will showcase the work, events and opportunities of the many vibrant clusters of artists, designers, creative businesses and cultural organisations in the area.
Perthshire Creates has been made possible through Creative Scotland's Place Partnership programme and has been initiated by Perth & Kinross Council. Perthshire Creates is grateful to Pitlochry Festival Theatre for its ongoing support in establishing the network.