Pet ID and IAPWA invite you to a special Online Yoga Class
Online Yoga Class in aid of IAPWA, sponsored by Pet-ID
About this Event
As one of Pet-ID's valuable customers and colleagues, they are delighted to give you the chance to attend this Online Yoga Class free of charge (although if you'd like to make a donation, that would be fantastic!)
When Pet-ID heard of the class being run by International Aid for the Protection and Welfare of Animals, they thought it was a fantastic opportunity not only to support their work but also to support each other in these very challenging times.
So why not take an hour out of your day to reflect and concentrate on your wellbeing. Join us for this lovely past, present and future Online Yoga Class which concentrates on relaxation, understanding what you are in control of and how to let go of things you're not. The class is suitable for all, so whether this is your first time or you are a regular, you are more than welcome.
Every penny donated will aid the work of IAPWA, who like many other charities, have suffered this year . Help IAPWA to care for animals like Noobu.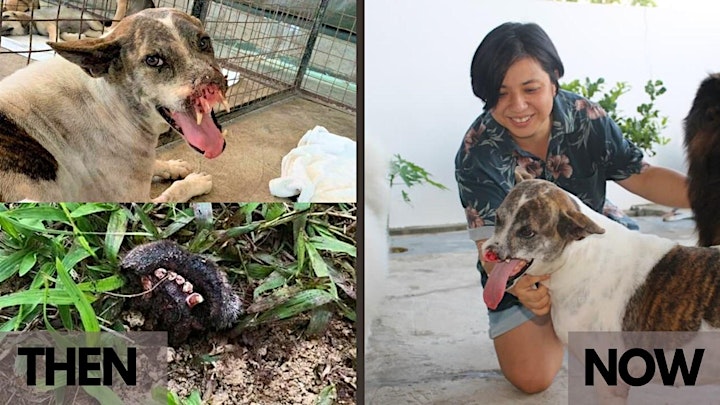 One of the dogs we've helped this year is Noobu, who was involved in a deliberate act of cruelty when someone cut off her snout leaving her with a horrendous injury. She was rescued by our good friends at BAWSS and required extensive care and treatment from our Borneo team at IAPWA's Borneo facility. Fast forward to today and after a long journey to recovery, Noobu is as happy and gentle dog and is living a fantastic life with her other furry companions and wonderful owner Lylian who says: "She has a happy life now. She sleeps and eats well too. It didn't take long for her to warm up to me as she was always friendly with humans." This sweet girl went through an experience that no dog should ever have to go through, but we are so happy that she has come out the other end as such a positive, happy little dog. Noobu was just one of many dogs that our teams fight to save every single day and unfortunately there is still so much more work to be done. Saving one dog might not change the world, but you will certainly change the world for that one dog.
DONATE: https://iapwa.org/donate