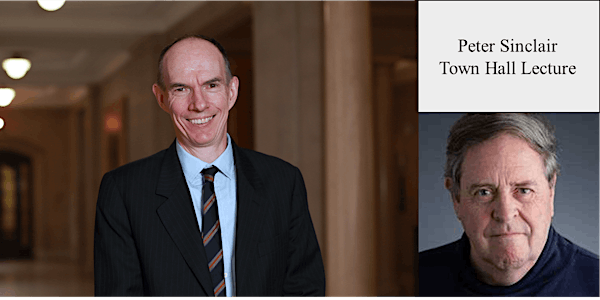 Peter Sinclair Town Hall: 'QE as an economic policy tool' with Dave Ramsden
Quantitative Easing as an economic policy tool - Prof Sir Dave Ramsden discusses what it does and how we should use it.
About this event
Quantitative Easing as an economic policy tool: what is it and how should we use it?
About the talk
Quantitative easing or QE has become a core part of the monetary policy toolkit. Since launching its first QE programme in 2009 in the midst of the financial crisis, the Bank of England's Monetary Policy Committee (the MPC) has announced QE purchases totalling £895 billion, equivalent to over 40% of annual UK GDP, with £450 billion of that coming in response to the global Covid pandemic.
Nevertheless, despite its widespread adoption in many jurisdictions, there remain open debates about how QE works in different states of the world, its broader interlinkages and its potential limitations. In this Town Hall lecture Bank of England Deputy Governor and MPC member Dave Ramsden, a former student of Peter Sinclair's, will address some of those debates and give his own view on QE's role as an economic policy tool.
There will be an introduction by the head of the University of Birmingham's Business School, Professor Cathy Cassell, and the opportunity to ask questions at the end (or submit questions in advance to R.L.McDonald@bham.ac.uk).
This event is available via Zoom and will be livestreamed to Facebook. Click through to the online event page for more details.
It is the third Peter Sinclair Town Hall lecture hosted by the Department of Economics at the University of Birmingham.
About the speaker
Dave Ramsden joined the Bank to become Deputy Governor for Markets and Banking on 4 September 2017. He is responsible for oversight of Markets, Banking Payments and Innovation, and Resolution directorates. Dave is a member of the Monetary Policy Committee, the Financial Policy Committee and the Prudential Regulation Committee. He is also the Chair of the RTGS/CHAPS Board.
Before joining the Bank, Dave was Chief Economic Adviser to the Treasury and Head of the Government Economic Service from 2007 – 2017. He was responsible for advising on UK macroeconomic policy and was the Government's representative of the meetings of the Bank's Monetary Policy Committee. Previous to that he held a number of civil service roles including leading the Treasury work advising on whether the UK should join the Euro.
Dave was awarded a CBE in the New Year Honours 2004 and made a Knight Bachelor in the New Year Honours 2015. He graduated with an MA in Politics, Philosophy and Economics from Oxford University in 1986 and received an MSC in Economics from the London School of Economics in 1990.
Dave is a Trustee of Pro Bono Economics and a visiting Professor at Kings College London. His outside interests include cycling, rock climbing and hill walking.
About the lecture series
The Peter Sinclair Town Hall lecture series features world class economists presenting their research and its real world implications to an audience of academic economists, economics students, and the wider community. The lectures are diverse in topic but united in that they bring the lens of economics to real world issues, demonstrating how economics can be both useful and a force for good in understanding and shaping the world. The lecture series is inspired by and commemorates Emeritus Professor Peter Sinclair, whose breadth of knowledge, curiosity, and kindness inspired his students and colleagues immeasurably.