Description
The Titus 2 Mentoring Programme for Younger Women (16 - 30 years) is designed to empower the younger women to spiritually grow and mature in the following areas of her life:
Ministry (How she is to package her abilities so that she can build and provide a service to her circle of influence)
Marriage (By understanding her role and postion as a help meet to her spouse so that together they are in unison building a corporate Kingdom vision)
Motherhood (By empowering her children and training them up to know who they are to fulfil their Kingdom purpose)
Mission (Pioneering opportunities in her environment and using her profits to build her home and the Kingdom)
The Titus 2 Mentoring Programme is a programme developed for the younger woman to fulfil her Kingdom mandate and is based on Titus 2: 3-5.
You are called to identify and understand how to use your gifts, iidentify your circle of influence, mature spriritually and occupy your space.
The Titus 2 Mentoring Programme will be delivered over a Petit Dejeuner style fashion (meaning Mentoring over a short breakfast) on Saturday February 25th 2017.
The four hour session involves -
Breakfast

Teaching/Mentoring

Discussing important topics to bring growth

Socialising
Our first topic will be - Identity In Christ (Spiritual and Practical Application)
Please see back of flyer for future topics that may interest you.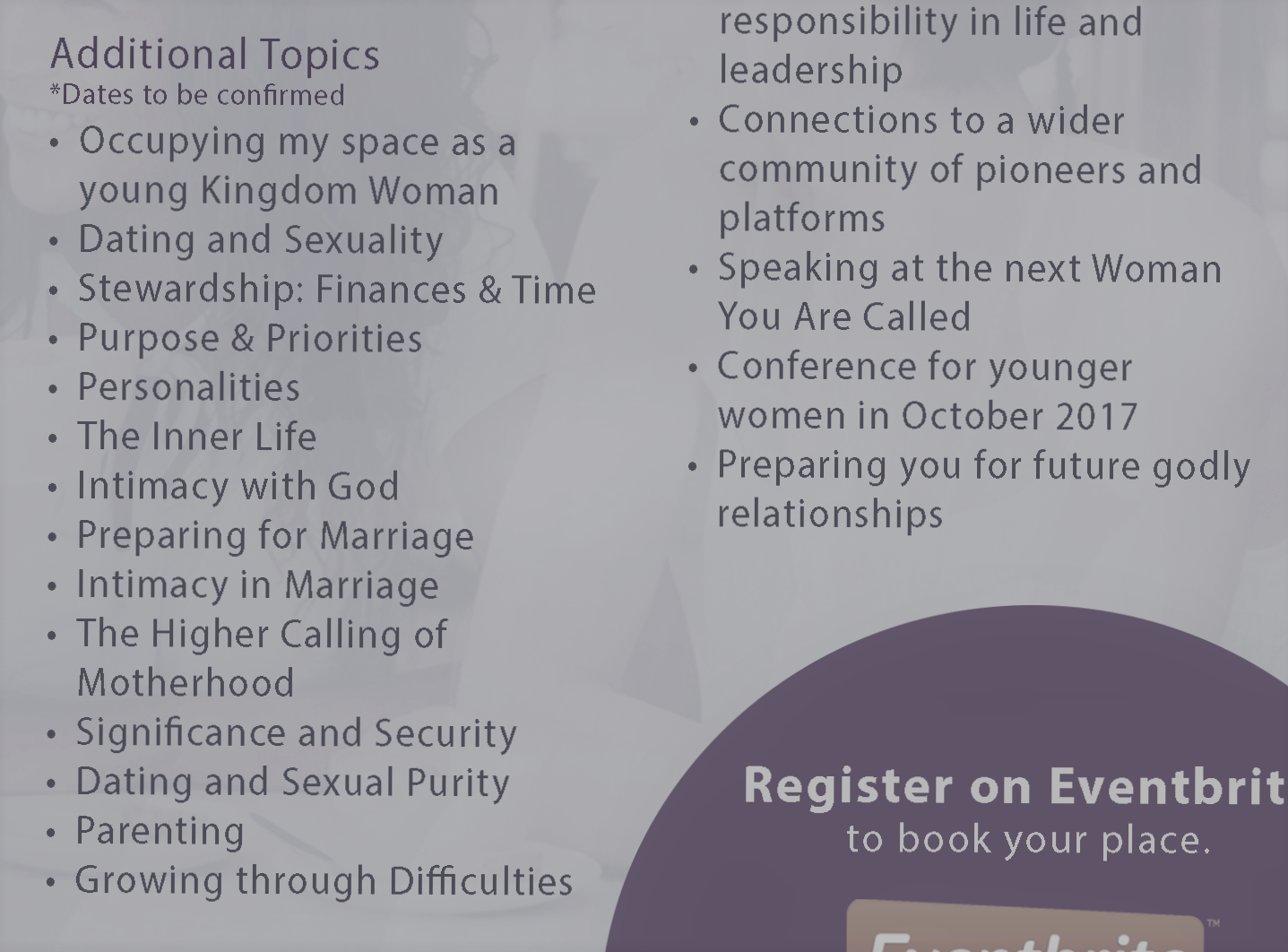 Benefits of the Titus 2 Mentoring Programme for Younger Women
Deeper relationship with God

Knowing your purpose & how to prioritise

Developing a sense of responsibility in life and leadership

Connections to a wider community of pioneers and platforms

Speaking at the next Woman You Are Called Conference for younger women in October 2017

Preparing you for future godly relationships
Speakers will be selected in accordance with topics for the day.