Come and join us for a knowledge and fun-filled two days this September in the East Midlands!
About this event
About this event
The main part of the event is being held at John and Margaret Hill's in Edingley, Nottinghamshire (NG22 8BU) - they have generously opened their farm to campers on 28th and 29th September.
Please pick and choose from the following events we have scheduled over the two days, or come to all of them. You can opt in to whatever you want to do when you get to the tickets page.
Tuesday 28th September
There are no events on Tuesday but should you wish to arrive in the area early, there are free basic camping facilities. There will be no catering so you will need to provide your own food and drink.
Wednesday 29th September 
10.00am - Tour of Doddington Hall Farm in Lincolnshire (LN6 4RU - around 40 minute drive from Edingley). This is a large Estate in the process of ending arable and which has reintroduced Lincoln Red Cattle to encourage more biodiversity back onto the land. These cattle and the existing wild deer population manage the landscape and Doddington will later be adding wild ponies and pigs to the mix.
This low intensity grazing will allow the development of wood pasture, wetlands and species-rich grassland across the previously extensively drained and conventionally farmed estate.
There will be a tour of the farm for a couple of hours .
2.30pm - Edingley, Nottinghamshire (NG22 8BU). The Hills, with daughter Rebecca, raise Pasture for Life certified shorthorn beef and also run a pop up shop and café. We will take a tour around the farm.  (We may split out in to groups depending on the numbers.)
The pedigree native Beef Shorthorn are grazed on old pastures and species rich meadows being fed through the winter months on hay from meadows developed under a higher level environmental scheme. Additionally silage is produced from grass fields sown with added herbs like plantain, chicory, trefoil and others.
6.00pm - Presentations
The Nature of Our Times - Chris Baines
Biodiversity and Flavour - Carrie Rimes
7.30pm - PFLA Birthday BBQ!
John is providing some wonderful meat and we have the Small Food Bakery in Nottingham providing everything else. There will be a cash bar.
Thursday 30th September 
9.00am - PFLA AGM
New directors will be elected and there will be some short updates from the PFLA team. Coffee, tea and pastries will be served from 8.30am.  We will also be announcing the winner of this year's Russ Carrington Award.
10.30am - another chance to tour the Hill's farm if you were not able to visit on 29th.
12.00pm - A tour of Inkpot Organic Farm, Lincolnshire (NG34 0AH - around an hour from Edingley). Hannah Thorogood is a successful one-woman farmer who is not only mob-grazing her cattle and sheep, but also her turkeys! She has been practising regenerative and permaculture techniques for the last 10 years. Hannah is a permaculture farmer, designer and teacher. She has taken the farm from a depleted, compacted, toxic arable field into the diverse, abundant farm it is today demonstrating permaculture, regenerative agriculture and producing nationally award winning food.
Please note that all monies received from the ticket sales are purely covering the catering and administration of the event. If you feel strongly that you do not wish to contribute financially to the running of the event but would still like to attend, please email membership@pfla.org.uk.
Our speakers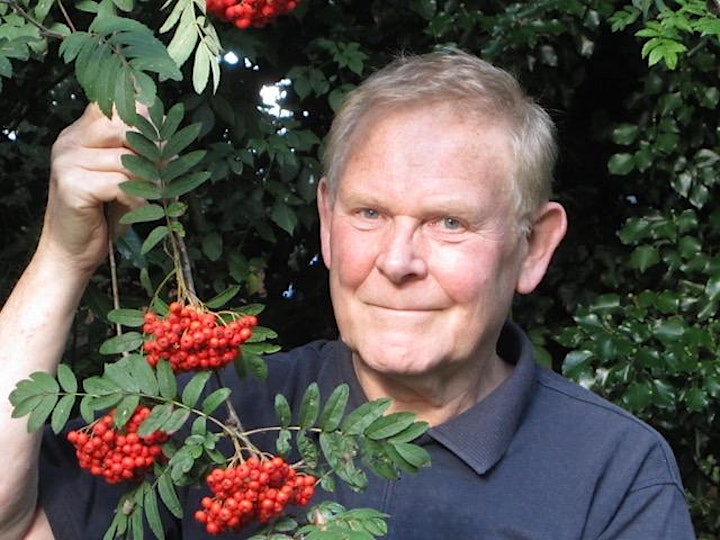 Chris Baines
Chris studied horticulture at Wye College in the late 1960s, where he spent 3 years being taught "how to kill everything".  He has spent his career trying to make amends.  Chris was a founder of the urban nature conservation movement in the UK.  He was one of the original presenters of BBC Countryfile and his book How to Make a Wildlife Garden has been in print for more than 35 years.  He won a medal for the first wildlife garden at Chelsea Flower Show, and he has lifetime achievement awards from the RSPB and the British Naturalists Association.  He is a national Vice President of the Royal Society of Wildlife Trusts and has served as a trustee of the National Lottery.
Chris is self-employed and works as an adviser to senior executives in the water, energy, construction and ethical investment industries.  He is currently chair of the Stakeholder Advisory Group for the National Grid's £500 million landscape enhancement programme and is also an adviser to the National Trust and to DEFRA.
Carrie Rimes
Carrie grew up on a small organic mixed family farm in Devon and had some youthful forays into making cheese. She left home to study ecology, then specialising in grasslands first for the Joint Nature Conservation Committee (JNCC), the body advising the UK government and devolved administrations on UK-wide and international nature conservation, and latterly for the Countryside Council for Wales (now Natural Resources Wales). Carrie describes herself taking early retirement to pursue her cheesemaking passions and spent three years in France learning her craft, predominantly in the Auvergne, before returning to Wales to set up her own dairy, Cosyn Cymru.
In July 2021, Carrie was awarded the prestigious James Aldridge Memorial Trophy for the best British raw milk cheese by the Specialist Cheesemakers Association.
Organiser of PFLA Study Tour -10th Birthday Party and AGM