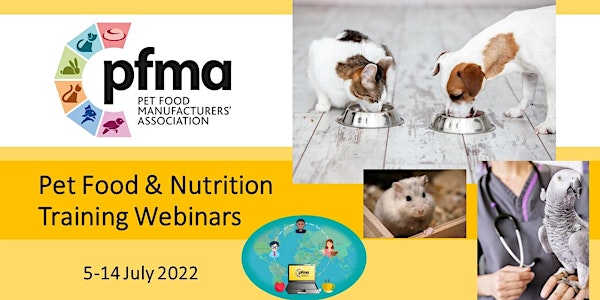 PFMA Pet Food & Nutrition Training Webinars (Full Course or Weekly)
PFMA Training Webinar Series: Pet Food & Nutrition (Full Course, or Weekly Options)
About this event
PFMA Training Webinar Series: Pet Food & Nutrition
PFMA will be running its popular Pet Food and Pet Nutrition training webinars for pet professionals, covering a wide range of animal nutrition and pet food industry topics.
***Please note we have updated the timings, this varies from each day on the course. A calendar invite with link to the course will go out to all attendees confirming this shortly***
For the full programme, list of speakers, prices, and all other information please visit www.pfma.org.uk/pfma-training-webinar-series
Please note this ticket page is for Full Course (2 weeks) or Nutrition Only (Week 1 ) or Legislation & Manufacturing Only (Week 2). To purchase Day Only tickets, please visit this page.
Pricing & Discounts
There are a range of pricing options including, PFMA Members 50% discount, 3 for 2 group booking offer, and a 20% discount for the veterinary professionals and animal welfare charities, Fediaf and GAPFA members.
Your registration will be confirmed once you have purchased your ticket.