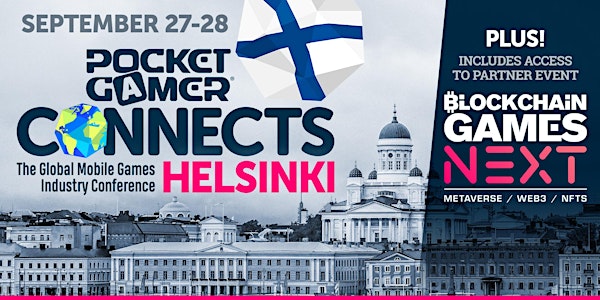 PG Connects Helsinki 2022
Location
The Cable Factory
1 Tallberginkatu
00180 Helsinki
Finland
Leading mobile gaming industry conference, Pocket Gamer Connects, returns to The Cable Factory, Helsinki in 2022
About this event

The Global Mobile Games Industry Conference
The leading mobile gaming industry conference, Pocket Gamer Connects, returns to The Cable Factory, Helsinki in 2022 - bigger and better than ever.
More than 1,200 delegates will gather for two days to hear from 200 of the world's leading authorities from the mobile gaming industry. Filling 19 wall-to-wall conference tracks across both days, they will share their expert insight on everything from monetisation and the latest development trends to blockchain and exploring the metaverse.
New Features
Conference tracks for 2022 keep our audience at the cutting edge of the industry. And there are new themes this year. Mapping The Metaverse explores developments in the immersive space, while ASO Insights, Marketing Mavens and UA Update cover the best ways to promote your game and bring in users. There's also a CFO Insider track for those working at the sharp end of studio finance. Building on Blockchain provides an introduction to the blockchain gaming scene, and we also see the return of favourites like Live Ops Landscape, Esports Innovation, Monetiser, The Growth Track and more.
Networking For All
As ever, the conference schedule will be packed with our trademark short, sharp seminars. With no time to waffle, our speakers get straight down to business - which is what you'll be able to do too, networking with more than 1,200 industry professionals.
The event is called Connects because that's what we help you do; connect with the whole mobile gaming industry, from students and indie studios to the media, international investors and publishers. Unlike other event organisers, we offer the MeetToMatch meeting scheduler free to all delegates, so you can find that perfect contact and arrange to meet them in person.
No other event puts you in touch with the entire mobile gaming industry like our Connects conferences.
Pairing Developers With Publishers And Investors
Our fringe events are back! We'll be running Publisher SpeedMatch and Investor Connector live at the venue. These curated sessions pair developers in rapid succession with a series of publishers and investors in a series of speed-dating style meetings.
These short, sharp encounters enable first contact for you to follow up with a longer meeting if you find a potential partner. It's a shop window for devs to display their wares and a pipeline of prospects for anyone looking to sign up-and-coming talent.
And there's the Very Big Indie Pitch too...
All About The Indies!
Indie devs are the lifeblood of the mobile games industry and Pocket Gamer Connects champions their work to our international audience. The show floor has a dedicated Big Indie Zone for known names and newcomers alike to display their talent to an industry audience. This is a vibrant and varied expo area for publishers looking to sign promising titles.
And, of course, our hugely popular Very Big Indie Pitches will be back in force with indie devs competing to impress a panel of expert judges. The pitching competition is open to mobile, PC, console, VR and AR developers this year.
The winners could walk away with prizes and online marketing worth thousands of dollars, coverage on the site, useful feedback, plus the warm glow of celebration.
The Networking Continues
And if that all sounds a bit serious, day one closes with our wonderful Global Connects party – that's where the networking goes on into the night and you might just make lifelong friends, fortunes and memories…

Established International Audience
More than 30,000 industry professionals have attended the Connects international conference series since 2014. Since then, the roadshow has landed in the UK, America, Canada, Hong Kong, Jordan and India with a genuinely international client base; on average, delegates from more than 40 countries attend each event.
In 2016, we became the biggest dedicated mobile games industry conference series in Europe and have stayed on top ever since. During the pandemic, we ran a series of entirely-online conferences, which garnered positive feedback during the difficult years of 2020 and 2021.
Not only have our previous delegates voted Connects the 'best value conference', but 97% would recommend it to a colleague, and 96% tell us they'll come back for more.
Previous speakers and delegates from all the key industry players include Supercell, King, Tencent, Telltale, Apple, Rovio, Disney, Wargaming, Kabam, NTT Docomo, Ubisoft, Facebook, Google, Microsoft, Electronic Arts, Gameloft, Sega, Capcom, Unity, Twitter, Twitch and many, many, many more.

Your Conference Ticket Includes...
Entry to the main conference including access to all content tracks expo and dedicated meeting area on both days
Access to fringe events such as The Very Big Indie Pitch (if eligible; additional application required) 
Entry to the Global Connects Party
Free coffee, tea and refreshments on both days
Free wifi
A personal profile on the MeetToMatch meeting system and unlimited meeting invites
Register Your Ticket Today
The price of tickets rises in a series of tiers from Super Early Bird to full price, so the sooner your book the cheaper your ticket will be.
Select your ticket above and follow the simple online booking system. Payment is required at the time of booking, so please have your credit or debit card ready.
Volunteers: We always need extra pairs of hands to help, and it's a way to gain access to the event for free. Drop a line to sally.kevan@steelmedia.co.uk if you are interested.
Block bookings: To arrange a discount on block bookings, please contact us if you wish to purchase 5 or more tickets - lisa.bisset@steelmedianetwork.com can help.
Students: Heavily discounted student tickets are available, but numbers are limited. Access to the MeetToMatch platform may be restricted and full access to the venue may be kept to a limited number of days at our discretion. We run a programme for free student tickets, organised in conjunction with recognised places of study: if you represent a university and would like to inquire about complimentary tickets for your students, please contact charlie.scowen@steelmedianetwork.com
Journalists: Please apply for accreditation here or email liz.bonetto@steelmedianetwork.com
Terms and conditions apply. Please read the notices on the order form. For full details please visit www.pgconnects.com/terms-conditions.
More information: You can find details of the fringe event schedule and party venue, as well as FAQs to help with the meeting platform, at https://www.pgconnects.com/helsinki/ in the days before the conference. Coverage of the event and details of our sponsors will appear at our editorial site.
We are also hosting PG Connects Jordan in November, so please consider attending that event too. Contact us to discuss discounts for booking multiple events at once.