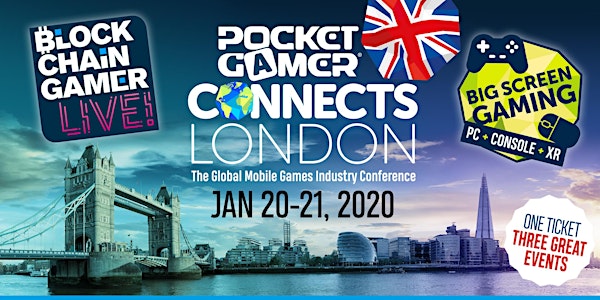 PG Connects London 2020 + Blockchain Gamer LIVE! + Big Screen Gaming
Location
The Brewery
52 Chiswell Street
London
EC1Y 4SD
United Kingdom
Sales Have Ended
Ticket sales have ended
Thanks for registering for Connects London! We are looking forward to welcoming you to the UK in January! If you have any questions or queries please contact Sally on sally.kevan@steelmedia.co.uk Please click here to go back to the PG Connects website: http://www.pgconnects.com/
Description

Pocket Gamer Connects: The Global Mobile Games Industry Conference
PLUS! Partner events BLOCKCHAIN GAMER LIVE! + BIG SCREEN GAMING

The leading mobile gaming industry conference, Pocket Gamer Connects, returns to London in January 2020.
It's going to be bigger than ever - we've stayed in the same popular venue but hired more space to accommodate everything! More than 2,500 delegates will gather at The Brewery for the two days on 20-21 January to hear from 300 of the world's leading authorities from the gaming industry. Mobile, PC and console, blockchain, XR and more will be covered, across 24 unmissable conference tracks. Across two full days, our speakers and panellists will share their expert insight into design and development, the influencer marketing scene, studio growth, new technologies, company culture and loads more.
One Ticket, Three Events
Mobile gaming remains the core of the conference - we've been championing the mobile gaming scene for years through our Pocket Gamer brand. But there's more than mobile in 2020: our dedicated blockchain and Big Screen Gaming (PC, console, XR) conference zones are back too.
Blockchain technology has the potential to truly revolutionise the games industry, whether through the creation of a whole new category of dApps, enabling secondary markets for in-game digital assets, or creating new models for rewarding players. There are opportunities and incredible rewards on offer, but there's no shortage of pitfalls to avoid and trends to follow. Which is precisely why we introduced blockchain gaming to our conference series last year, to great success in places like San Francisco and Hong Kong. The games and tech industries are changing and you can meet the people at the heart of it in your dedicated Blockchain Gamer LIVE! conference from the publisher of BlockchainGamer.biz. Access to it is included in all Pocket Gamer Connects London tickets (and vice versa).
And coming to London for the first time is Big Screen Gaming! You'll find panels and speakers prepared to dive into the PC, console and XR markets. After a successful event in Helsinki in 2019, we've expanded our familiar PC Connects brand to include a full track to educate and inspire with an agenda set to cover trends, marketing, PC and console publishing, VR and AR know-how, and strategies to thrive in this evolving sector. As with blockchain, this dedicated series is all included in the one ticket.
New Themes, Core Issues
As well as the evergreen topics like live ops and monetisation, you'll find new conference tracks for 2020.
We'll be looking at Industry Visions & Values, for instance, getting to the heart of how we build the best possible games industry. We'll cover eSports, hypercasual and instant messenger games, 5G, subscription services, influencer marketing, VR and AR, cross-platform gaming and streaming.
You can expect a mix of short, sharp talks and longer panels, as well as workshops, case studies and more.
Networking For All
A Pocket Gamer Connects conference is a place to get business done. It's famous for being a place where new connections are made (hence the name) and productive meetings take place. You'll be able to network with some 2,500 industry professionals at this London event, and we do our best to make that easy.
We'll bring together the whole gaming industry, from students and indie studios to the media, international investors and AAA publishers. Unlike some other events, we offer our Pitch & Match meeting scheduler free to all delegates, so you can find that perfect contact and arrange to meet them in person.
No other event puts you in touch with the entire mobile gaming industry like our Connects conferences.
Pairing Developers With Publishers And Investors
Our Publisher SpeedMatch and Investor Connector events pair developers in rapid succession with a series of publishers or investors in a series of speed-dating style meetings. They're exclusive, curated sessions where our experts hand-pick businesses who we know will find objectives in common. These short, sharp encounters enable first contact for you to follow up with a longer meeting if you find a potential partner. It's a shop window for devs to display their wares and a pipeline of prospects for anyone looking to sign up-and-coming talent. Early application is advised as they fill up quickly and cannot be joined on the day. Look out for the application link once you've bought your Pocket Gamer Connects ticket!
Meet The Media
We welcome regional and international specialist media to our events so that your work reaches the widest audience possible. With our own publishing powerhouse behind us, you are guaranteed that our industry journalists will be onsite for demos, interviews and other ways to raise awareness of your brand or project to the online community outside the walls of the event.
If you're looking for feedback on a project, stop by our Journalist Bar for a free consultation from professional games journalists from sites including PocketGamer.com. Our editors can also be contacted through the Pitch & Match system.
All About The Indies
Indie devs are the lifeblood of the mobile and PC games industry and Pocket Gamer Connects London 2020 will champion their work to our international audience. The show floor has a dedicated Big Indie Zone for known names and newcomers alike to display their talent to an industry audience. This is a vibrant and varied expo area for publishers looking to sign promising titles.
And of course, our hugely popular Big Indie and PC Indie Pitches will be back in force with indie devs competing to impress a panel of expert judges. The winners walk away with armfuls of prizes and online marketing worth thousands of dollars.
Established International Audience
More than 18,000 industry professionals have attended the Pocket Gamer Connects international conference series since 2014. Since then, the roadshow has landed in the UK, North America, Canada, Finland, and Hong Kong with a genuinely international client base: on average, delegates from more than 45 countries attend each event.
In 2016, we became the biggest dedicated mobile games industry conference series in Europe and have stayed on top ever since. Every event has been bigger and better than the last - and London continues to storm ahead year-on-year.
Not only have our previous delegates voted Connects the 'best value conference', but 97% would recommend it to a colleague and 96% tell us they'll come back for more.
Previous speakers and delegates from all the key industry players include Supercell, King, Space Ape Games, Niantic, SYBO, Tencent, Telltale, Apple, Rovio, Disney, Wargaming, Kabam, NetEase, NTT Docomo, Ubisoft, Facebook, Google, Square Enix, Microsoft, Electronic Arts, Gameloft, Sega, Capcom, Unity, Twitter, Snapchat, Twitch and many, many, many more.
Party Time
And if that all sounds a bit serious, the first day will close with our awesome Global Connects Party – that's where the networking goes on into the night and you might just make lifelong friends, fortunes and memories…

• 24 tracks
• 300+ speakers
• 190 sessions
• 90+ hours of content (talks + fringe)
• 850+ companies represented
• 2,500 delegates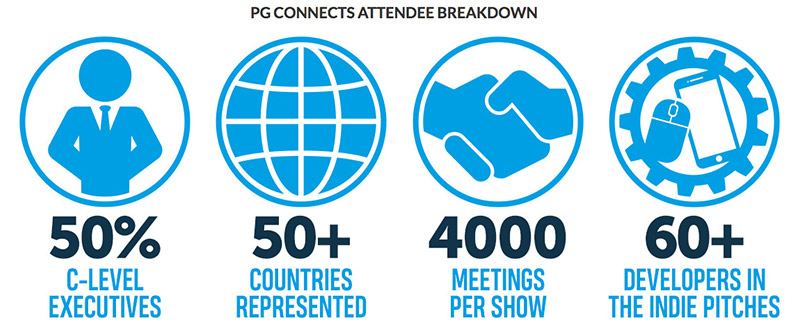 Your conference ticket Includes:
Entry to the main conference including access to all content tracks expo and dedicated meeting area on both days

Access to fringe workshops and Journalist Bar where available

Invitation to access fringe sessions such as The Very Big Indie Pitch, Investor Connects, Publisher SpeedMatch (if eligible: application required)

Entry to the Global Connects Party on the evening of day one


Free coffee, tea and refreshments on both days

Free wifi in the venue

A personal profile on the Pitch & Match meeting system and unlimited meeting invites

**************** Book your ticket today! ******************
Select your ticket above and follow the simple online booking system. Payment is required at the time of booking, so please have your credit or debit card ready. If you don't have a credit or debit card, please see the alternative payment methods listed.
Block bookings: To arrange a discount on block bookings, please contact us if you wish to purchase more than 5 tickets, via lisa.bisset@steelmedia.co.uk
Students: Student tickets are available, but numbers are limited. You must register using an academic email address to prove your student status.

Journalists: Please apply for accreditation or email dave.bradley@steelmedianetwork.com

Please note all conference tickets are subject to UK VAT at a rate of 20%. You will be sent a VAT receipt by email along with confirmation of your booking.

For sponsorships or other business development opportunities please contact Lisa at lisa.bisset@steelmedia.co.uk
Terms and conditions apply. Please note, it is now less than 30 days from the event and refunds are no longer available! For full details please visit www.pgconnects.com/terms-conditions