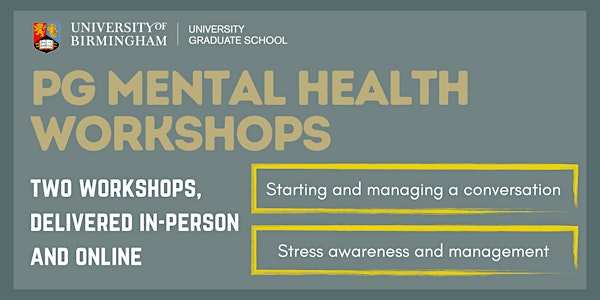 PG mental health workshop: Stress awareness and management (Online)
Understanding triggers of stress and exploring ways to reduce it.
About this event
Everyone experiences stress – 3 out of 4 people have felt so stressed that they were unable to cope. However, stress is a natural response to feeling threatened. Experiencing stress can be useful, motivating us to complete tasks that we might otherwise put off. However, experiencing lots of stress, or long-term stress, can impact our physical and mental wellbeing.
Lots of things can lead to stress. Work has been identified as one of the biggest contributors to stress in the UK. As well as this, big life events like bereavement, starting new academic studies, and break ups can be extremely stressful, but even positive life events like being promoted or moving house can be stressful. However, stress can also be caused by lots of little things throughout daily life, such as having an argument or deadlines. The first step in managing stress is to understand how stress works and identify the stressors.
Understanding triggers of stress and exploring ways to reduce it can have a profound effect in your life. Effective stress management helps you break the hold stress has on your life. The ultimate goal is to find balance between work, relationships, relaxation, and fun—and the resilience help deal with high pressured situations and meet challenges head on. In this workshop Bloomwise provide tips and strategies for identifying and managing stress in your everyday life so that you can be happier, healthier, and more productive.
About Bloomwise
Bloomwise is a mental health consultancy business that offers B2B strategies to improve workplace mental health. Their services include a Mental Health Plan™ and workshops about all thing's mental health. Bloomwise's aim is to instill fundamental cultural change for mental health within the workplace.
Both co-founders of Bloomwise established the company during their Ph.D. studies at the University of Birmingham. Frankie holds a BMedSci in Biomedical Materials Science from the University of Birmingham, graduating in 2019 and transitioning straight into starting her Ph.D., in which she looks at the use of hydrogels and 3D bioprinting for application in bone tissue engineering. Paris, holds a BSc in Psychology and a M.Sc. in Brain Imaging and Cognitive Neuroscience. He is currently submitting his Ph.D. in which he used various artificial intelligence methods to create better diagnostic and prognostic tools in depression and psychosis.
Social Media
LinkedIn – Bloomwise
Instagram - @bloom.wise
Who is this workshop for?
This workshop is open to all current University of Birmingham postgraduates (postgraduate taught and postgraduate research).
PGR programmes include: MPhil, MMus, MRes, MA by Research, MSc by Research, MLitt, PhD, PhD with integrated study, EngD, DDS, MD, Higher doctorates and Professional doctorates.
PGT programmes include: MA, MSc, MBA, MEd, LLM, MPH, Maths SKE, MPA, PG Affiliate, PG Certificate, PG Dip Ed, PG Diploma, and PGCE.
This workshop is also being delivered in person at 15:00 on Wednesday 11 May. If you would prefer to register for the in person version of the workshop you can do so at https://www.eventbrite.co.uk/e/321207970687.