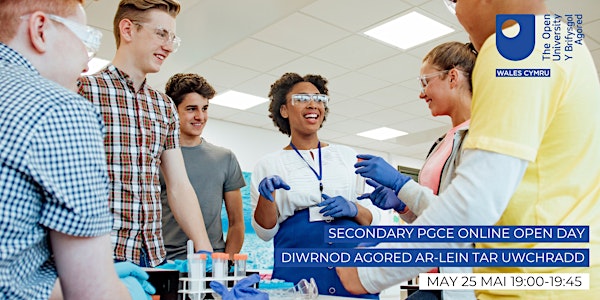 PGCE Online Open Day | Diwrnod Agored ar-lein TAR
Study a Secondary PGCE with The Open University in Wales | Astudiwch gwrs Uwchradd TAR gyda'r Brifysgol Agored yng Nghymru.
About this event
Join us on 25 May as we explain how the new innovative PGCE from The Open University in Wales is the perfect path to a new career in teaching. This event will focus on the secondary pathways.
In the live online event, our team will explain more about our unique salaried and part-time PGCE routes. You'll hear our current student teachers speak about their experiences and get a chance to ask a question to the panel.
Ymunwch â ni ar 25 Mai wrth i ni egluro mai'r cwrs TAR arloesol, newydd gan y Brifysgol Agored yng Nghymru yw'r llwybr perffaith at yrfa newydd ym myd addysg. Bydd y digwyddiad yn rhoi sylw i'r llwybrau uwchradd.
Yn y digwyddiad byw ar-lein, bydd ein tîm yn egluro mwy ynghylch ein llwybrau TAR â chyflog a rhan amser unigryw. Cewch glywed am brofiadau rhai o'n darpar athrawon presennol a chewch roi cwestiwn gerbron y panel.