PGR-led Seminar Series: Decolonising Forced Migration (Seminar 5)
Sales Have Ended
Registrations are closed
Unfortunately sales for this event have ended, but this event is part of a series and there might still be tickets available for some of the other events. Please go to http://bit.ly/RILA_Events to check availability.
Sales Have Ended
Registrations are closed
Unfortunately sales for this event have ended, but this event is part of a series and there might still be tickets available for some of the other events. Please go to http://bit.ly/RILA_Events to check availability.
PGR-led Seminar Series: Decolonising Forced Migration: Political (Un)-Intelligibility, Reflexivity, & 'Epistemological Agency'
About this event
Seminar 5 - 17 June 2021, 3pm
A Freirian View of Online Education
Guest speaker: Dr. Dallel Sarno
Abstract
In his seminal and highly influential work Pedagogy of the Oppressed (1970), the Brazilian educator Paulo Freire refers to education as "becoming an act of depositing, in which the students are the depositories and the teacher is the depositor." Freire strongly criticizes what he calls "the banking model" of education which was and still is the dominant pedagogy in many countries of the world, and even in some developed countries. However, with the many advanced technologies that are being integrated into educational institutions with the aim to provide better education for the 21st century learner, and with an unprecedented rise of voices calling to a more learner-centered education, Freire's claims and views have recently been subject to many re-readings and revisions by contemporary educators. The recent attempts of the last decade to modernize, virtualize and digitalize education may represent a countercurrent vis-à-vis Freire's theory(ies), but they can also re-incarnate Freire's banking model. A pivotal query in the present paper is to unveil how modern education, including online learning, may also correspond to Freire's Pedagogy of the Oppressed where the oppressed is always the learner.
Bio
Dr. Dallel Sarnou is an associate professor at the department of English, Abdelhamid Ibn Badis university and a poetess. She is involved in many areas including Arab women writings, world literatures and online learning. She has already published a number of academic papers, a series of poems and two monographs with LAMBERT publishing. She is currently involved in newly explored areas like posthumanism, electronic discourse, digital humanities and educational technology.
PGR-led Seminar Series: Decolonising Forced Migration: Political (Un)-Intelligibility, Reflexivity, & 'Epistemological Agency'
About the series:
This free online seminar series aims to promote critical thinking and creative ways of unpacking the political and epistemological questions in the production and circulation of knowledge on forced migration (i.e. often dominated by researchers in the Global North) and, at the same time, highlight the often muted voices of the people with lived experience.
The series is organised by PhD researchers from the Universities of Leeds and Glasgow.
The series will conclude with an open discussion with scholars of migration, academics, practitioners, and people with lived experience.
Context for the Series:
In a 2019 report, the UN Refugee Agency (UNHCR) indicates that, of the 79.5 million forcibly displaced people in the world, 85 percent remain in the developing countries. Furthermore, a report by the Mo Ibrahim Foundation (2019) indicated that more than 70% of Sub-Saharan African migrants move within the continent. Many, who live in refugee camps, face the prospect of protracted encampment with no hope in sight while those in urban areas live in desolate squalors in the periphery of society. And condemned to life without livelihoods in the 'modern camp', which has become the 'political and juridical hinterland' (Stonebridge, 2018), they embark on perilous journeys in search of safety and better life opportunities.
With the increase in number, in recent years of Europe bound migration, a great deal of scholarship, policy research and intellectual resource has been invested in understanding and containing the migration movements from the Global South. However, the plethora of existing scholarship, policy debates and knowledge production and circulation on migration studies remain to be largely drawn to and centred in the Global North. In other words, migrants in the Global South continue to be used as 'materials of knowledge' for policy response rather than active owners of their lived-experience and their destinies. Likewise, the sending states are devoid of their 'epistemological agency', which according to Mamdani (2013), is 'the key to unlocking the secret of native history' with scientific research being that which gives access to one's own history.
This quest for "knowledge" has led to differentiated hierarchies of 'imaginative geographies' (Andrucki, 2013) of the "Global North" and "Global South" whereby the former is represented, both in 'modernity' and civilizational terms, as the 'suitable destination' and a place of 'ontological security' (Giddens, 1991) whereas the latter is imagined in the colonial lens of Conrad's 'Heart of Darkness'. This stark contrast between the 'cartographies of migration' and the production and circulation of knowledge about the phenomenon of forced migration raises fundamental questions of political intelligibility, 'epistemological agency' and 'ontological security' of the migrant population in question.
Is there a scope for political intelligibility of the increasingly nascent category of involuntarily displaced migrants?
How are the precarious states of 'being' of the involuntarily displaced migrants represented in political life?
How is the phenomenon of 'forced migration' constructed and represented in the Global North?
How are migrants' stories, capabilities and resilience as well as vulnerabilities, precarities and carceralities represented in the existing (often Euro-centric) scholarship?
Is there a scope for other ways of knowing and imagining the incarcerated, illegalised, exceptionalised and muted figure of the forced migrant?
Engaging with academics, practitioners, policy makers and migrants with 'embodied knowledge' and 'insider status' in the sociology of migration, this public seminar series aims to 'interrogate' the persistency of socio-political, epistemic, and representational inequalities (and fallacies) inherent in the narratives and constructions of forced migration as a 'threat' and forced migrants as 'objects' of elimination and containment. Moreover, the series aims not only to shed light on the vagaries of the precarious life and 'biopolitical filtering' (Salter, 2004, 2008) that forced migrants are subjected to but also their stories, histories, cultures, ways of knowing and unknowing as well as their struggles. In doing so, the seminar series will focus on the following suggested themes:
Negotiating integration through the arts and language
Beyond volitional(ity) and forcibl(ity): tracking migrants' agentive roles in negotiating (im)-mobilities
'Mobile homes': 'travelling cultures', rituals, 'artefacts' and filial piety
Modes (strategies) of survival in carceral cartographies
(De)-silencing and (de)-effacing the refugee: Thinking with migrants, listening to migrant perspectives
The 'villain' as a 'hero': 'Good smugglers' as enablers and the state as immobiliser
Where to integrate to?: 'Integration' as a colonial continuity thesis
On 'decolonisation' of education: Indigenous methodologies and epistemologies
What gets published and who gets published in field of migration?
About the Series Organisers:
Tesfalem Yemane: Tesfalem is a PhD researcher at the University of Leeds, School of Sociology and Social Policy. Building on Joseph Nye's concept of 'soft power', he examines the destination preferences of Eritrean refugees and asylum seekers who arrive in the UK and their post-arrival experiences. In addition, Tesfalem works as an Employment and Education Advisor for RETAS Leeds. He also worked as the Operations Director of Growing Points, a charity that works with migrants across England and Wales. His co-authored book chapter, 'Steps to Settlement for Refugees: A Case Study' (2019) traces the refugee journey towards citizenship in the UK. For more information on Tesfalem's research interests, please visit his university profile.
Kheira Arrouche: Kheira is currently a PhD candidate at the University of Leeds, School of Sociology and Social Policy. Her research explores the mobility pathways sub-Saharan migrants undertake and interplaying forces that shape their (im)mobility experiences. Through her ethnographic research, Kheira aims to contribute to the critical debates about transit migration and im-mobility studies as well as examining the intricate ways the migrants exercise their agency to overcome such experiences. For more details about Kheira's research interests, please visit her university profile.
Souad Boumechaal: Souad is a PhD researcher at the University of Leeds, School of Languages, Cultures and Societies. Souad's research examines the ideological discourses around the English language within Algerian higher education with a particularly focus on how global forces such as internationalisation of higher education are shaping the status of language education in postcolonial Algeria. Through the theoretical lens of linguistic imperialism, her research explores how the promotion of the English language at the expense of local languages could be a 'threat' to the multilingual nature of Algeria, preventing both teachers and students from taking ownership of their education.
Hyab Yohannes: Hyab is currently a PhD researcher and graduate teaching assistant at the University of Glasgow and holder of the UNESCO RILA PhD Scholarship. He worked formerly for local charities and international organisations in Egypt, including UNHCR, IOM, Africa and Middle East Refugee Assistance (AMERA) and Saint Andrew's Refugee Services (StARS). Hyab is involved in academic and non-academic professional roles in the UK. More details about Hyab's research interests and professional experience can be found on his student profile and personal website.
Contact:
For further information or inquiries about the Seminar Series, please contact Kheira Arrouche at sska@leeds.ac.uk
Top Image: Artwork by Zineddine Bessaï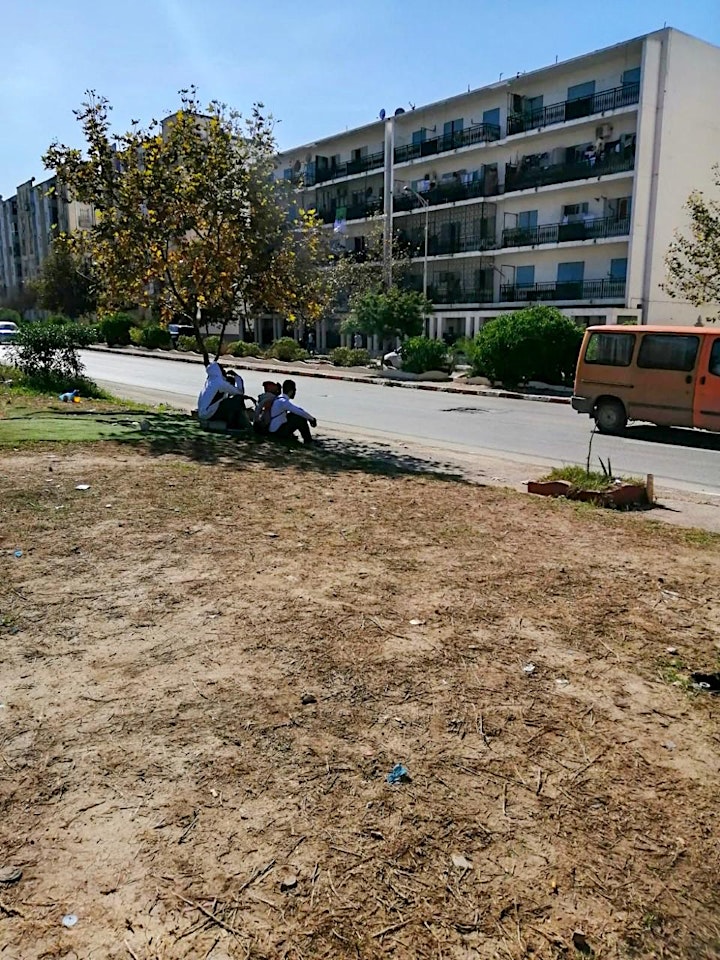 Sub-Saharan migrants stuck in transit, Oran, Algeria; Photo credit: Kheira Arrouche 2019
Organiser of PGR-led Seminar Series: Decolonising Forced Migration (Seminar 5)
The UNESCO Chair hosted within the School of Education at the University of Glasgow seeks to develop a programme of multilingual knowledge exchange, research, training, information and documentation on the integration of refugees into new communities and how this can be promoted through languages and the arts. 
We work in collaboration with Glasgow Refugee, Asylum and Migration Network (GRAMNet) and its partners. Together, our aim is to promote creative, practical multilingual action for change at all levels of society to build capacity in research and action focused on fostering cultural expressions of heritage and diversity with displaced peoples, and academic freedom for those at risk.