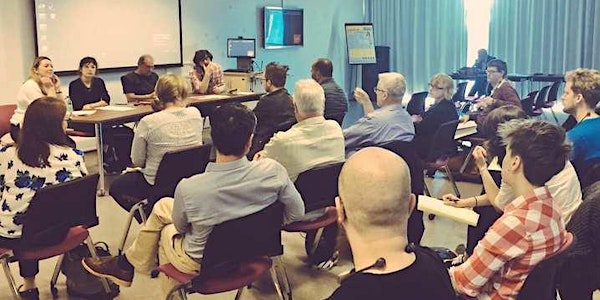 #PGR2020: Faculty of Creative Industries Post Graduate Symposium
#PGR2020: Faculty of Creative Industries Post Graduate Symposium
About this event
Scroll down for English
#PGR2020: Symposiwm Ôl-raddedig Cyfadran y Diwydiannau Creadigol
Ynglŷn â'r Digwyddiad hwn
Croeso i Symposiwm Ôl-raddedig Cyfadran y Diwydiannau Creadigol 2020. Oherwydd Covid-19, mae symposiwm eleni yn ddigwyddiad ar-lein, sy'n cynnwys ymchwil myfyrwyr ôl-raddedig a staff
9.50 – 10.00: Cyflwyniad i'r Diwrnod Yr Athro Paul Carr
Panel 1: 10.00 – 11.00
Lucasz Kubicki: Mynd â'ch Hunan am Dro: Y Weithred o Gerdded fel Arfer Ffotograffig
Sama: Cynrychioli Menywod 'Dahe Shast': Dull Seicodadansoddol
Edgar Martins: Lluniau fel gweithred o wrthwynebiad - Yr Holocost, Georges Didi-Huberman a Georges Perec
Cadeirydd: Yr Athro Mark Durden
Egwyl: 11.00-11.15
Panel 2: 11.15 – 12.15.
Nicol Ruddock Davies. Addasiad Animeiddio ac Effeithiau'r Broses Greadigol mewn perthynas â Sherlock Holmes: The Hound of the Baskervilles (Poster)
Patrick Quinn: Archwiliad o Gemau ar gyfer Atal Salwch Meddwl
Kate Shewsbury: Adrodd straeon am ein lle ni: pa wahaniaeth a wnaiff?'
Cadeirydd: Yr Athro Paul Carr
Egwyl: 12.15 – 1.00
Panel 3: 1.00-2.00. Ymchwil Staff
Mark Durden: Yr Amarch o Siarad dros Eraill
Paul Carr: Hanes Cerddorol Coll: Curadu a Dogfennu Creu Cerddoriaeth Boblogaidd Leol yn y DU
Cadeirydd: Dr. Rob Smith
Panel 4: 2.00-3.00
Marta Minier: Cyhoeddi fel Myfyriwr PhD: Cyngor gan Olygydd Cyfnodolyn
3.00: Sylwadau i Gloi
***
Welcome to the 2020 Faculty of Creative Industries Post Graduate Symposium. Due to Covid-19, this years symposium is an online event, featuring the research of both post graduate students and staff.
9.50 – 10.00: Introduction to the day Prof. Paul Carr
Panel 1: 10.00 – 11.00
Lucasz Kubicki: Taking Oneself on a Walk: The Act of Walking as a Photographic Practice
Sama: Representing Women of 'Dahe Shast': A Psychoanalytic Approach
Edgar Martins: Photographs as an act of resistance - The Holocaust, Georges Didi-Huberman and Georges Perec
Chair: Prof. Mark Durden
Break: 11.00-11.15
Panel 2: 11.15 – 12.15.
Nicol Ruddock Davies. Animation Adaptation and the Effects of the Creative Process in relation to Sherlock Holmes: The Hound of the Baskervilles (Poster)
Patrick Quinn: An Exploration of Games for the Prevention of Mental Illness
Kate Shewsbury: Telling stories about our place: what difference will it make?'
Chair: Prof. Paul Carr
Break: 12.15 – 1.00
Panel 3: 1.00-2.00. Staff Research
Mark Durden: The Indignity of Speaking for Others
Paul Carr: Musical Histories: Curating and Documenting Local Popular Music Making in the UK
Chair: Dr. Rob Smith
Panel 4: 2.00-3.00
Marta Minier: Publishing as a PhD Student: Advice from a Journal Editor
3.00: Closing comments