This is a celebration, not only of 25 Years of our unique company but also an invitation to come and find your feet in the world again.
About this event
1pm - 2:35pm,Youth Board Workshop Performance – 25 Years of Phakama!
Youth Board members Shelly Bockor and Bhavini Sheth will take audiences on a journey to explore the history of Phakama. This piece will see the Phakama methodology of Give & Gain put to use, inviting the audience to take part in workshops and discussions which celebrate Phakama's 25 years as well as drawing on themes of Storytelling, Connections, Childhood, Gratitude and Mindfulness.
2.45pm – 3.45pm, Nurull – The Full English
Associate Artist Nurull English launches multi-disciplinary project The Full English, combining photography, new podcast creation and eating experiences to spark your tastebuds and your food memories. Halal sausage? Veg pie and mash? This project explores the wonderful evolving food culture of East London and its rich meeting points with new food entrepreneurs. This is a food event and will be joined by wonderful artist and both story collector and curator, Sophie Herxheimer.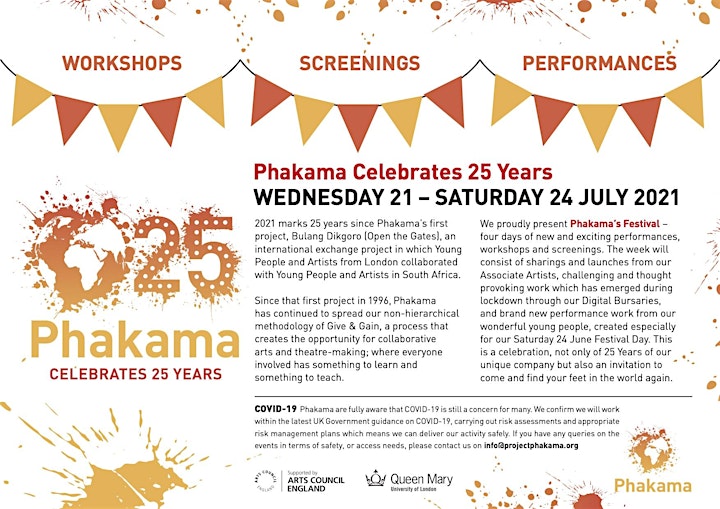 Organiser of Phakama Celebrates 25 Years
Project Phakama are a particapatory arts organisation based at the Queen Mary University.
 Through a process that we call Give and Gain, learning becomes two-way; everyone has something they can give to the project and everyone has something to gain. And through this interchange of skills, knowledge, information and ideas, everyone becomes both student and teacher.
We are committed to the practice of cultural exchange and the celebration of shared experiences; by promoting a non-hierarchical educational philosophy through the medium of the arts and training participants to become the Phakama facilitators of the future.