Sales Have Ended
Registrations are closed
Thanks for booking onto the Ealing Pharmacy Making Every Contact Count (MECC) training. I look forward to meeting you on the day. If you are unable to attend for whatever reason please let me know as soon as possible so the place can be released to someone else. Nell Blane Health Training Coordinator LB Ealing Public Health blanen@ealing.gov.uk 02088255683 / 07715 234546
Sales Have Ended
Registrations are closed
Thanks for booking onto the Ealing Pharmacy Making Every Contact Count (MECC) training. I look forward to meeting you on the day. If you are unable to attend for whatever reason please let me know as soon as possible so the place can be released to someone else. Nell Blane Health Training Coordinator LB Ealing Public Health blanen@ealing.gov.uk 02088255683 / 07715 234546
Description
This interactive training is for anyone who works in an Ealing Pharmacy - counter staff, dispensers, pharmacists, pharmacy assistants etc.
It will introduce you to Making Every Contact Count - a very brief healthy lifestyle intervention based on evidence of what works focusing on:
Smoking
Alcohol
Physical Activity
Healthy Eating
Mental Wellbeing
You will learn some facts and figures about healthy lifestyles, the '4As and a P' MECC conversation structure, the 'nuggets' of healthy lifestyle guidance and where to signpost people for more help or support.
You'll get a brief tour of behaviour change theory and plenty of opportunity to try out new techniques.
Currently we have two sessions to choose from. One is split over two evenings, the other is on a Sunday afternoon. We expect to add more dates in the future so if you are unable to attend either of these please check back in a while.
All sessions include hot and cold drinks and a buffet meal provided by the in-house chef.
There is adequate parking in the area.
Split session - 7-9pm Thursday 7th September AND Thursday 14th September (register for 7th September but you wll need to attend BOTH sessions)
Single session - 12.30-4pm Sunday 10th September

'An entirely different and useful learning'
'Really useful and thought-provoking. Turning the old ways on their head'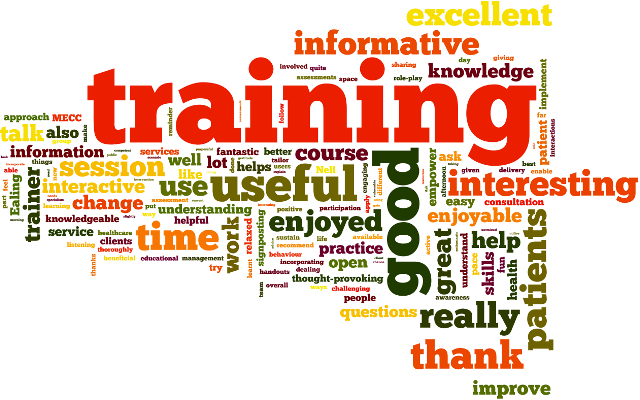 Out of 252 evaluations received to date (02/06/2017) 83% rated the training 9 or more out of 10 and 97% improved their confidence and competence to deliver MECC.
Making Every Contact Count (MECC) is about taking every opportunity to ask, assist and advise people about their lifestyles, particularly about:
smoking
alcohol
physical activity
healthy eating
mental wellbeing
It is not nagging or harrassing or telling people what to do. Instead it uses evidence-based methods to empower and enable people to make the changes they choose.
After the training you will receive a certificate.
You can book your choice of training date here, or if you'd like to discuss bespoke training for your team (or anything else about the training) please contact blanen@ealing.gov.uk or call Nell Blane (Health Training Coordinator) on 0208 825 5683 / 07715 234546.
MECC Training is run by Ealing Council Public Health Department.
If you would like to augment the face-to-face training, or are unable to attend, you may like to do MECC e-learning. There is a good programme at http://www.e-lfh.org.uk/programmes/making-every-contact-count/. It has four modules each of 20 minutes, and you receive a certificate for each one.