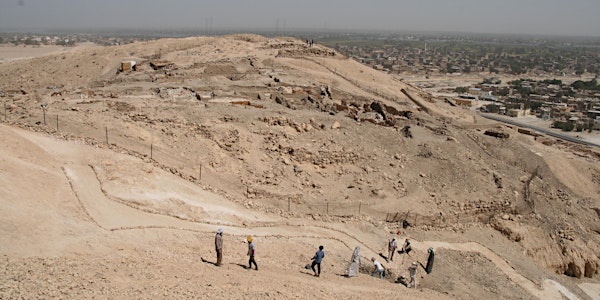 Pharonic Funerary items amongst a Late Antique/Coptic community - C. Jones
Refund policy
Contact the organiser to request a refund.
Eventbrite's fee is nonrefundable.
Sales Have Ended
Ticket sales have ended
Sales have ended for this event.
Funerary objects amongst a Late Antique/Coptic community. The pharaonic finds discovered in the Monastery of St. Paulos (Deir el-Bakhît)
About this event
Since 2001, the site of Deir el-Bakhît in Dra' Abu el-Naga, Western Thebes has been the object of archaeological investigations undertaken by the German Archaeological Institute, Cairo, the Ludwig-Maximilian's University, Munich and the Austrian Academy of Sciences. After 20 years of excavation, in-depth knowledge has been gained on the Late Antique occupation of Dra' Abu el-Naga North as a whole, on the monastic community living within the Paulos Monastery and the surrounding network of hermitages as well as local, regional and supra-regional trade routes. The Coptic community inhabited a complex funerary landscape which developed throughout the Pharaonic era, and used both the abandoned tombs as well as the pharaonic objects found within. After an overview of the site and the research history of Deir el-Bakhît, a range of key pharaonic finds documented within the frame of the project will be presented to demonstrate the interplay between the pharaonic and Coptic structures in Dra' Abu el-Naga as well as modes of re-use of these finds by the monastery's inhabitants centuries later.
This is a hybrid event where Catherine will be speaking in front of a live audience. You will be able to see her talk via Zoom, but please keep in mind that there will be slightly reduced interaction between 'Zoomers' and the speaker although you will still be able to ask the speaker questions via the Zoom host.
Biography of Catherine Jones
Research Fellow of the DAI Cairo Project Deir el-Bachit.
PhD Candidate Department of Archaeology Section Egyptology and Northeast African Archaeology , HU Berlin
EDUCATION
since Oct 2019 PhD-thesis at the Department of Northeast African Archaeology and Cultural Studies, Humboldt University, Berlin
Title: "pr-wr, pr-nw, pr-nzr. A source critical analysis of the Egyptian 'national shrines' on Biography objects dating to the pre- and early dynastic period and the Old Kingdom".
Supervisors: Prof. Dr. Alexandra Verbovsek (HU Berlin) and Prof. Dr. Harco Willems (Katholieke Universiteit Leuven)
Jun. 2001–Jul. 2007 MA-study course in Egyptology, Coptology and Palaeozoology at the LMU Munich
Dissertation title: "Images of animals in Egypt's Neolithic period. An interdisciplinary approach on zoomorphic finds of Egyptian Neolithic cultures"
Sep. 1995–Jul. 1999 BA-study course in Combined Languages (German, French and Spanish) at the University of Hull, England
Sep. 1993–Jul. 1995 A-Level-study course in Classical Civilizations, German and French at Pontefract New College, West Yorkshire, England
TEACHING ACTIVITIES
SS 2008–WS 2014 Lecturer and co-lecturer of a range of courses at the LMU Munich including the seminar course "Egypt before the Pharaohs. Proseminar on the Pre- and early Dynastic Period in Egypt" and tutorials for Middle Egyptian language
Sep. 1997–Jul. 1998 Teaching assistant for English Language at the Karlsgymnasium and Max-Planck-Gymasium, Munich
SCHOLARSHIPS AND FUNDING
May 2008–Oct. 2011 Mentee of the LMU Mentoring-Programme (Excellence Initiative for Junior Scientists). Mentor: Prof. Dr. Irene Götz (Institute for European Ethnology)
Mar. 2006–Jul. 2007 Fellowship holder of the Bavarian State (Advisory Board for Foreign Students) at the LMU Munich
ARCHAEOLOGICAL WORK
since Feb. 2003 Excavation team member, field director's assistant and deputy site director (since 2017) of the Late Antique-Coptic monastery complex Deir el-Bachit, Dra' Abu el-Naga, Western Thebes (cooperation between DAI, Cairo, Academy of Sciences, Vienna, RGZM, Mainz and LMU Munich)
1991–2017 Excavation team member of various projects/missions in West Yorkshire (Wood Hall Moated Manor project), Bavaria (Petersberg project, Institute for Prehistoric Archaeology at the LMU Munich), Tell el-Fara'in/Buto (DAI Cairo), Hagr Edfu (British Museum London), Qantir/Pi-Ramesse (UCL Qatar/HU Berlin).
2000–2014 Freelance archaeologist of salvage excavations in the Munich area working for the private archaeological companies ARDI GbR, Dig It! GbR and ASCEA.
MUSEUM WORK
Apr.–Aug. 2015 & Museum guide for the special exhibition "Tutankhamun. His tomb
Apr.–Aug. 2009 and his treasures"
Jan. 2008–Aug. 2016 Museum guide for school classes and adult groups in the State Museum for Egyptian Art, Munich
PUBLICATIONS; EDITORIAL & TRANSLATION WORK
Articles
Jones, C., On the identification, interrelationship and interpretation of elephant signs on pre- and early dynastic objects. Some observations and thoughts centred around the knife handles and other ivory objects of the late Naqada II and III phases, in: A. Verbovsek et al. (eds). Diskurs: Akteure – Gegenstand – Beziehungen. Beiträge des elften Berliner Arbeitskreises Junge Aegyptologie (BAJA 11), in preparation.
Jones, C., »Media vita in morte sumus«. Funerary objects in the midst of a living community. A preliminary overview of pharaonic finds and modes of reuse in the Monastery of St. Paulos (Deir el-Bakhît), in D. Polz/I. Eichner (eds.), Das Pauloskloster in den Bergen von Djeme, SDAIK 44, Wiesbaden 2022, 103–127.
Jones, C., Tomb, temple or residence? On the functional interpretation of the sign 'zoomorphic structure' (Gardiner sign O19) on pre- and early dynastic objects, in: A. Verbovsek/B. Backes/J. Aschmoneit (eds.), Funktion/en: Materielle Kultur – Sprache – Religion. Beiträge des siebten Berliner Arbeitskreises Junge Aegyptologie (BAJA 7) 2.12.–4.12.2016, GOF 64, Wiesbaden 2018, 65–100.
Editorial work
Verbovsek, A./Backes, B./Jones, C. (eds.), Methodik und Didaktik in der Ägyptologie. Herausforderungen eines kulturwissenschaftlichen Paradigmenwechsels in den Altertumswissenschaften, in: Assmann, J./Roeder, H. (eds.), Ägyptologie und Kulturwissenschaft, Vol. IV, Munich 2011
Translation work
Freelance translator and proofreader of scientific publications (DE > EN) for the DAI, Offices Madrid, Athens and Kairo; the Bavarian and Austrian Academy of Scienes, the RGZM, Mainz; the Historical Museum, Bern; the Museum for Asian Art, Berlin; the faculty of Culture Studies of the LMU Munich and the British Museum, London. Between 2001 and 2017, ca. 100 monographs, articles and congress volumes were translated and/or proofread.