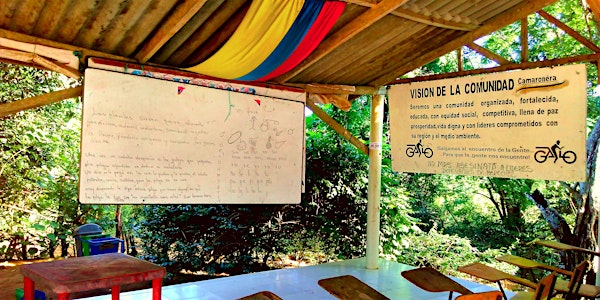 PhD Thesis presentation: The Peasant Food Question (1961-2013)
Presentation of Thesis: 'The Peasant Food Question' Agrarian Reforms, Depeasantisation and Food Sovereignty in Dispute, Colombia, 1961-2013
About this event
The cover photo called "Food Sovereignty Learning Environment" was taken by me in the rural school of the Camarón village of El Carmen de Bolívar, Colombia - a magical place, with a wonderful school and a legendary teacher.* This photo won second place in the University of Exeter's Image of Research competition in 2020. However, it dates back to 2019, when I did the fieldwork. After three years of arduous analysing and writing, I finally present my thesis, in an informal online meeting, dedicated above all to those who have participated, enlightened me and above all accompanied me in this process. The second goal of this presentation is to collect impressions, comments, suggestions and questions which could serve as preparation for the viva (my oral examination). The thesis abstract goes as follows:
"Colombia started a five-decade-long series of developmentalist agrarian reforms in 1961, which oscillated between progression and regression with a degenerative effect on those they claimed to benefit: the peasantries. This thesis compares three case study sub-regions of Colombia to argue that many agrarian reforms acted instead as counter-reforms, contributing to depeasantisation, the loss of communities' food sovereignty – and consequently their food security – and the depletion of agroecosystems. The three sub-regions investigated are: Los Montes de María, a warm-land; the coffee region, a temperate-land; and Santurbán, a cold-land. This thesis' findings on peasantries' accounts derive from privileging the voice of the same communities and, through them, their relational reading of their own territories and crops as historical subjects. The comparative analysis reveals how the uneven resolutions of the agrarian question in Colombia have driven a gradual loss of food sovereignty and agro-biodiversity in the three cases. It also questions the degradation of peasant cultures and their subsequent detachment from Nature, with damaging environmental impacts. To do so, this thesis has used an environmental history methodology, including the extensive use of oral history, combined with principles drawn from Critical Agrarian Studies (CAS), political ecology and decolonial/post-developmental approaches. The thesis focuses on the late twentieth and early twenty-first century: a period dominated in Colombia by the domestic adoption of international capitalist paradigms, such as developmentalist interventions, market liberalisation, and neoliberal globalisation, starting with the 1961 Social and Agrarian Reform and finishing in the 2013 Great Peasant Strike. This thesis reviews how these paradigms were embedded by the Colombian state, who colluded with local economic elites to drive agrarian counter-reforms with anti-peasant agendas. By doing so, it takes the study from global to local frames of analysis. This thesis argues that state-imposed agrarian reform actually served to abolish – partially or entirely, directly and indirectly – the peasants' way of life and food production in the sites of study. It also argues that these were colonial, patriarchal, racist/classist and, in general, violent; and ultimately led to different levels of depeasantisation not just of the countryside but also of peasants themselves, and to the creation of food and environmental injustice."
About me: my name is Diana Valencia-Duarte, Postgraduate Researcher in History at the University of Exeter. My research interests centre on socio-environmental conflicts and agroecological food systems, using social sciences and/or historical methods, with emphasis in oral memory, environmental history, and decolonial, participative and interdisciplinary approaches by principle. My studies have been focused on contemporary Colombian peasantries, but I am also involved in research and educational projects related with Black communities in the UK and Nigeria.
* If you want to know more about this little paradise, Camarón, and about the admirable teacher who directs it, I recommend the special 'La lección de Angelina - Esta tierra es mía' by Telecaribe (in Spanish) which won in 2018 the India Catalina award for best reportage.
NOTE: The Zoom link will be shared to your emails on the day of the event.