Pheromone Party

Tuesday, 9 June 2015 from 19:30 to 23:00 (BST)
Event Details
After the great success of the third official European Pheromone Party in December, LA's hottest matchmaking event based on the science of smell is coming back to London in June! Bring a t-shirt you've slept in and find out who you've got chemistry with. The nose knows! 
Pheromones are the chemical triggers of sexual
 attraction in mammals. Pheromones determine fecundity; if you are attracted to someone's pheromones it is an indicator that you two will have healthy offspring. While not confirmed, it is suspected that males smell availability and females smell genetic quality.
•● How The Party Works ●•
1. Guests are asked to sleep in a cotton t-shirt for 3 nights in a row to capture their odour print and bring this in a large freezer bag to the party.
2. Bags are labeled pink for girl, blue for boy. They bags are assigned a number. Only the guest knows what their shirt's number is.
3. Bags are placed on a table. Guests smell the bags at their leisure throughout the party. 

4. If a guest finds the smell attractive, they take a picture with the bag. These pictures are projected as a slide show on the wall at the party. 

5. If you see a guest you find attractive holding your number, this is the greenlight to talk to them. 

6. At the end of the party, a Facebook album is created and all of the pictures are tagged - so if you missed your match at the party, you can still contact them.
▀ ▀ ▀ ▀ ▀ ▀ ▀ ▀ ▀ ▀ ▀ ▀ ▀ ▀ ▀ ▀ ▀ ▀ ▀ ▀ ▀ ▀ ▀ ▀ ▀ ▀ ▀ ▀ ▀ ▀ ▀ ▀ ▀
Harriet Riddell is a performance mixed media artist specialising in observational drawings in her stitch. Her artwork responds to and interprets the transient world on to a permanent tapestry. This will be your last chance to see Harriet before she heads off to Glastonbury festival with her
 bicycle powered sewing machine!   
Macabre cabaret and performance artist Mary Beth Morossa has stepped out from between the pages of a Grimm's Fairytales book, brushed the dust from her corset and is ready to entertain you again! 
•● 
Annexe Magazine
 ●•
Our favourite London press publication are back again and this time their love for the written word and pheromones is going to be bigger and better with their wonderful live literary performance.
▀ ▀ ▀ ▀ ▀ ▀ ▀ ▀ ▀ ▀ ▀ ▀ ▀ ▀ ▀ ▀ ▀ ▀ ▀ ▀ ▀ ▀ ▀ ▀ ▀ ▀ ▀ ▀ ▀ ▀ ▀ ▀ ▀
"They are using pheromones - a scent we all give off and which some believe plays a big role in attraction - and encouraging us to smell our way to true love"

BBC News

 
"...it's more reliable to trust our noses when it comes to finding true love"

Independent
"Does your love life stink? Follow your nose at a pheromone party" Time Out
"If you can think of a better way to spend a Thursday night than huffing the dirty t-shirts of complete strangers...then you're kind of messed up"

Vice Magazine
▀ ▀ ▀ ▀ ▀ ▀ ▀ ▀ ▀ ▀ ▀ ▀ ▀ ▀ ▀ ▀ ▀ ▀ ▀ ▀ ▀ ▀ ▀ ▀ ▀ ▀ ▀ ▀ ▀ ▀ ▀ ▀ ▀
Please be aware that there will be a camera crew covering the event. If you have any questions, feel free to get in touch with us at london@pheromoneparties.com
Notes on refunds: We are happy to accommodate refunds with advance notice but we are unable to offer refunds three days before the event due to the nature of the event.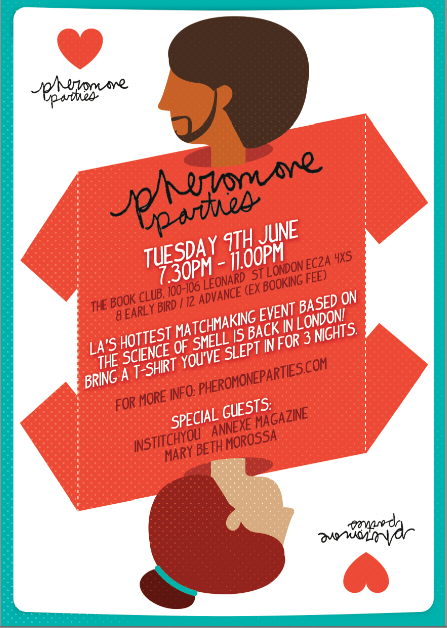 When & Where

The Book Club
100-106 Leonard Street
EC2A 4RH London
United Kingdom


Tuesday, 9 June 2015 from 19:30 to 23:00 (BST)
Add to my calendar