Philanthropy & Positive Change - Global Thinkers Forum 2016 Awards Gala - L...
Event Information
Location
Institute of Directors (IoD)
West London
London, SW1
Description
2016 Honourees
EXCELLENCE IN POSITIVE CHANGE
International Committee of the Red Cross (ICRC)
Established in 1863, the ICRC operates worldwide, helping people affected by conflict and armed violence and promoting the laws that protect victims of war. An independent and neutral organization, its mandate stems essentially from the Geneva Conventions of 1949. It is based in Geneva, Switzerland, and employs some 14,500 people in more than 80 countries. The ICRC is funded mainly by voluntary donations from governments and from national Red Cross and Red Crescent Societies.
EXCELLENCE IN PROMOTING GENDER EQUALITY
Elif Shafak
Author, Columnist, Speaker and Academic
Elif Shafak is an award-winning novelist, women's rights & LGBT rights advocate and an inspirational public speaker. She writes in both Turkish and English, and has published 15 books, 10 of which are novels, including The Bastard of Istanbul and The Forty Rules of Love. Her novels have been published in 47 languages and she has been featured in major newspapers and periodicals around the world.
Shafak has been long listed for the Orange Prize, MAN Asian Prize, the Baileys Prize, the IMPAC Dublin Award; shortlisted for the Independent Foreign Fiction Prize and RSL Ondaatje Prize. She was awarded the title of Chevalier de l'Ordre des Arts et des Lettres.
EXCELLENCE IN WOMEN'S EMPOWERMENT
One Heart World-Wide
One Heart World-Wide (OHW) is a 501(c)(3) organization with over 15 years of experience implementing maternal and neonatal mortality prevention programs in areas where women often die alone at home giving birth. Its aim is to improve access to, and utilization of healthcare services to reduce the risk of maternal and neonatal mortality in the most remote, rural areas. It operates on the belief that all women and newborns can receive the quality healthcare services they deserve during pregnancy and childbirth, anytime and anyplace.
SPECIAL AWARD FOR CONTRIBUTION TO HUMANITY
Alwaleed Philanthropies
Prince Alwaleed is perhaps best known internationally as the chairman and controlling shareholder of Kingdom Holding Company, one of the world's most influential investment companies.
Outside of business, Prince Alwaleed is widely respected for his philanthropic work as the founder and patron of the Alwaleed Bin Talal Foundations, dedicated to supporting global cultural understanding, disaster recovery, women's empowerment, and community development projects in Saudi Arabia, Lebanon, and around the world.
EXCELLENCE IN PROMOTING PEACE & COLLABORATION

The Lord Alderdice

Chairman for the Centre for Democracy & Peace Building, Belfast
As Leader of the Alliance Party of Northern Ireland, Lord Alderdice played a significant role in the Talks on Northern Ireland including negotiation of the 1998 Good Friday Agreement. He was the first Speaker of the new Northern Ireland Assembly and on retirement in 2004 was appointed to the Independent Monitoring Commission, tasked with closing down terrorist operations and overseeing normalization of security in Northern Ireland.


Proceeds in support of
Global Thinkers Forum & Global Thinkers Mentoring Programme for Youth Development (non profit status)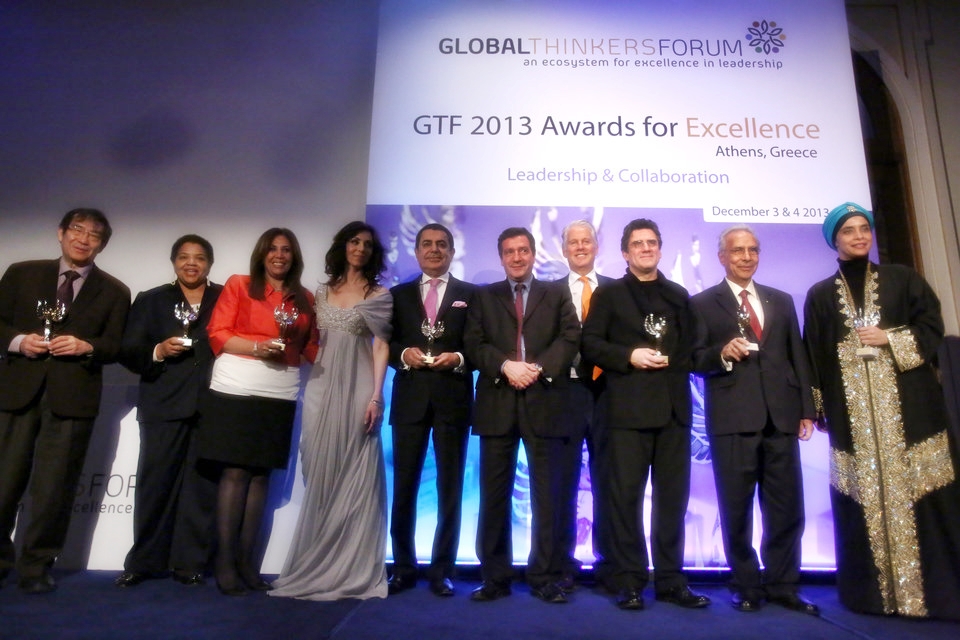 Previous GTF Award Honourees include:
Her Majesty Queen Rania Al Abdullah

His All Holiness the Ecumenical Patriarch Bartholomew

HE Sheika Lubna bint Khalid bin Sultan Al Qasimi

HRH Princess Rym Ali

Zaha Hadid

Arianna Huffington

Nouriel Roubini

Sir Dirk Brossé

HE Mr. Nasser Abdulaziz Al Nassir

HE Raja Al Gurg

Hani Masri

HRH Princess Sumaya

Dr Ibrahim Abouleish

Dr Hayat Sindi

Khalid Al Khudair

Dalia Mogahed

Dr Maisah Sobaihi

H.E. Noura Al Kaabi

Muna AbuSulayman
For GTF Individual Sponsorship opportunities or table booking, please contact ellie.papoutsani@globalthinkers.com

Date and Time
Location
Institute of Directors (IoD)
West London
London, SW1