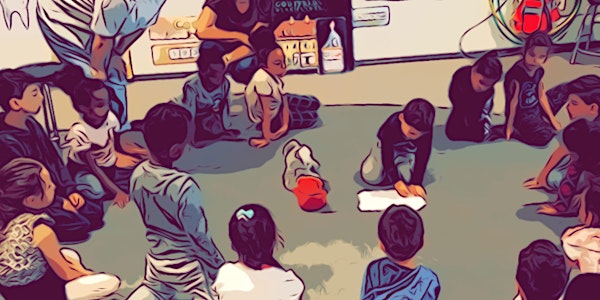 Philosophy in Schools: Enriched Curriculum, Enriched Lives
Location
The RSA (Royal Society of Arts, Manufactures and Commerce)
8 John Adam Street
London
WC2N 6EZ
United Kingdom
Description
A major event promoting the benefits of philosophy in schools with a rich variety of speakers, including, radio producer and writer John Lloyd CBE, Magid Magid MEP, writer and comedian Lucy Porter, educator and author Sir Anthony Seldon, and The Right Hon. Lord David Willetts


In the age of "fake news", "post-truth" politics, and increasing media polarisation, the capacities for critical thought and informed democratic dialogue are desperately needed. Research shows that introducing philosophical practices in schools helps to build critical intellectual skills, creative imagination, and civic empowerment in children and teenagers. In addition, longitudinal studies show that engaging pupils in philosophical activities has benefits for pupil achievement, especially for pupils from disadvantaged backgrounds. This event will briefly present the state of research in the field before highlighting the practical and affordable mechanisms through which philosophy can be integrated into the curriculum, supporting school efforts to enrich educational experiences and better respond to the evolving regulatory environment. We believe that increasing philosophical education across the curriculum and across year groups can be a very important and unifying project in these troubled times. This event is therefore directed at practitioners, decision-makers and influencers. Head teachers, politicians, civil servants, other policy-makers, and members of the media are thus warmly invited to attend.
Please note that this event will divided into two parts with an afternoon session (from 13:00 to 17:00) and an evening wine reception (from 17:00 to 19:30), with speakers from a variety of backgrounds speaking in each part. Guests are welcome to attend either or both these parts of the event.

Speakers:
- The Right Hon. the Lord Blunkett, Member of the House of Lords and former MP for Sheffield Brightside and Hillsborough. In various Labour governments he was Education and Employment Secretary, Home Secretary and Work and Pensions Secretary. As Education and Employment Secretary, he took a special interest in the transformational power of education to help improve life chances; he also introduced Citizenship and Civic Education as a distinct subject in the national curriculum.
- Dr. Steve Bramall. P4C Manager at SAPERE, Owner of Steve Bramall Associates.

- Dr. Laura D'Olimpio. Senior Lecturer in Philosophy of Education in the School of Education at the University of Birmhingham, author of Media and Moral Education: a philosophy of critical engagement, winner of the 2018 Philosophy of Education Society of Australasia Annual Book Award, co-founder and co-editor of Journal of Philosophy in Schools and Chairperson of the Federation of Australasian Philosophy in Schools Associations.
- Dr. Joshua Forstenzer. Faculty Fellow in the Social Sciences and Lecturer in Philosophy at the University of Sheffield, author of Deweyan Experimentalism and the Problem of Method in Political Philosophy, co-Director of the Centre for Engaged Philosophy.
- Prof. Michael Hand. Professor of Philosophy of Education in the School of Education at the University of Birmhingham, editor of the IMPACT pamphlet series and the Bloomsbury Philosophy of Education book series, and author of A Theory of Moral Education, Philosophy in Schools and Is Religious Education Possible?.
- Prof. Angie Hobbs. Professor of the Public Understanding of Philosophy at the University of Sheffield, regular broadcaster on TV and Radio, author of Plato's Republic: A Ladybird Expert Book, Member of the World Economic Forum Global Future Council on Values, Ethics and Innovation, and Judge of the 2019 Man Booker International Prize.
- Lizzy Lewis. Partnerships Manager at SAPERE, Partner at A-Level Philosophy, and former President and Secretary of ICPIC The International Council of Philosophical Enquiry with Children.

- Grace Lockrobin. Founder and Lead Philosophy Practitioner at Thinking Space, SAPERE trainer, and co-editor of Philosophy and Community: Theories, Practices and Possibilities.
- John Lloyd CBE, award-winning TV and radio producer and writer and philosophy enthusiast. His huge output includes such classics as Not the Nine O'Clock News, Spitting Image, Blackadder, The Hitchhiker's Guide to the Galaxy and The News Quiz.
- Magid Magid MEP. A Somali refugee who came to the U.K. aged five, entered local politics as a councillor and was elected to the post of Sheffield Lord Mayor last year - the youngest Lord Mayor in the history of the city and the first Green Party councillor to take on the role. During his time in office he campaigned for young people, as well as highlighting the positive contribution to society of immigrants and refugees, and the political importance of culture (including philosophy) in effecting change. The zoology graduate went on to be elected as one of the six Members of the European Parliament for the Yorkshire and Humber Region in May.
- Lucy Porter, writer and comedian. Lucy has performed all over the U.K., including at the Edinburgh Fringe and Brighton Festival. She is a regular performer on panel shows on both television (such as Q.I.) and Radio 4 (e.g. The News Quiz; Quote …Unquote). She is a keen supporter of philosophy in schools
- Sir Anthony Seldon, educator and contemporary historian, is the Vice-Chancellor of the University of Buckingham. He was the headmaster of Wellington College and has written many books on contemporary history, politics and education. He has long promoted a holistic approach to education which focuses on well-being.
- John Taylor. Assistant Head (Director of Learning, Teaching & Innovation) at Cranleigh School, Philosophy in Education Project Director, and co-founder of the School Philosophy Certificate.
- The Right Hon. Lord Willetts PC, FRS, Member of the House of Lords and former Conservative M.P. for Havant 1992-2015. Minister of State for Universities and Science 2010-2014; he also served as Shadow Education Secretary. Executive Chair of the Resolution Foundation and visiting professor at King's College London, he has a special interest in generational fairness.
- Emma Worley. President of SOPHIA (The European Foundation for the Advancement of Doing Philosophy with Children), Co-Founder and Co-Chief Executive Officer of The Philosophy Foundation. Visiting Research Associate at King's College London.

- Peter Worley. Co-Founder and Co-Chief Executive Officer of The Philosophy Foundation, author of The If Machine, The If Odyssey, A Philosophical Journey Through Greek Myth and Storytelling for 8-16-year-olds, and other books. Visiting Research Associate at King's College London.


Click on https://engagedphilosophy.org/ for our event website.