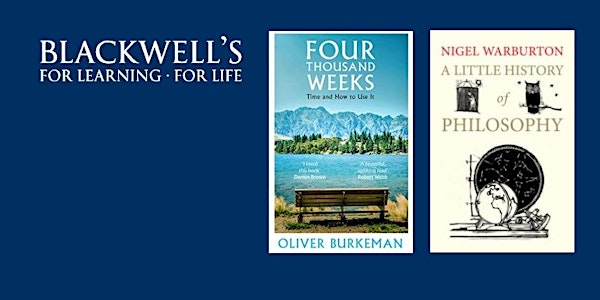 PHILOSOPHY IN THE BOOKSHOP Oliver Burkeman 'Four Thousand Weeks'
Location
Blackwell's Bookshop
48-51 Broad Street
Oxford
OX1 3BQ
United Kingdom
Oliver Burkeman discusses his latest bestselling book, '4,000 Weeks' with Nigel Warburton (A Little History of Philosophy)
About this event
A very special addition to our monthly 'Philosophy in the Bookshop' series of events welcomes bestselling author Oliver Burkeman to Blackwell's Oxford for one UK event.
The Book
If you live to be 80, you'll have had about 4,000 weeks. But that's no reason for despair.
We're obsessed with our lengthening to-do lists, our overfilled inboxes, the struggle against distraction, and the sense that our attention spans are shrivelling. Still, we rarely make the connection between our daily struggles with time and the ultimate time management problem: the question of how best to use our ridiculously brief time on the planet, which amounts on average to about four thousand weeks.
Four Thousand Weeks is an uplifting, engrossing and deeply realistic exploration of the challenge. Rejecting the futile modern obsession with 'getting everything done,' it introduces readers to tools for constructing a meaningful life by embracing rather than denying their limitations. And it shows how the unhelpful ways we've come to think about time aren't inescapable, unchanging truths, but choices we've made, as individuals and as a society. Its many revelations will transform the reader's worldview.
Drawing on the insights of both ancient and contemporary philosophers, psychologists, and spiritual teachers, Oliver Burkeman sets out to realign our relationship with time - and in doing so, to liberate us from its tyranny.
The Author
From the author of The Antidote: Happiness for People Who Can't Stand Positive Thinking (2012) and Help! How to Become Slightly Happier and Get a Bit More Done (2011), a collection of my columns for the Guardian newspaper.
​ Oliver Burkeman's new book, Four Thousand Weeks, is about making the most of our radically finite lives in a world of impossible demands, relentless distraction and political insanity (and 'productivity techniques' that mainly just make everyone feel busier).
The Event
This event is free to attend and will take place in the Philosophy department.
Please call 01865 792792 with any enquiries.