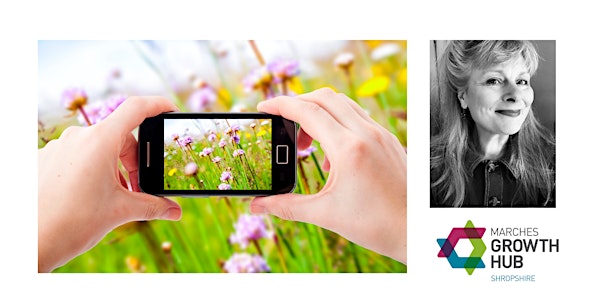 Photo editing fun with Hipstamatic; a world class photograph app for iPhone
Learn how to use the amazing features of the Hipstamatic app and discover how it can help make your business stand out from the crowd.
About this event
*Webinar 4 of 4 with Nettie Edwards, these webinars are 1 hour and 45 minutes long with a 15 minute break*
Join Nettie Edwards, internationally acclaimed iPhone photographer, to find out why the Hipstamatic photo editing app has a World-Wide, cult following and how it can help make your business stand out from the crowd.
iPhone/iPad only, all levels of experience including beginner.
What will be included in this webinar?
Hipstamatic is a hugely popular iPhone editing app that, besides basic photo editing tools, offers a vast and constantly growing suite of vintage-look filters that are fun and easy to use.
This is Nettie's favourite app and during this webinar she will share examples of her Hipstamtic work, then walk you through each of the app's features including:
How to download "preset" packs to create unique looks for your photographs
How to combine and modify Hipstamatic's range of "presets" don't worry, it's easy!
How to use Hipstamatic's often-overlooked basic editing features such as straightening, cropping, and adjusting exposure.
How to create a unified look across all of your edited photographs
Saving your photographs back to your camera roll
Please note:
Hipstamatic can be downloaded and used on iPhones and iPads for £2.49 .
However, endless creative fun for the price of a cup of coffee....
Most of the extra add-on filter packs used by Nettie are available to purchase through the app (each one is under £1) . For the purposes of this workshop, should you wish to follow along on your device as Nettie walks you through the app, the basic free version will be just fine.
Also note: there are different versions of Hipstamatic, which can be confusing! The one Nettie will demonstrate is Hipstamatic Classic
Who is it for?
Shropshire business owners and managers, Entrepreneurs, SME's both Business2Business, Business2Customer, not for profits and charities.
About the facilitator
In 2009, Nettie became an early innovator of the Smartphone Photography and Arts movement, running the world's first iPhone photography workshops and writing the first ever published tutorials. Her award-winning images have been published and exhibited widely here in the UK and internationally. She is regularly invited to give presentations and run workshops to camera clubs and organisations such as The Royal Photographic Society, BBC Wildlife Photographer of the Year, London's Natural History and Science Museums. She was a named as a contemporary experimental photography reference in the 2019 A-level Art & Design paper for Pearson Edexel. Her work can be viewed at: Instagram @lumilyon
lumilyon.co.uk
lumilyon.wordpress.com
The Boring Bit
This is a FREE, live, online seminar which you can access via the Zoom platform. After registering on Eventbrite, you will be sent a confirmation email containing a link to access the webinar. This will be sent out the day before the event. To join the webinar, click the link that you received in the confirmation email you are sent.
Further information can be found here
Data Protection
Details that you provide us with on booking will only be used in connection with this event offered by Marches Growth Hub (the data controller) and its partners, which include the Department for Business, Energy, and Industrial Strategy (BEIS) and event partners. If the business has any question in relation to how the information the business provides, and in particular any personal data, will be processed and disclosed, please email the Marches Growth Hub – Shropshire on marchesgrowthhub@shropshire.gov.uk
Terms and Conditions of Booking
This event is fully funded and free to eligible businesses to attend. We appreciate that sometimes there are good reasons why businesses are unable to attend workshops, however if you are no longer able to turn up, please cancel your ticket through Eventbrite.
We require 48 hours cancellation notice prior to the event (in order for us to offer your space to another business)
Please note that if you do not attend without letting us know, we reserve the right to decline your bookings for future sessions.