Description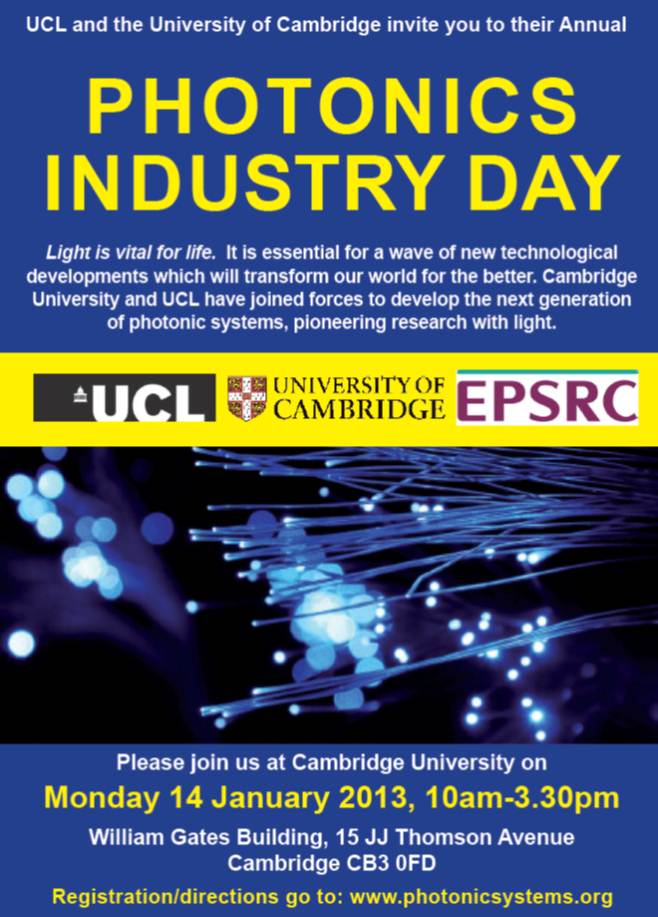 Does your company have an interest in photonics systems development? Come and meet with our students and academics at our Annual Photonics Industry Day in Cambridge. During the day we will be showcasing some of the research and technological achievements so far of the EPSRC UCL-Cambridge Centre for Photonic System Development (www.photonicsystems.org). We will describe some example student projects and will give you the opportunity to meet both the students and academics involved with the Centre and consider offering our students the chance to contribute to your research agenda and make a real difference to your company.
We invite our industrial partners including Sharp, BT, Toshiba, Zinwave and any companies with an interest in photonic systems to offer industry linked projects to our Masters and PhD students on the programme.
JOIN US on 14th January 2013 to:
View the latest applications for photonics
See poster displays showcasing the latest research discoveries in photonics

Meet students and academics developing solutions for applications
Attend presentations from technology leaders
Explore collaborative research opportunities for your company
Discuss offering a mini-project to one of our outstanding students
Network with companies interested in photonics - refreshments & buffet lunch provided
If you are from a company interested in offering a research project to one of our students, we would be pleased for you to join us for the day. Find out more about last year's Industry Day here and download this year's Programme Flyer. We look forward to meeting you.
Draft Schedule
10.00
Arrival: Registration and Coffee
10.30
Introduction to the Centre. Professor Alwyn Seeds (UCL) and Professor Ian White (Cambridge)
10.45
EPRSC Photonics Programme: Susan Peacock, Information and Communication Technologies Manager
11:05
Keynote Presentation "Photonic Integration for High-Performance Systems": Prof Mike Wale, Director Active Products Research, Oclaro

11.25
Company Presentations
12.30
Buffet Lunch
13.30
Student Presentations
14.30
Working with the Centre: Project Proposal Arrangements. Dr Cyril Renaud (UCL)
14.45
Opportunities in Photonic Systems Research and Technology Development. Discussion chaired by Professor Richard Penty (University of Cambridge)
15.00
Tea and Informal discussions
15.30
Close
Organiser of Photonics Industry Day for UCL-Cambridge Centre
The University of Cambridge and University College London (UCL) have joined forces to develop the next generation of photonic and electronic systems.
The two world-leading universities have combined their expertise in photonics and electronics to establish a Centre for Doctoral Training (CDT) in Connected Electronic and Photonic Systems (CEPS), leveraging their current strong collaborations in research and innovation. The Centre trains postgraduate students, using innovative teaching and learning techniques and collaborates closely with leading organisations in the field of photonics, worldwide.