About this Event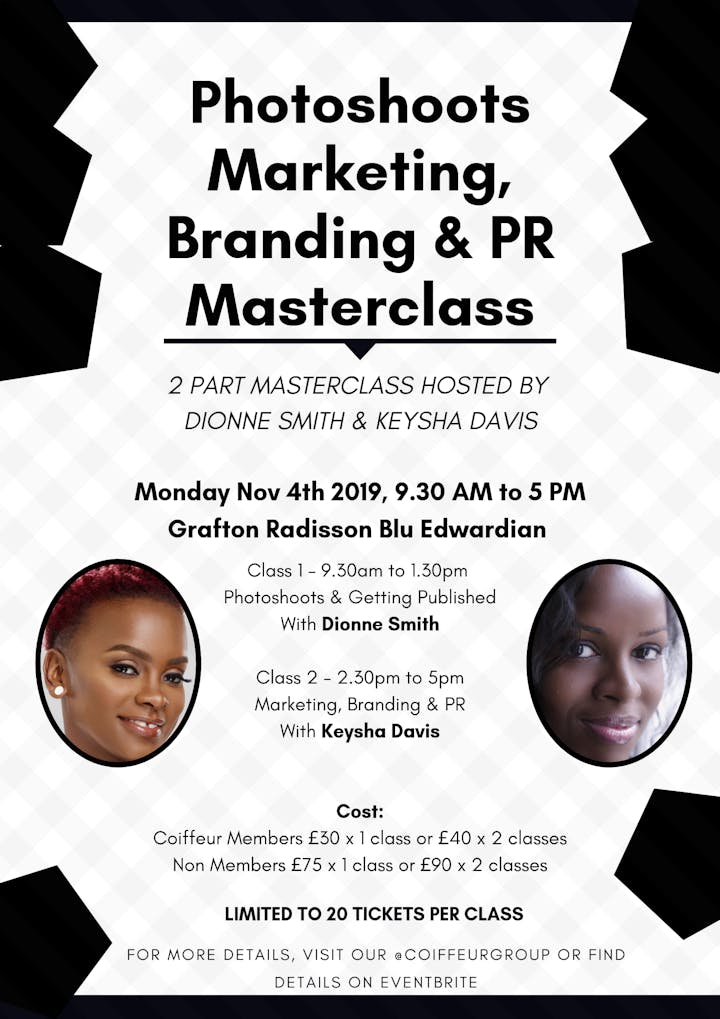 This exciting day of training will equip you with all the tools to take your brand to the next level. 
What will be covered:
Photoshoots & getting published, hosted by Dionne Smith
How to create a Moodboard and bring your vision to life
Trends and how to find them
How to draft a professional Call sheet
How, when and where (Studio Bookings)
Team Scouting, how to select the right team players
How to build your portfolio for free
Submitting to Magazines or Blogs
PLEASE NOTE YOU WILL NEED TO BRING A LAPTOP TO TAKE PART IN THIS CLASS.
-----------------------------------
Marketing, Branding & PR, hosted by Keysha Davis
How to create a press pack to submit to publications on a shoestring budget
Approaching editors to get your work published in magazines/websites
Branding - creating a strong brand identity that will make you immediately recognisable to your audience
Developing a tone of voice for your business
How to enter industry competitions to take your salon business to the next level
Establishing yourself as a voice of authority in the salon industry
--------------------------------------
Who are your Tutors:
Dionne Smith -
Celebrity and Award-Winning Hairstylist, Dionne Smith also CEO of the recently launched online hub for hairstylists & hairdressers called the Coiffeur Group is an international phenomenon sought after by the likes of many but to name a few, Actress - Regina King, Kiki Layne, Tennis Athlete - Venus Williams, Nollywood star - Genevieve Nnaji, publications such as Elle, OK! Magazine, Elements, 7Hues, Blackhair Magazine, Black Beauty Magazine, Pride, Afro Stylez plus many more.
Dionne has worked with many reputable hair brands, doing research, developing products, campaign photoshoots as well as educating. Some of the brands she has worked with include Dyson, Aveda, Noble Sleek, Hair Flair, Design Essentials, Revlon, Sta Sof Fro, ORS and so much more and her portfolio reflects that.
Dionne is also known as a Creative Director & International Educator, working with brands to teach and educate hairstylists all over the world.
Dionne has a creative mind and is able to creatively manage & direct photo shoots and campaigns to enhance your brand.
Dionne Specialises in Afro & Curly Hair Textures but can work with all types of hair.
Unlike your average stylist, Dionne works her magic on natural hair, weaves to precise cuts; she does it all. Her portfolio reflects her ability to work with all types of hair. For Dionne, Education and Artistic approach have always been the foundation of her passion.
Keysha Davis -
Keysha Davis is an editor, copywriter and freelance writer who specialises in hair & beauty, culture and women's interest writing.
Over the last eight years Keysha has been at the helm of hair and lifestyle magazine, Blackhair, where she edits the magazine and is a very public face of the brand.
A magazine veteran, previous to this position, Keysha was the features and entertainment editor of Pride magazine.
Most recently, Keysha has worked within the area of brand communications, working with a number of commercial beauty clients focusing on areas such as social media management, copywriting and public relations.
Please Note:
Tea, Coffee & Water will be provided, but lunch is not provided as part of the class. There are many local places in the area you can obtain lunch and the venue also offers lunch in there restaurant on the ground floor.
Lunch break will be from 1.30pm to 2.30pm for those booking on both morning & afternoon classes.