Description
• PHOTOSHOP MASTERY •
Retouching & Workflow Skills Day
Price: £109
•Early Bird until 11th May•
(Normally £139pp)
Join me for a FULL 'Hands On' DAY of Photoshop, Lightroom and Camera RAW of Tips, Tricks and Techniques that will dramatically enhance your Retouching and Workflow Skills.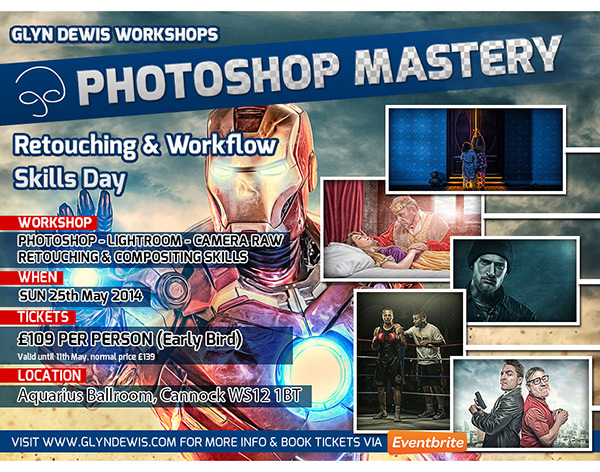 We'll work Step by Step through a series of images from scratch as I show you how to go Out of Camera to Print Ready.
Topics we'll cover include:
Concepts / Ideas / Planning / Preparation
Keeping your Eyes Open (Retouching for Realism)
Equipment / Tools of the Trade
Lighting for Composites (Equipment, Set Ups)
Non Destructive Workflow - Retouching the "Professional" way
Preparing the Files
Mastering Selections / Cut Outs
Compositing
Layer Mask Magic
Realistic Shadows
Lighting Effects (Adding realistic light sources, lighting for mood / atmosphere and more...)
Colour Effects (Creating the 'Look')
Special Effects
Photoshop CC enhancements and much more...
EXTRA INFORMATION:
•Every Attendee will receive a USB Card containing Asset Files & Goodies including Full Length Tutorials.
•Attendees are to bring their own computer / laptop with Photoshop & Camera RAW (Lightroom if used)
•Buffet Lunch provided
• • •
This is going to be a FULL ON day of Photoshop that I guarantee will not only improve your retouching skills but will make you think differently about how you approach retouching.
I REALLY look forward to seeing you there and having a GREAT day oh and of course followed by social time: food, drinks etc...
Any questions please feel free to email at glyn@glyndewis.com
See you soon,
Glyn