Description
ALL London organises webinars open to all teachers. We hope that you will like us and want to join!
Physical French Phonics
Having seen Sue Cave's work and heard her speak at our national conference, the ALL London Committee has invited Sue to share her ideas even more widely by presenting this webinar. We are so pleased that she has accepted and very much look forward to hosting the event which is relevant to primary and secondary sectors. Although focussing on French, the principles and ideas could be applied to any language.
The session
The representation of sounds through letters, in any language, is a code. Through the explicit teaching of phonics, teachers can provide learners with the key to unlock this code. A simple seven step process for teaching most languages will be analysed demonstrating how to move from word to sentence level with phonics at its heart. The activities demonstrated for each step will be in French (although most would be suitable for other languages) using a sound, action, spelling system 'Physical French Phonics' which has been tried and tested successfully with both young and adult learners. Suggestions will be made as how to get started embedding phonics in language learning both in primary and secondary.
About Sue Cave
Sue Cave
Sue Cave is an independent consultant for Cave Languages. Her teaching experience has been in primary, secondary, adult education and TESOL sectors. She is currently a primary languages specialist teacher and trainer. She has presented at national conferences (including ALL's Language World) and is the author of primary language resource books. She is passionate about the importance of the explicit teaching of phonics to all learners.

Because of the nature of her talk, it is not easy to take a still picture of Sue, as demonstated by our attempts at the Language World Conference ... but this collage conveys her warm and dynamic approach!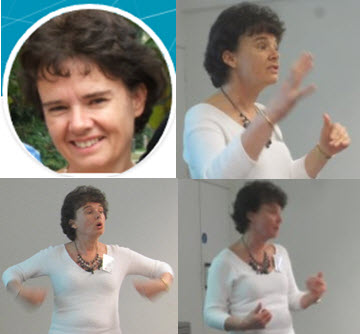 Joining a Webinar - Guidelines - Etiquette
Please read the Webinar page of our website for more information about how to join a Webinar. It is very easy - you just click on a link and you can see and hear! Please do not pass the link to people who have not signed up and read the etiquette as this can cause problems.
http://www.all-london.org.uk/site/index.php/webinars/
We look forward to seeing you!