Description
The Exploded Body Physical Theatre Course explores the relationship between the body and the space where it exists, researching the dynamics of space and rhythm through a structural form. A special focus will be on devising process and methodologies to create your own work.
CREATIVE LAB AND MOVEMENT CLASSES
In this Course will ask students to actively participate in a creative lab, in which we'll be working with materials, colours and structures. As a result, we will be investigating the relationship between structural, architectural language and body movement using basic materials: Paper, cardboard, wood-sticks, wire, etc.
Furthermore, we will be creating experimental objects that can be put in motion, (portable structures, masks and
dynamic objects), and we will explore the relationships we can create by integrating them with movement and the body.
The Exploded Body Physical Theatre Course is divided in 3 Modules taking place during 3 weekends.
BREAKDOWN OF THE COURSE:
1st module: UNIVERSAL POETIC AWARENESS
18th - 19th of May
"First you discover the world, then you discover yourself", Jacques Lecoq.
Our journey is to observe and embody life and nature, and then to transpose these forms into theatre. This is what Lecoq called the mimo-dynamic approach to creation.
Mimo-dynamic doesn't mean illustrating or describing what you see, but entering and listening to the reality, and then transposing it into poetical forms with your body.
Our investigation of reality will be focus on observing colours, materials and their behaves; understanding how each colour has a different relationship with the space it occupies. There is a space, a rhythm and a dynamic for each colour. Therefore each space reveals a dramatic territory.
As a result of analyzing colours students will move on to work with images and whole paintings, studying the complexity of composition and transposing it with their collective body during the embodiment work. This investigation will be essential for the devising process happening in Module 3.
2nd module: CONSTRUCTION OF PORTABLE STRUCTURES
1st- 2nd June
The portable structures appear like abstract architectural forms, put in motion in the space. They are played like masks, carried by the body or manipulated by the arms, moving in the space following their rhythms and forces.
Above all the idea behind our work is to recognize the significance of "Plastic Space". Rather than considering the space and objects as elements of decoration, we intend them as plastic and dynamic fundamentals, fully integrated with the actor's body.
In this direction of mime-architecture, we will put in motion the portable structures we've created during the lab, and we will explore how the actor's body finds a full integration in the space, complementing and accompanying the structures to serve its play.
3rd module. DEVISING PROCESS & COLLABORATIVE PROJECT
8th - 9th of June
This Module will offer you the possibility to create a final devising project working with portable structures you made in Module 2, and the investigation of colors and dynamic of space you made in Module1.
We intend collaborative devising as the fundamental key for the emerging of new and original theatre work.
Certainly training students to look and see, to work in an atmosphere of generosity, commitment and personal responsibility, is more important than training them as a creative artist.
As a result you'll be challenged to trust your imagination, your artistic vision, and other people's ideas.
Our aim is to generate a creative discussion within your own practice. This will be the essential element for the creation of a new performance language and artistic autonomy.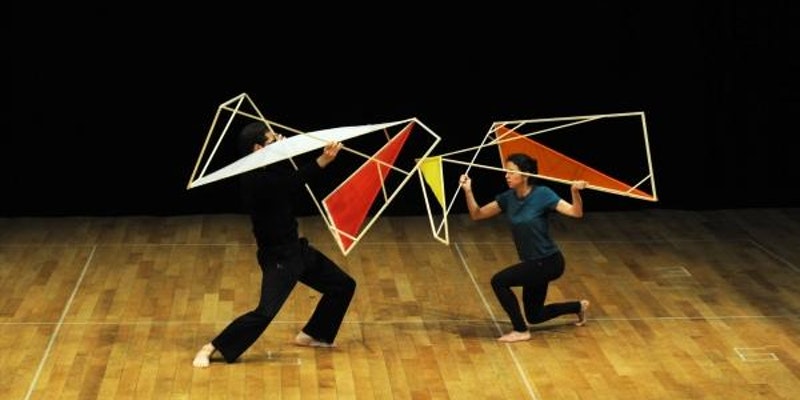 TIME, SPACE, PRICING

You can attend and book each module independently, or take advantage of our discounted packages. We highly recommend you to attend all the 3 modules to fully develop your practice.
All Modules are Sat & Sun from 10am to 6pm. At Theatre Deli in Liverpool Street.
DISCOUNTED PACKAGES:
All materials (paper, glue, paints, wooden sticks, etc) will be provided.
Session is lead by Monika Gravagno