Description
Picasso's Women features a series of monologues and confessionals performed by three of the most influential women in the early life of seminal 20th Century artistic genius, Picasso.
In collaboration with Gallery Different, come and listen to the fascinating lives of Fernande Olivier, Olga Khokhlova and Marie-Thérèse Walter.
The production features Fernande, played by Judith Paris, who tells the audience about the lustful early years of her relationship with Picasso. Fernande is known to have published her memoirs in her later years to great success. The play then focuses on Olga, Picasso's first wife who is played by Colette Redgrave. She candidly recounts the 'departments in which Picasso lacked' and the sadness she felt when she lost her husband to the younger and nubile Marie-Therese performed by Kirsten Moore. Their relationship is featured in the current TATE Modern Exhibition and depicts the passion in their short-lived relationship.
Judith Paris is a one-time member of both the National Theatre and the Royal Shakespeare Company performing with Sir Ian McKellen, Charles Dance and Vanessa Redgrave. She made her Broadway debut in Medea with Diana Rigg and performed in seven films for Ken Russell including The Devils and The Rainbow. Her West End credits include: ANNIE, Lust and OLIVER! And she performed A Fine Line, a solo play at the Edinburgh Festival Fringe.
Colette Redgrave - As the name suggests Colette is a part of a Redgrave dynasty of actors. Along with Marcia Carr she is co-Producing Picasso's Women. She has also produced European productions of Starlight Express, Much Ado About Nothing, His Dark Materials, Cabaret and Chess. Colette has worked throughout Europe as an actress and voice artist including work on the Discovery Channel and Vienna's English Theatre.
Kirsten Moore's theatre work includes Eleanor Marx: Jewess of Jews Walk at Sydenham Centre, Changing State at Hen and Chicken, Macbeth, Unicorn Theatre and Arsenic and Old Lace at Compass Theatre.
Director, Marcia Carr trained in music, dance and drama. She is Co-Artistic Director of Impetuous Kinship and Co-Director of the Creative Blast Company, delivering educational packages, training young people and producing touring shows. She is an Associate Artist with the National Youth Theatre of Great Britain and Deputy Chief Examiner for the London Academy of Music and Dramatic Art.
---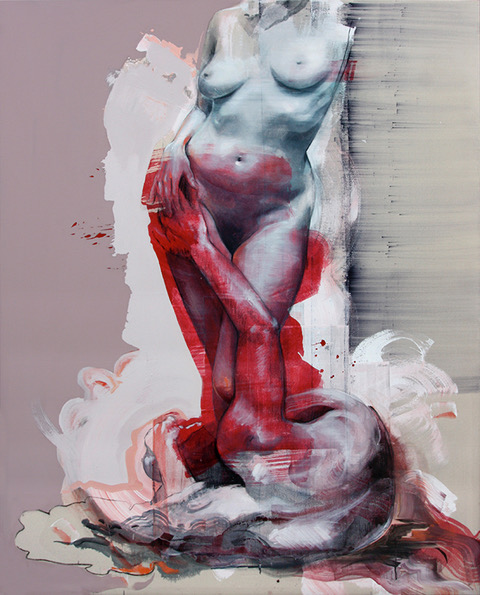 Credit. Lifeblood Venus, oil and acrylic on canvas by Rebecca Fontaine-Wolf VP SWA
Alongside this insightful, daring, controversial and vibrant play Gallery Different presents:
'Muse Model or Mistress?'
This comment by Marcel Duchamp on the restrictive role of women in the surrealist movement was instrumental in Peggy Guggenheim putting on her exhibition of 31 women artists at her New York Gallery in 1943. 75 years later the question is still relevant and seemed an apt theme for this exhibition which is being curated in collaboration with the production of Picasso's Women.
The exhibition will feature solely female artists working across a range of media. This will be the third women only exhibition to be featured at Gallery Different, and comes at a time when there is a global spotlight on the role of women in society and the way in which they are portrayed and perceived. Timely then to put on this exhibition alongside the insightful dramatic performances that highlight the effect of this portrayal and perception.
The monologues focus on each woman's perspective of being a muse for a male artist; the artwork will open up a discussion of how the muse's position changes under the female rather than male gaze.
The participating artists have been invited by Karina Phillips, Director of Gallery Different and her co-curator Rebecca Fontaine-Wolf, current Vice President of the Society of Women Artists.
Ticket Information:
Adults - £25.00, includes 1 x drink token in exchange for an alcoholic or soft drink
Concessions - £20.00, includes 1 x drink token in exchange for an alcoholic or soft drink
Useful Information:
Doors will open at 7pm and the performance will commence at 7.30pm. There will be a cash bar serving a range of wines, beers and soft drinks with table service. Bar snacks will be available. Seating is cabaret style on a first come first served basis. There is limited cloakroom facilities so please avoid bringing large bags.
Nearest underground stations are Tottenham Court Road on the northern and central lines, Goodge Street on the Northern Line and Warren Street and Oxford Circus on the Victoria Line. There are also numerous buses which stop on Tottenham Court Road close to Percy Street. There is on street parking which is free after 6.30pm.
Organiser of 'Picasso's Women' - Muse, Model or Mistress?
Flying Elephant Productions Presents 'Picasso's Women' alongside specially curated Art Exhibition entitled 'Muse Model or Mistress?' invited by Karina Phillips, Director of Gallery Different and her co-curator Rebecca Fontaine-Wolf, current Vice President of the Society of Women Artists.