Description
Autism and Disability Seminars on the day
Register to attend the seminars, includes FREE entry to Wandsworth Autism Fayre. Wristbands will be provided to attend all seminars and to entry the Fayre.

£5 Concessions (Proof of ID to be brought on the day)
£10 Parents/Carers
£15 Professionals
Concessions for families that homeschool their children.
---
MovementWorks with Ali Goldings - 11.00 - 11.45am
Ali Golding, MSc, PG Cert SEN, BA(Hons) FRSA.
Ali is the Founder, Manager and Creative Director of MovementWorks, an evidence based research organization focusing on the practice of dance as a tool for learning to improve educational outcomes.
View her 2017 TEDX here https://www.youtube.com/watch?v=nlZsG0HyfTI
---
"Autism - A unique Frame of Reference", School or in the workplace with Adrian Edwards - 12.00 - 12.45pm
Adrian Edwards - an autism advocate and has a teenager son with autism
The presentation will provide some insight into aspects which affect and determine how some autistic people see the world, including information on how such a unique frame of reference can be appreciated and embraced by others either at school or employment settings.
He also spoke at the Naidex, NEC Birmingham in March one of UK's largest disability and home care event
---

Siblings' perspectives, experiences and needs in families with autism with Georgia Pavlopoulou - 1.00 - 2.30pm
Georgia Pavlopoulou, PhD c. in Developmental Science and Family wellbeing, Senior Teaching Fellow at LiLAS Lab University College London :Siblings' experiences, perspectives and needs in families with autistic children.
Georgia has spent the last 17 years working closely with individuals with complex needs and their families in various guises – therapist, teacher, Head of Department, Scientific Co-ordinator. Her experience is cross sector – clinical and home therapy settings, universities, schools, NHS and non-governmental organisations (NGOs) in Greece and UK.
Links : https://www.lilaslab.com/georgia-pavlopoulou
http://www.ucl.ac.uk/ioe/news-events/news-pub/mar-2018/ucl-warwick-launch-research-group-sibling-relationships
---
My Experience living with Aspergers Syndrome - 2.45 - 3.30pm
Laurie Morgen - Inside Auism Outside the Box
Using personal stories and anecdotes, Laurie takes you on a journey seen through the eyes of an autistic person.
A professionally trained speaker, she has designed and delivered workshops and training sessions to audiences across the voluntary, health, education, social care and charity sectors. She creates lively sessions involving the whole audience.
---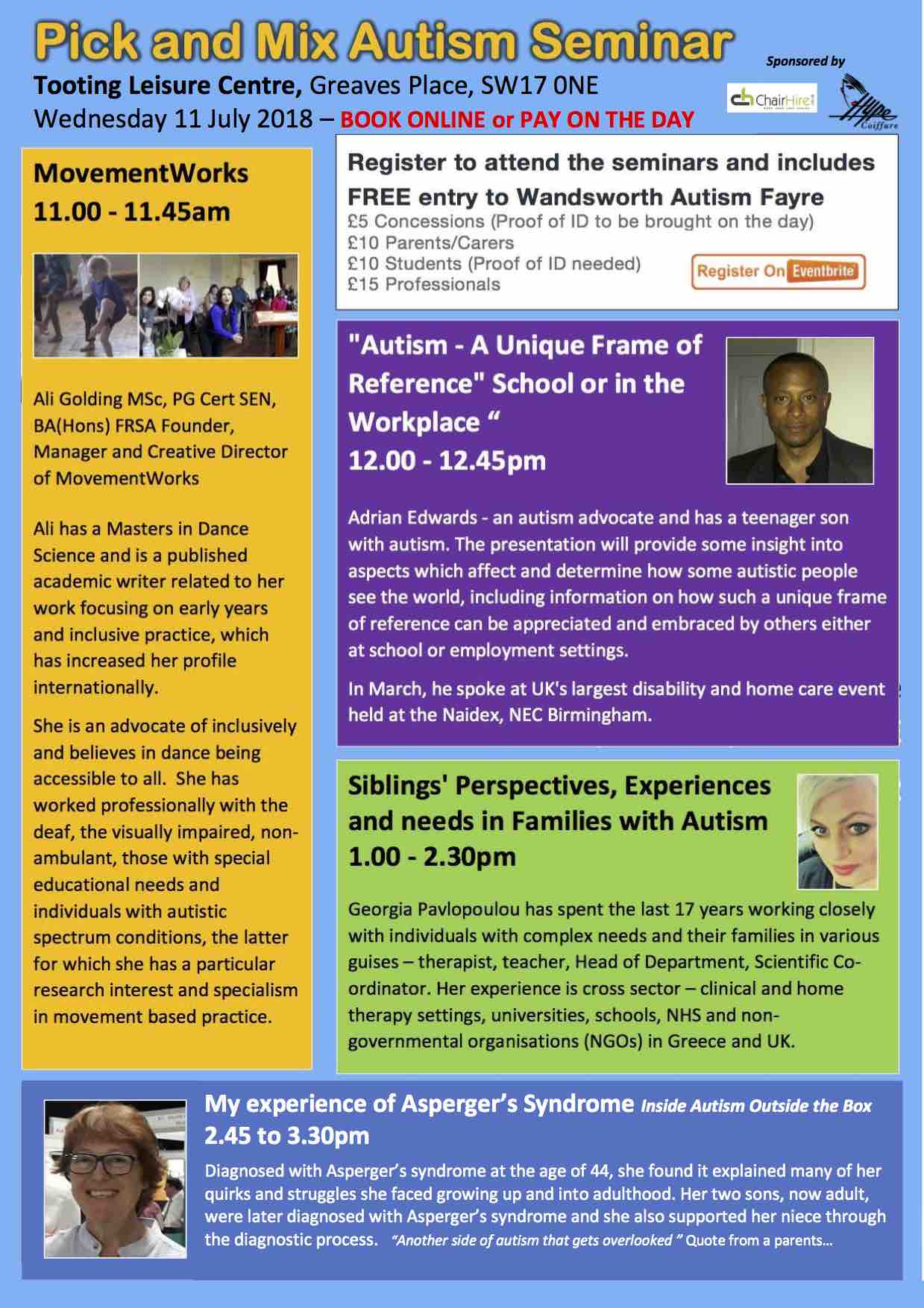 For more information:
info@a2ndvoice.com