Dewch a'ch teulu a phicnic i ddathlu Diwrnod Cenedlaethol y Dolydd! Bring your family and a picnic and celebrate National Meadows Day!
About this event
[scroll down for English]
Gorffennaf 3ydd 2-5y.h Picnic Cywain Gwair
Dewch a'ch teulu a phicnic i ddathlu Diwrnod Cenedlaethol y Dolydd gyda ni – gan gynnwys blasu sudd afal Parc Yr Esgob, arddangosiadau pladuro, gweithgareddau i blant; dysgwch mwy am hanes cywain gwair yn lleol ac am ein cynlluniau i gynyddu amrywiaeth fflurol a rheoli'r Waun Fawr er bud bywyd gwyllt a bioamrywiaeth.
Sesiwn galw-heibio am ddim yw hwn, ond bydd archebu lle yn ein helpu i sicrhau fod gennym ddigon o adnoddau ar y diwrnod. Sylwer nad oes toiledau na chyfleusterau golchi dwylo ar y safle eto – ond bydd gennym gadachau sychu llaw.
3rd July, 2-5pm Haymaking Picnic.
Bring your family and a picnic and celebrate National Meadows Day with us – including Bishop's Park apple juice tasting, scything demonstrations and children's activites; learn more about the history of local haymaking and our plans to increase floral diversity and manage Y Waun Fawr for wildlife and biodiversity.
This is a free drop-in event but booking ensures we remain within Government regulations on outdoor events and have info to track and trace as required. See below for info on Staying Safe in the Park. Please note there are no toilets or handwashing facilities on site as yet – we will have hand wipes.
More about our work and the Park: https://tywigateway.org.uk/
(Photos: Caryl Thomas)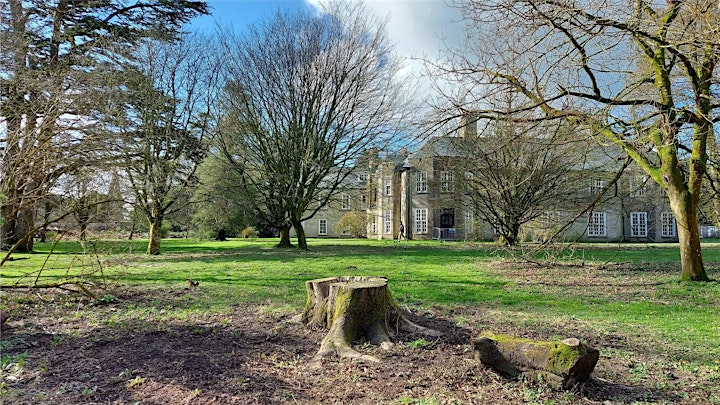 Diogelwch yn y Parc: Gwybodaeth i Rieni a Gwarcheidwaid
Mae'r Parc yn lle bendigedig i chwarae a fforio, ond mae ynddo lwybrau cul ac anwastad, peryglon baglu megis gwreiddiau coed a mannau serth yn ogystal â phwll eitha mawr tu ôl i ffens. Mae'r ha-ha (ffos hir a dwfn) yn rhedeg ar hyd ymyl y Parc i'w wahanu oddi wrth y Waun Fawr; nid yw wedi ei ffensio a mae dwr llonydd ynddo. Gofalwch felly fod eich plant dan oruchwyliaeth drwy gydol eu hymweliad a'r Parc.
Mae'n siwr eich bod hefyd wedi sylwi ar yr holl blannu newydd yn y Parc. Er mwyn gwarchod fflora llawr, a sicrhau y gall planhigion newydd a bywyd gwyllt ffynnu yma, mae'n bwysig fod ymwelyr a phlant yn cadw at y llwybrau a gochel rhag pigo neu ddifrodi planhigion byw.
Er nad oes cyfyngiad ar y nifer o plant all ymgynnull mewn digwyddiad trefnedig, rydym wedi gosod cyfyngiad o 45 archeb. Os bydd gennym fwy na 45, efallai y bydd angen gwrthod mynediad i'r gweithgareddau neu gofyn i chi aros a dod nôl pan fydd pethau'n llai prysur.
Cadw Pellter Cymdeithasol, Arddangos Symptomau a Hunan-Ynysu
Picnic'galw heibio' fydd hwn er mwyn osgoi tyrfaoedd, ond cofiwch barhau i ddilyn y rheolau ar gadw pellter yn y sesiwn ac yn y Parc, a gwisgo mwgwd wyneb pan fo'n briodol.
Argymhellir cadw draw os ydych yn gwarchod neu dan gyngor i hunan-ynysu.
Staying safe in the Park: Information for Parents & Guardians
The Park is a wonderful place to explore and play, but it does have some narrow and uneven paths, trip hazards like tree roots and steep drops - and a rather large, fenced off, pond. Our ha-ha (a long and deep ditch) runs the length of the Park, separating the Park itself from the Great Meadow; it is not fenced off and contains standing water. Please therefore ensure children are supervised at all times in the Park.
You may have also noticed lots of new planting in the Park. To protect the ground flora, and make sure the new plants and wildlife can flourish here it's important for visitors and children to stick to the paths and not pull apart living plants.
While there is no limit on the number of children that can gather for an organised activity we have limited the bookings at this event to 45. If we have more than 45 at the activity we may need to turn people away or ask you to wait and come back when it is less busy.
Social Distancing, Displaying Symptoms & Self-Isolating
The session is planned as a 'drop in' to avoid crowds gathering but please continue to follow the rules on social distancing at the session and in the Park, and do wear a face mask as appropriate.
Anyone shielding or advised to self-isolate is advised not to participate
Anyone displaying / in a household with someone displaying symptoms should not participate and should self-isolate for the required period of time.