A wonderful opportunity to draw or paint en plein air in the Hampstead area on Sun 20th June & exhibit your work on Art Fair Day Sat 26 June
About this event
Win up to £500 plus other prizes.
Let the Heath and Hampstead Village inspire you and inspire others.
Picture the Heath is an annual drawing and painting event, which celebrates the Heath and its surrounding area, organised by Hampstead School of Art. The event is open to everyone 16+ .
This year you can create your work on any day, although we recommend 20th June.  
All finished work will be exhibited and judged during Art Fair Day Keats House on Saturday 26 June. On this day, you must bring your picture by 9.30 am to Keats House on Art Fair Day where your work will be displayed in the Picture the Heath Marquee. All works will be for sale and you must clearly mark on the back your Eventbrite order number, which is on your Eventbrite email booking confirmation (the link to book is provided below). The work judged to capture the spirit of the Heath best, will win £500. Other prizes include two courses at HSoA and two £50 cash prizes. Please collect any unsold work at 5pm on the same day from the same place and please do stay and enjoy food, art stalls and events at the Festival. Prizes will be awarded on the day.
Hampstead and the Heath area is a wonderful environment in which to paint. The historic Keats House, Kenwood House, the Ponds, Heath Street and fabulous views of the city, an exhilarating juxtaposition of landscape and cityscape.
All styles and media are welcome - watercolour, pen and ink, oil, acrylic, digital (please print), representational, abstract. The maximum size for your finished work is up to 60 x 60cm
Judging Panel:
Simon Callow - This years Art Fair Day Opener and renowned actor
Isabel H Langtry – Principal HSoA
£20 entry fee (+ £2.15 booking fee)
"Track and Trace" will be in operation as you enter and we will be monitoring the number of visitors, so please bear with us if there is a queue to enter the garden, and be aware of social distancing at all times.
Registration is through Eventbrite. Alternatively call Hampstead School of Art on 0207 794 1439 for further information.
www.hsoa.co.uk
Terms and conditions:
- Please deliver your work to Keats House on Saturday June 26th or beforehand to Hampstead School of Art, 2 Penrose Gardens NW3 7BF, during office hours (9 am to 5pm). Artists living outside London can bring the work directly to the Festival.
- ALL WORK MUST BE CLEARLY MARKED 'Picture the Heath' with your NAME, TELEPHONE NUMBER, PRICE and TITLE
- Artists must be 16 years plus and we welcome work from all art disciplines and whether you are an established artist or at the early stage of your career
- Submission cost is £20 (plus £2.15 booking fee) for each piece of work
- All artworks must be originals or a short limited edition of handmade prints.
- Paintings must be dry.
- Artwork must be no larger than 60 x 60 cm (framed or unframed)
- 3-dimensional art should be no more than 30cm in height, length or width.
- No glass.
- Canvases stretched on good quality frames are acceptable without frames.
- Artworks should have a wire across the back for hanging.
- Good quality photographic work, framed and under Perspex is accepted.
- All work must be submitted in 'stiffy bags'.
- No more than 3 entries per artist.
- Work must be collected from the exhibition by 5pm on the Art Fair Day.
- Artists take part in the events at their own risk. HSF and HSoA do not accept responsibility for any loss, breakage, damage or theft of their work.
- Artists are responsible for their own insurance.
- HSoA and the HSF reserve the right to decline work for exhibition. All work must be inoffensive and its suitability is solely at the discretion of the selectors.
- Work will be displayed wherever it is felt best without prior arrangement with the artist.
- Hampstead Summer Festival receives 30% commission on all work.
- Hampstead School of Art will send payment via BACS no later than 28 days after the sale of work.
- Terms and conditions may be subject to change.
- You agree to these terms and conditions when you book your ticket.
- Any unclaimed work will be donated to charity at the end of the day.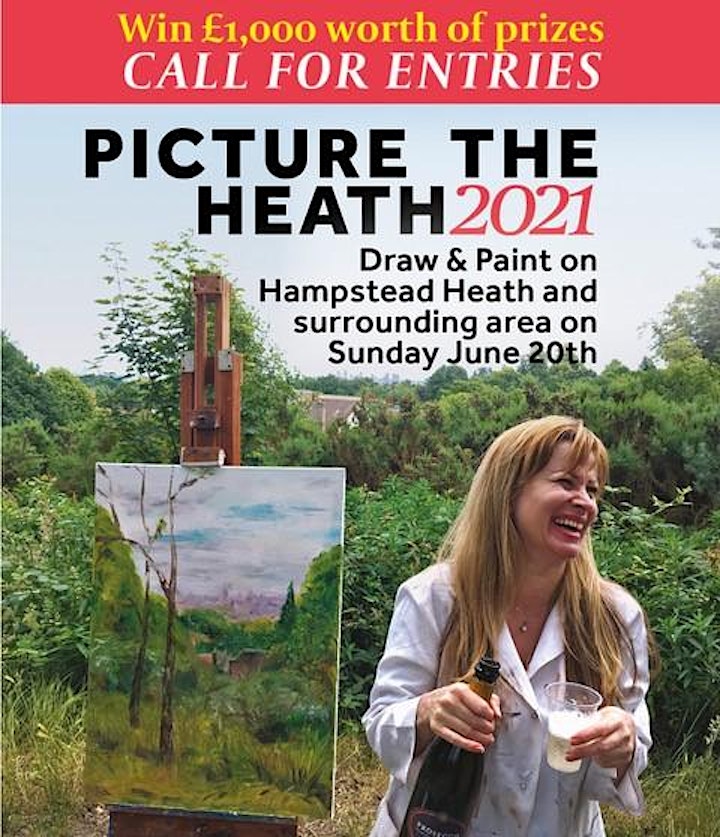 Organiser of Picture The Heath
Hampstead School of Art (HSoA) is an independently resourced charity and relies on the dedication, enthusiasm and hard work of its tutors and staff and is the oldest, non-profit contemporary art-making and learning centre in north London.
The school recently moved into a beautiful new building, designed by award-winning architects, Allies and Morrison and has an exciting programme of events. The school is very honoured to have such illustrious patrons as Frank Bowling, OBE RA,  Alan Gouk and Francisco Gazitua.