Live web event with Professor Maria Lee (with Q&A) on 17th April 2020.
About this event
The climate (and other) crises put pressure on our traditional assumptions about 'good' decision making. This lecture explores the need to continue to assess our processes, and to assert the values underpinning public involvement in environmental decision making
Professor Maria Lee has been a professor of law at UCL since 2007, where she is co-director of the Centre for Law and the Environment and teaches a range of envrionmental law and policy topics. Her research focusses on regulatory decision making and public participation in environmental law. She has recently been working intensively on the implications of Brexit for environmental law.
Join us on Friday 17th April, from 12:00 - 13:30, for a live lecture and Q&A with Professor Maria Lee.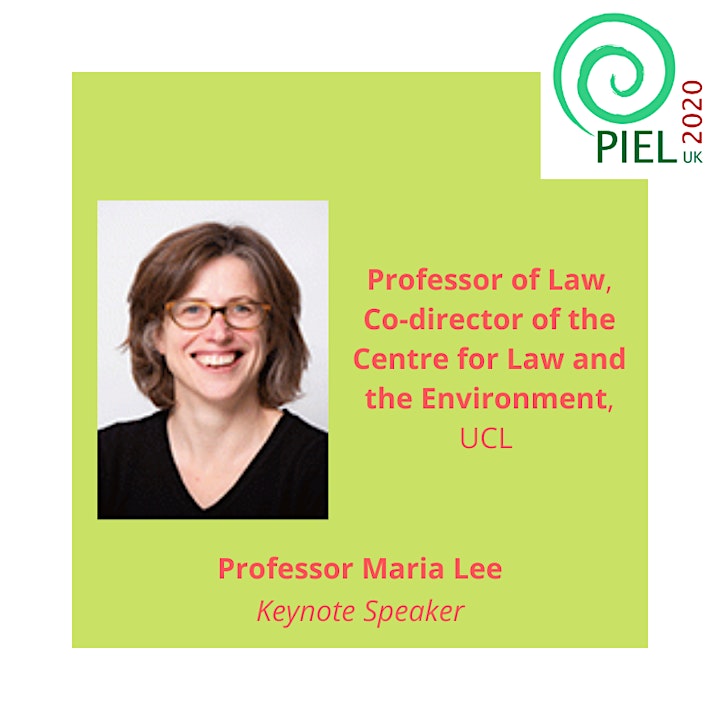 Organiser of PIEL UK Lecture and Q&A with Professor Maria Lee
Public Interest Environmental Law (PIEL) UK was formed in 2007 by students from various University of London colleges as an unincorporated association. Its cause is to champion and raise awareness of environmental justice issues by organising the annual PIEL UK Conference. The inspiration for running a conference on environmental justice comes from the cutting-edge event of the same name that has been running for over 25 years in Oregon, US and attracts thousands of delegates annually.  Each year, a new team of student members benefit from the generous support of an Advisory Board which consists of academics, professionals and activists.
The PIEL UK Conference provides an accessible forum for discussion, deliberation and debate. This allows a diverse range of practitioners, academics and  members of the public to engage with problems concerning the environment, as well as to encourage solutions.  By increasing public awareness of the role that law can play, the Conference aims toward achieving environmental justice in the UK and further afield.
As an entirely student-led organisation, PIEL UK aims to connect with both those who are affected byenvironmental issues, and those who practise in the environmental law, witht the ultimate goal of promoting environmental justice.  PIEL UK strives to deliver a day of insightful and inspiring discussion centered around environmental law and climate change. We hope to see you there!