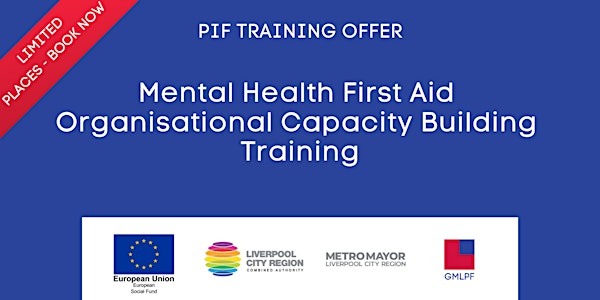 PIF Mental Health First Aid Organisational Capacity Building Training
Location
Greater Merseyside Learning Providers Federation
Commerce Way
ParliamentBusiness Park
Liverpool
L8 7BA
United Kingdom
A two-day training programme to develop participants as workplace mental health champions
About this event
A two-day training programme to develop participants' understanding of mental health, mental health first aid, and how to deliver mental health training in their organisations to develop colleagues' skills to support learners.
Offered through the Provider Improvement Fund (PIF) programme, this training course provides a way to develop learning provider staff to become workplace champions and/or trainers and cascade their understanding of mental health and mental health first aid to colleagues.
The training aims to build a deep, detailed understanding of:
• Mental health conditions, including risk factors, treatments and interventions
• Mental health first aid, including how to recognise signs and symptoms, and use appropriate signposting. Also, the training will instruct on how to provide initial help to a person experiencing mental ill health, administer first aid for specific mental health disorders, and promote good mental health.
• The role and responsibilities of the mental health workplace champion.
The two-day course will be delivered by AT Skills Ltd and will run on 23rd and 24th June 2022.
Eligibility
This CPD session is free to qualifying learning providers.
To qualify for a free place, you must meet the following criteria:
You must be employed by a learning provider who has headquarters and/or training premises located in Liverpool City Region (which comprises the six local authorities of Halton, Knowsley, Liverpool, St Helens, Sefton and Wirral)
Your employer should be delivering learning programmes locally to Liverpool City Region employers and learners
You must resident in Liverpool City Region but provided your employer is located in the Liverpool City Region, you can be resident in other or surrounding areas
In addition, the learning provider you work for must not have received more than £187,000 in state aid over the last three years. This will be the case for most learning providers. GMLPF will help ascertain the amount of state aid your employer has received.
PLEASE NOTE
This is an in-person event
This event is only open to employees of learning providers based in the Liverpool City Region
This session is funded by the European Social Fund and the LCR Combined Authority's Strategic Investment Fund
Unfortunately, if you attend the course and do not complete the required enrolment forms, this will incur a charge. This is unavoidable as your place on this course is funded through the ESF/Strategic Investment Fund.
If you do not attend the course and do not send someone in your place, a charge will also be incurred for the same reasons as specified above
BOOKING FOR THIS EVENT WILL CLOSE NINE DAYS BEFORE THE EVENT DATE TO ALLOW FOR COMPLETION OF PAPERWORK.
Provider Improvement Fund (PIF)
PIF offers a training and development support programme to local post-16 learning providers.
Working with the Liverpool City Region Mayoral Combined Authority and funded by the European Social Fund (ESF) and Strategic Investment Fund (SIF) through the Liverpool City Region Skills and Apprenticeship Hub project, GMLPF is managing the Provider Improvement Fund (PIF).
To find out more visit www.gmlpf.net/PIF