Description
The synergy of Precision and Digital Health are set to revolutionise how we experience healthcare. Firstly, developments in genomics and big data have led to incredible insights for tailoring treatments for specific patients. This has led to development in cancer therapies. Using our devices, we can gather and share data about our health in real time to be more informed. This empowers individuals about our their own medical needs and well-being. Furthermore, the potential of AI to make sense of the vasts amounts of data now available allows further insights into our health. As a result, big tech companies such as Google have been attracted to using their technical expertise for health applications.
With the global market of precision medicine rising to $87.7 M by 2023 and healthcare technology growing at 15.9% per year, according to Deloitte, there are ample opportunities in these sectors. Similarly, Manchester itself has gathered much support for the sector, gathering over £100 M in investment. The challenges addressed by these areas are vast and require coordination of many areas. Therefore, we want to support a network of academics, clinicians, professionals, investors, students, policy makers and members of the public.
The Innovation Forum Manchester aims to celebrate Manchester's role as a hub in precision medicine and digital health using its strengths in life sciences and and technology. Come along on the 22nd of August for an evening of insights from thought leaders from around the North West. Additionally, exciting start-ups in the field will also get a chance to pitch their innovative ideas. We encourage anyone with an interest to attend, learn and connect about this exciting field.
What are Precision and Digital Health?
Precision Health (or Precision Medicine or Personalised Medicine) is an approach to predict the best treatment strategies for patients. These are based on the genetic understanding of their disease and heavily relies. Therefore the collaboration of academic research, pharma, and healthcare providers is essential. Digital Health is an important tool to individualise treatment by providing solutions to monitor, process, and integrate large amounts of data of patients. Artificial intelligence (AI) is informing decisions based on health records and deep-learning methodologies. Therefore, by combing developments in these areas we can develop exciting innovations.
As with any emerging area there are many questions, such as: How do we deliver precision medicine? How will it be refunded? How do we ensure security in digital health? Who owns data regarding an individuals health? Therefore, by gathering an array of experts we aim to address these questions.
Innovation Forum
The Innovation Forum's main goal is to bridge the gap between academic science and industry and to support scientists and entrepreneurs to deliver the breakthroughs of tomorrow. Our global network connects academics, start-ups, professionals and policy makers to drive forward innovations to impact people's lives.
Do you want to know more about the Innovation Forum? Want to present a stall at the event? Or want to join the Innovation Forum team? Contact us
Don't miss out this great opportunity. Register now to hear exciting talks and network with those shaping the future of precision and digital health.
The event location can be seen below. The entrance of the Alliance Manchester Business School (AMBS) is on the opposite side of the building from Oxford Road. Registration will be near the main reception.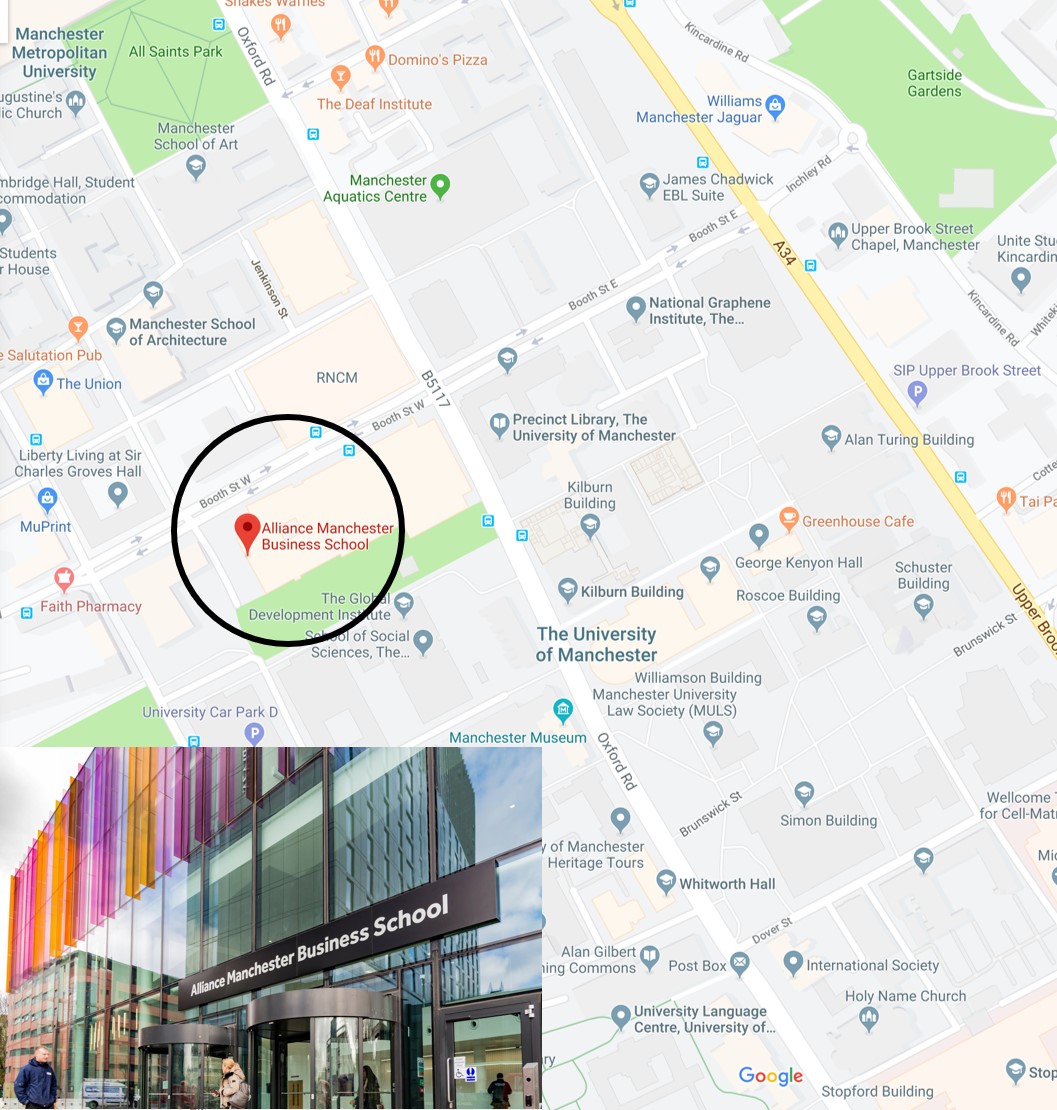 Programme:
5.30 PM – 6.00 PM: Registration
6.00 PM – 6.10 PM: Introduction to Innovation Forum.
6.10 PM – 6.30 PM: Keynote I: Professor Anthony Whetton, Director of the Manchester Precision Medicine Institute at the University of Manchester.
6.30 PM – 6.50 PM: Keynote II: Giulia Boselli, Knowledge Transfer Manager, Innovate UK.
6.50 PM – 7.10 PM: Keynote III: Health Innovation Manchester.
7.10 PM – 7.20 PM: Break.
7.20 PM – 7.40 PM: Start Up Showcase:
Jane Theaker, CEO of Kinomica (AI in precision medicine)
Dr. Saba Alzabin, Co-founder & CSO of Nabta Health (hybrid healthcare for women)
APIS Assay Technologies (diagnostics through genomic medicine and big data)
7.40 PM – 8.05 PM: Panel discussion.
8.05 PM – 8.15 PM: Closing words.
8.15 PM – 9.00 PM: Networking and drinks.