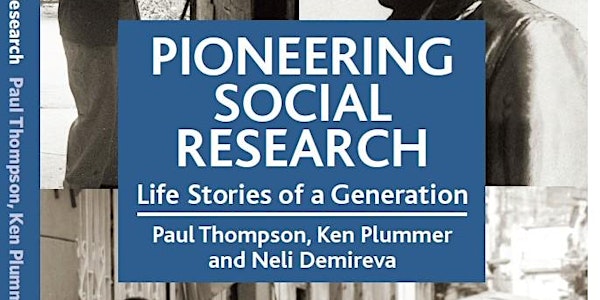 Pioneering Social Research: Life Stories of a Generation Zoom Discussion
Zoom seminar to discuss the publication of 'Pioneering Social Research: Life Stories of a Generation' by Thompson, Plummer and Demireva
About this event
Pioneering Social Research: Life Stories of a Generation by Paul Thompson, Ken Plummer and Neli Demireva is a doubly unusual book: it does not argue a single hard-shaped account of how British social research developed, but a way into exploring its diversity; and it does not stand alone as a book, but is the frontispiece, the doorway, for a remarkable set of life story interviews.
These 58 interviews are all available in full for research and teaching as audio and transcript online, through both the UK Data Service (including also audio clips on YouTube) and the British Library.
The seminar will touch on several important questions: How did social research develop in the UK in the 20th century? What were key moments of discovery? Who were these pioneers and what did they study and publish? What impact did they have? Are they relevant to contemporary debates on intersecting inequalities, feminist inquiry, methods, racism and decolonization?
Chaired by Neli Demireva, Paul Thompson will briefly outline the life story project on which the book is based; and Ken Plummer and other discussants will comment on the key issues of the book. We will conclude with open discussion including comments and memories from the participants.
Programme (with input from Julia Brannen, Graham Crow, Pat Caplan):
First Session: 11-12 : The Project Story and the Book Story: Panel discussions by the authors
Shaping the book
Three favourite interviews: Stuart Hall, Peter Townsend and Ann Oakley
Moments of Discovery and Shifting Contexts of Time and Place
'With time, innovations become commonplace'
'Life stories, biography and creativity'
Panel Discussion: 'From Empire and Race to Post-Colonial Ethnicity
Second session: 12-13 Research Methods and Using the Book as a Teaching Tool
Pioneering Social Research as a teaching resource & Future Developments
'On Gender and creativity'
Gender, Fieldwork and Methods
Panel Discussion on: 'Gender, Fieldwork and Methods'
General Discussion 13 to 13.30
Zoom link for this event.
Special offer: The book will be available at 50% discount for the week of this seminar when you order from Policy Press. Use code PSR21 at the check out by midnight on 10 September 2021 here (the 50% discount code will be active between the 3rd to 10th of September).